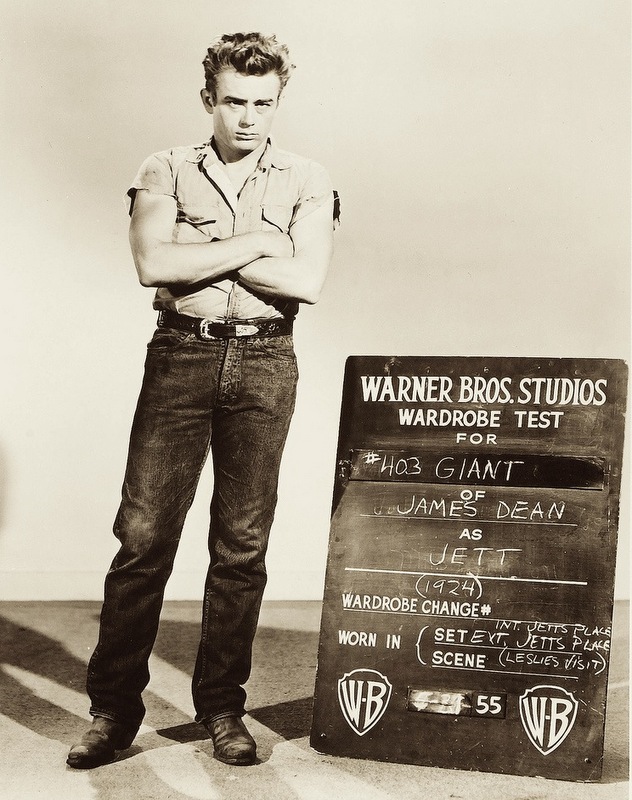 Jeans have become a part of a classic style wardrobe. Even shops like Turnbull & Asser and New & Lingwood in London's Jermyn Street sell them today. The spread of jeans has triggered an aestheticization of jeans. A refined quality hierarchy has arisen. Here is my take on what to look for in jeans.
Raw Denim is the best
20 years ago nobody had heard about it. Nowadays the feature is compulsory: jeans should be unwashed, that is, they should be made up from raw denim. Horrors like stone wash jeans and snow jeans should be avoided at all costs. Japanese raw denim woven on old toyoda looms have become famous, and the finer Cone Mills denim has been certified as well.
Pre-Shrunk gives more options
Shrink-to-fit is a nice authentic approach to jeans. It means that your jeans haven't been pre-shrunk, a/k/a sanforized, and that they will shrink one or two sizes, when you wash them the first couple of times. Few makers make unsanforized jeans. They are tricky both for producers and customers. Levi's 501 shrink-to-fit are the famous model in the category.
Ringspun sounds more cool
Up until the 1970s all cotton spinners used the same old good method producing ringspun yarns for the cotton weavers. Then a new technology came along. By use of air pressure and centrifugal force it could create cotton yarns very efficiently. Many jeans makers picked up cotton woven with these so-called open-end yarn. Sadly, open-end yarns lack the strength of ringspun yarns. Moreover, they fade differently. Whereas jeans made from ringspun yarns fade unevenly, open-end jeans fade evenly and less interestingly.
Selvedge is no guarantee
Selvedge is buzzword No. 1 in today's jeans world. Basically, selvedge only means that the maker has woven the fabric on old style shuttle looms, which creates a selvedge. Theoretically, the selvedge locks the fabric in a better way than modern projectile looms. In reality it is no guarantee of quality. That said, almost all top quality jeans will be selvedge jeans.
Stright Legs is the better cut
It all depends on your build, of course. Slender men can wear slim-fit jeans that taper. Cowboys can wear boot cut jeans. However, straight legs is the flattering cut in most cases, at least if you look at it from a traditional point of view. Levi's 501 embodies the stright legs look.
Avoid low rise jeans
Unfortunately, it is terrible difficult to find high-rise jeans. Mid-rise jeans are more common. Low-rise jeans are a sartorial disease, which is allover. Low-rise jeans shortens the legs and lengthens the upper-body, which is pointless, if you strive for elegance.
Bring you jeans to the dry cleaner
There is too much religion out there, even the world of jeans has been infected. Especially, when it comes to washing, dogmas prevail. Some people never wash their jeans. Instead they will put them in the freezer or simply let then blow in the wind for some hours. Few washing will make fade marks and "whiskers" more pronounced. If you don't like fadings at all, the dry cleaner is the best option.
Six models
I have stumbled upon six models, which can meet the three main criteria: raw denim, straight legs and medium-rise or high-rise. Amazingly, it seems as if famous producers Lee and Wrangler don't have any models in the category.
How to use jeans
Unfaded raw denim jeans can slip into the dresscode categories of smart casual and even business casual.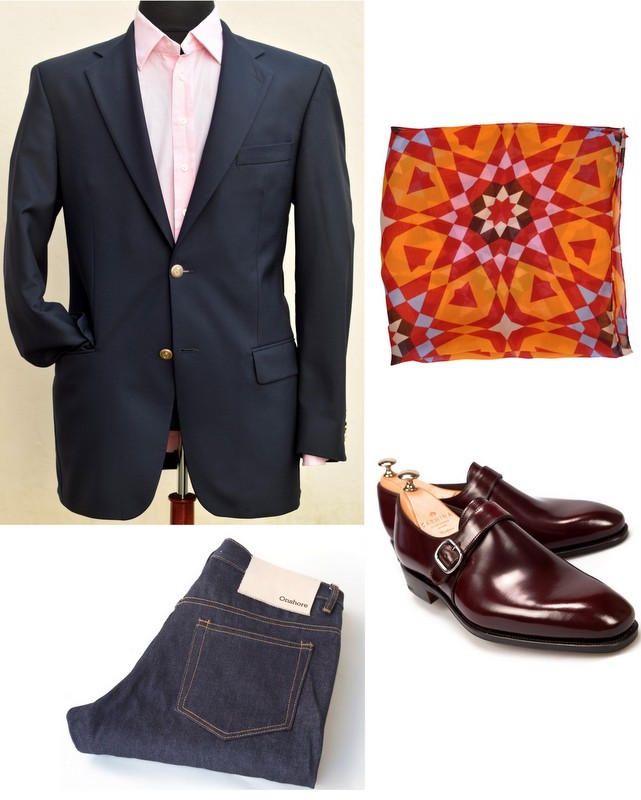 You can pair jeans with a blue blazer, a pink shirt and monk strap shoes. In the photo above, shoes are from Carmina, jeans from Onshore and crepe silk handkerchief from Grunwald.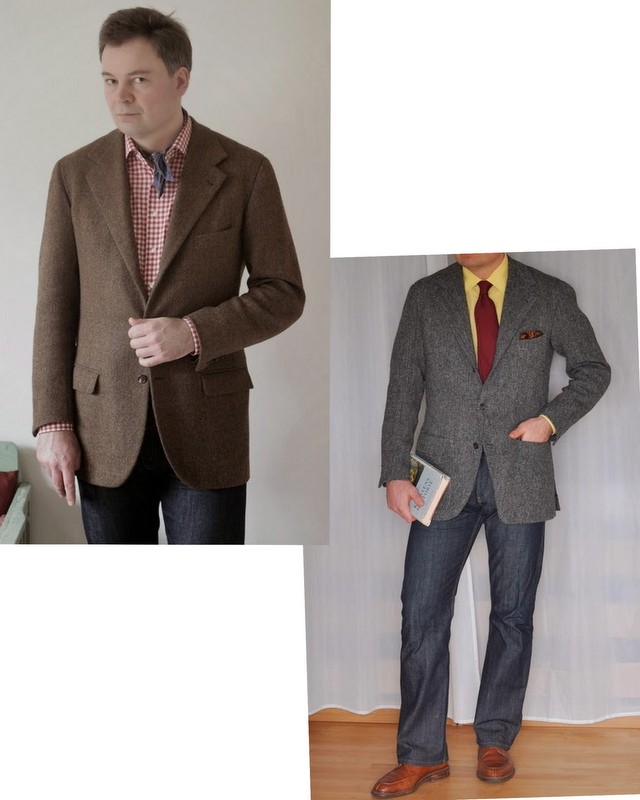 Jeans and tweed coat is another option. I like that combination myself during winter. A greyish coat or brown coat will can work well with jeans. A tie is more difficult. It gets too formal easily.
You don't have to roll-up your jeans to flash a selvedge. Finally, use a strong wide belt for your jeans, not a chino belt.
Where to buy jeans
Jeans can be found everywhere online and offline. The raw denim jeans with straight legs and medium or high rise reduces the possibilities dramatically. Firms like Levi's, Edwin and Tellasson will sell interesting models at their own online shops. Bare in mind that jeans sizes can be somewhat tricky. Make sure that your jeans are longs enough. Jeans have a tendency to stack, which shortens the jeans even more than the washing machine.