A take on Pitti Uomo 93
What is fashion depends on the eyes that look. So when I summarize what's happening in men's fashion at the Pitti Uomo 93 fair in Florence, it's a perspective, a view with my classically oriented eyes. For your information.
Large slip-on overcoats
There are tendencies for more generous cuts. You notice the development in overcoats. In the sartorial department, I have noticed almost oversized overcoats, often with raglan sleeves, not unlike the big coats from the start of the 1990s. Pitti Uomo 93 in Florence documented the trend of big coats.
Corduroy and Velvet
Coats and overcoats in corduroy. Another trend in sartorial men's fashion in the winter. I have thought myself of getting a corduroy coat made up. Corduroy is symbolic, though, referring to books, big furniture, art, and school teachers in the 1970s. The film director Wes Anderson illustrates a modern approach to corduroy and velvet.
Earth tones
Earth tones are a signifacant trend in sartorial menswear in winter. Pitti Uomo 93 was a showcase. There were many shades of brown and green there, both among the exhibitors at the fair and on those who visited the event. Earth colors influenced all components from pullovers and ties to jackets, coats and hats.
Sturdy shoes
Sneakers continue the march forward. However, leather shoes are still in use, luckily. There are many double sole shoes and brogue shoes in the winter.
Soft jackets
Soft jackets, which people in the trade confusingly call "deconstructed jackets," continue their dominance. Unlike the slim fit fashion, which is about to be supplemented by more roomy cuts, I do not think the softly designed jackets get competition from structured jackets. On the contrary, you will probably see even more jersey jackets onwards.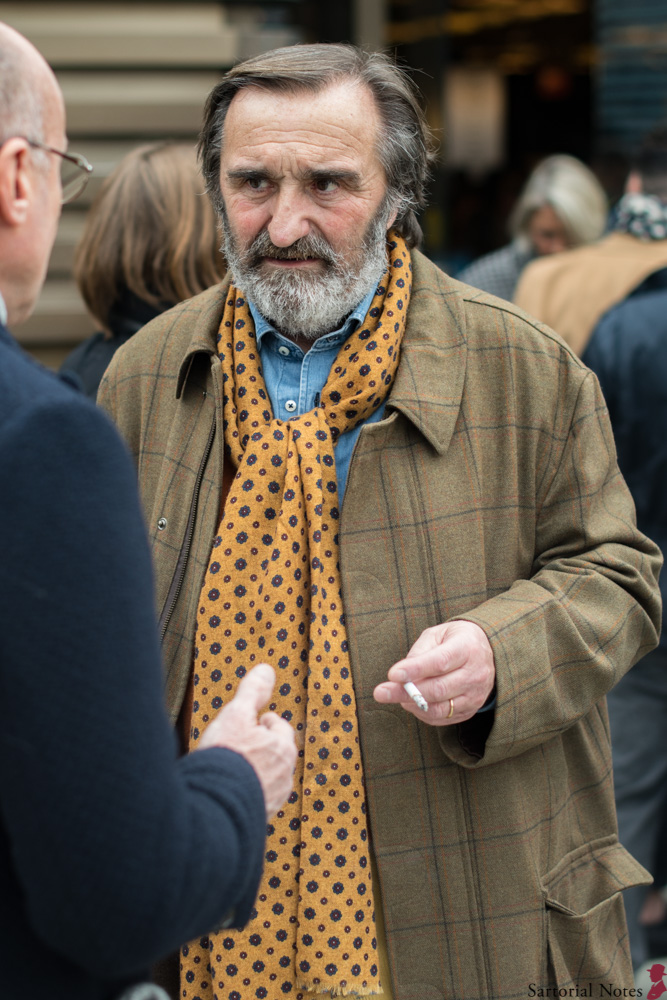 Beanie knit hats
A beanie knit hat, the beanie, will not die. You also wear it with classic sartorial clothes, if it's cold.
Felt hats
If you do not carry a knit hat on your head, you could go for a felt hat with a good wide brim. They are also popular.
Photography: Sartorial Notes