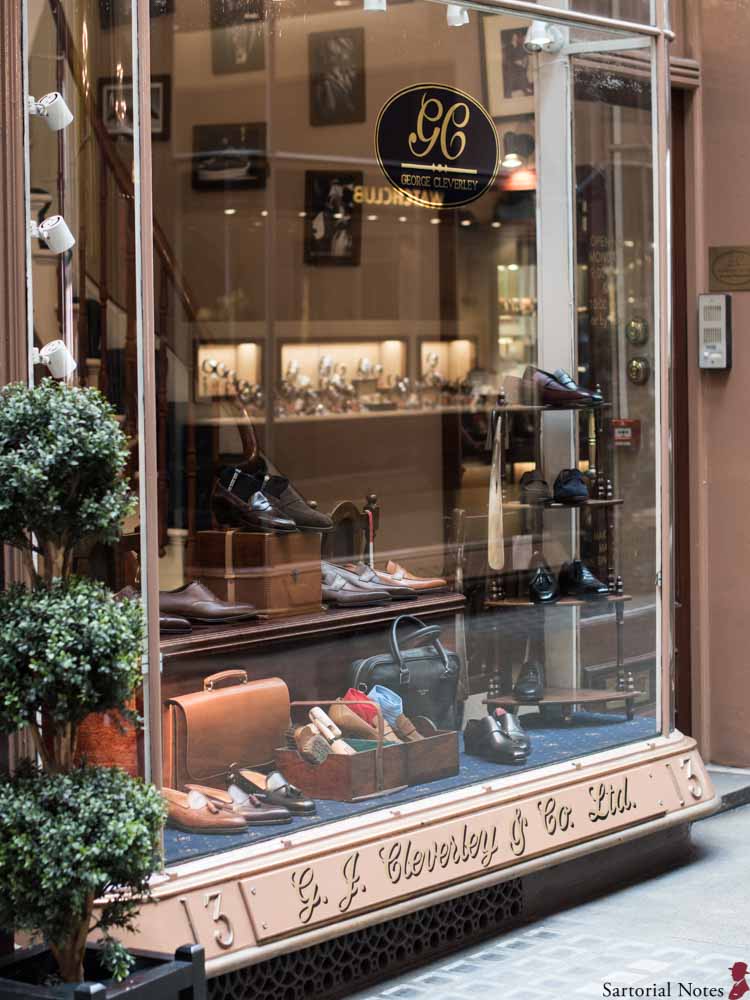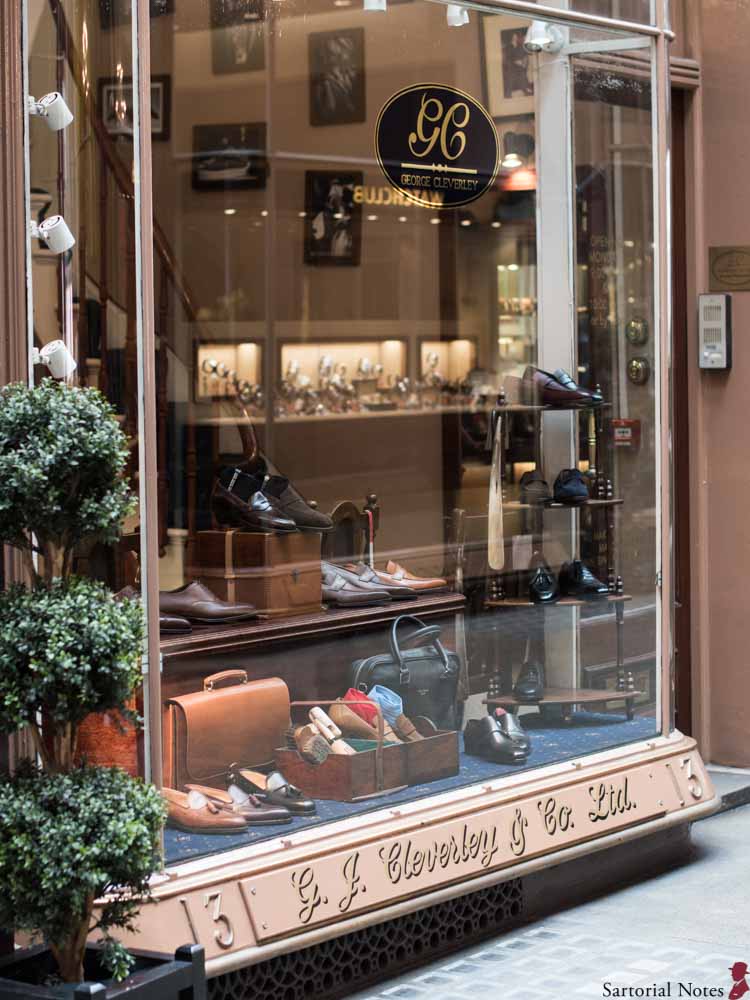 Famous bespoke shoemakers John Lobb, Cleverley and Foster & Son
Often you'll hear three names, when it comes to bespoke shoemakers in London: John Lobb St James's, Cleverley and Foster & Son, and in that order. These makers are "The Big Three".
I've been to Lobbs a few times, and have said hello at Foster & Son. Last week was my first time at Cleverley's workshop in The Royal Arcade, which connects Albemarle Street and New Bond Street. On the ground floor there is Cleverley's small front shop, and on the first floor you'll find a small workshop.
All in all Cleverley strikes you as a tiny operation. Yet, it is not. Most of the tasks are done elsewhere, a lot of them by outer workers. I suppose all steps, that is, taking measurements, lastmaking, clicking, closing, welting and finishing, could take place at The Royal Arcade, but Cleverley and their shoemakers will have to think about costs. The days of one big workshop are long gone.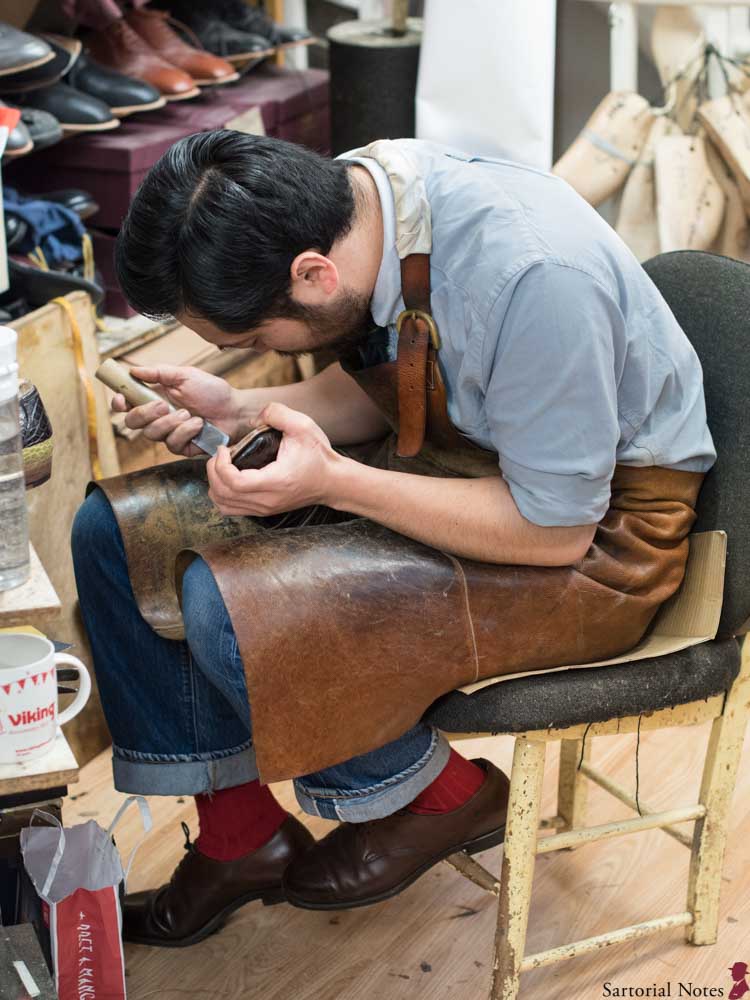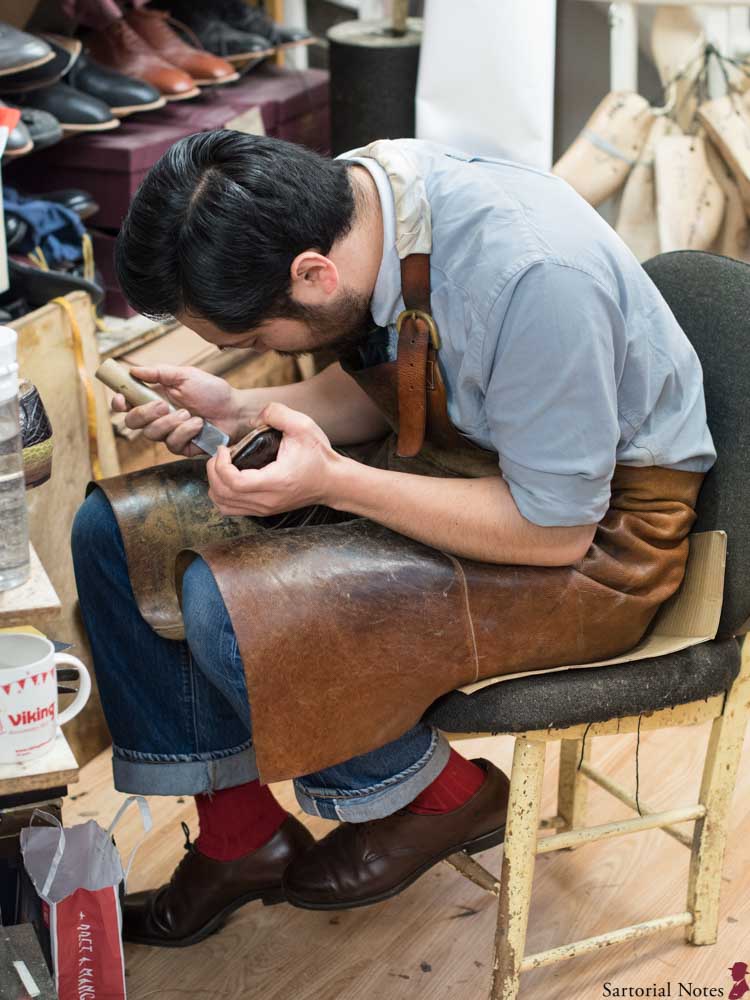 When I dropped by Cleverley on a Saturday morning a solitary shoemaker on first floor was smoothing the soles of a pair of bespoke shoes.
"Hard work," he said, when I asked how life as a bespoke shoemaker is.
Other bespoke shoemakers in London
Besides The Big Three I've identified six bespoke shoemakers in London and in greater London. My feeling is that those slightly lesser know bespoke shoemakers can make shoes of equal quality and fit, since they all appear to have experience from The Big Three, especially John Lobb. However, there might differences in selection of leathers, shoe shape, consistency, fit, finishing and more, although I think these differences are rather small. Surely, the lesser established shoemakers have price tags that are not that far way from those of Lobb, Cleverley and Foster.
Gaziano & Girling
My impression is that Gaziano & Girling is better known for their high-end ready-to-wear shoes than their bespoke shoes. Yet, they do top quality bespoke. They have positioned themselves as more contemporary than for instance John Lobb. Shoes look pointed, and you see numerous antiqued shoe leathers. The price is around 4.000 GBP (incl. VAT) for a pair of bespoke shoes with lasts.
Carréducker
Run by Deborah Carré & James Ducker Carréducker is dedicated to bespoke shoes only. James Ducker tells me on the phone that he has been at John Lobb's, before he branched out on his own. From their website it appears that Carréducker can be adventurous in regard to their bespoke shoes. I was quoted a price of 3.100 GBP including VAT and lasts.
Nicholas Templeman
Nicholas Templeman has been at Lobbs too. He was taught to be a lastmaker and a fitter. A couple of years ago he started his own firm.  He has already begun travelling to the States. I've seen some great looking shoes from him on the web. Bespoke shoes including VAT and lasts are 3.250 GBP.
James Taylor & Son
There is tendency to be very conservative in bespoke shoemaking, partly because customers buy into it. James Taylor & Son has ventured away from tradition introducing a foot scanning machine and CAD technology to build lasts for the costumers' bespoke shoes. The technological move doesn't mean that they will skip a fitting, they tell me. They just think scanning and CAD can make a better job with the initial lasts than the human eye. At 2.900 for a pair of bespoke shoes including VAT and lasts James Taylor & Son is somewhat lower than most contenders.
Sebastian Tarek
According to Sebastian Tarek's website he works for two renown West End shoemakers. He has has time, though, to make shoes for his own customers too, and at a very attractive price of 1.950 GBP for a pair of shoes. That is excluding VAT, since he doesn't have to charge that with hos modest turnover. He writes to me that this business of his is mainly for clients, who want something different from the usual West End style.
Mariano Palencia Crespo
A reader noticed me about bespoke shoemaker Mariano Palencia Crespo. It turns out that he is another John Lobb alumnus. Mariano Palencia Crespo started out as a bootmaker in Spain before he came to John Lobb. Prices are relatively attractive starting af 2.700 GBP for a pair of bespoke oxfords, supposedly including VAT and lasts.
Photography: Sartorial Notes