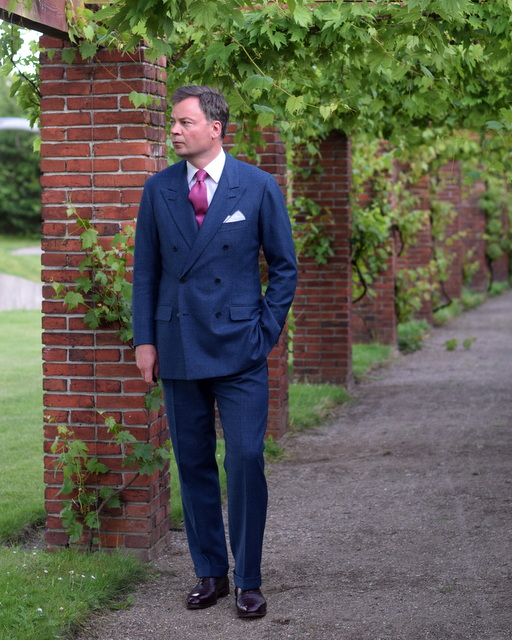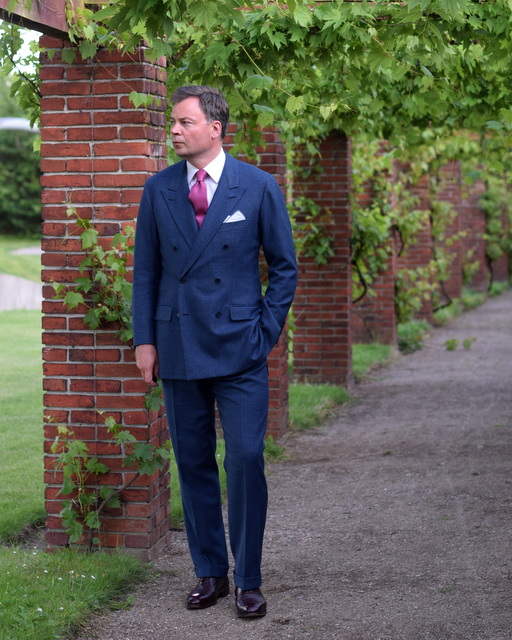 Many tailors and some of their customers love (fine) vintage cloth, because it easier to shape with the iron than the modern tissue paper fabrics. In general tailors can deliver a bespoke suit, which drape more elegantly, if they use vintage cloth. The downside is the coarseness and the weight, which you must get used to.
Here's me posing in a bespoke blue suit made up in Italy from a vintage multi-ply Red Tower type of fabric. It has the famous and to some infamous shirt sleeve shoulders (spalla manica a camicia). Personally I really like, how the jacket shoulders can become smooth like a second skin with the shirt sleeve shoulder construction. However, I realize that they might not be the better solution on a formal navy blue suit or formal charcoal suit or a dinner jacket, which perhaps need more straight lines. Moreover men with sloping shoulders should be carefull with the construction.
Shoes are bespoke from red Italian leather. The tie is an unlined grenadine tie.
Photo: The Journal of Style