Monsieur Larsen in Paris
I stumbled upon the information a few years ago. I retired journalist from the town of Pandrup in Northern Jutland wrote me about a local tailor, who went to Paris in his youth. The tailor had later become a very famous tailor in the very famous city.
Lars Larsen (1871-1945) was the name, a very Danish name that became monsieur Larsen in Paris.
The retired journalist came back to me with two old press cuttings.
A story from 1947 had the title: "A fold made a tailor from Pandrup famous".
"His colleagues shook their heads but later had to admire Larsen – the fold became a world-wide success, and for Lars Larsen the idea built his business, which today is regarded as one of the eight great houses in Paris," the journalist states in his story.
Tailor Larsen and pleated trousers
The fold was the pleat, not an entirely new design detail, yet for decades during Victorian times trousers had been flat front trousers. Then in late 19th Century and start of the 20th Century sport influenced male attire once again. City trousers got turn-ups from about 1910, a habit from the cricket field, and just before World War 1, perhaps in 1911, the pleated fashion took off. Not coincidentally, the open pleat came just a few years after the trouser crease had moved from sides to front and back of the trousers.  The pleats could extend the creases to the waist line, smoothly.
Was Larsen the inventor the (open) pleated trousers?
Another source
Until recently, my only source on tailor Larsen and his pleats was the two newspaper stories from the 1940s. The stories' source was the son, Maurice "Pierre" Larsen, who continued his father's business in 1945, when Larsen had died.
Then I was reading Mansfield & Cunnington's Handbook of English Costume in the Twentieth Century, 1900–1950, casually. A remark stopped me:
"Pleating into the waistband, said to be an invention of a French tailor, was introduced at this time [1910-1914]."
Sadly, I cannot detect Cunnington's precise source, but it seems to be an issue of The Cutter and Tailor, a venerable English journal for bespoke tailors.
Anyways, the remark reminded me of my unfinished business with Larsen's pleated trousers. Here I had another indication that Larsen indeed could be the inventor of this significant sartorial detail that contributed to free modern man from constricting Victorian times.
Inventor of the front dart too?
One of the old Danish articles on Larsen also states that Larsen invented the front dart on men's jackets to give them more waist. I'm a bit more sceptical about that claim. It is true the use of darts have changed over time, yet more tailors claim origin to the front dart, including Neapolitan tailors.
Clients
Many famous men were on Larsen's client list.
Perhaps still remembered by a few was the actor and entertainer Maurice Chevalier.
Carl Th. Dreyer, the film director, was another client. He ordered a dinner jacket at Larsen's, when he came to Paris in 1926 to record the movie Jeanne d'Arc (1928).
The dinner jacket is still here. Danish Film Institute keeps it at their archives.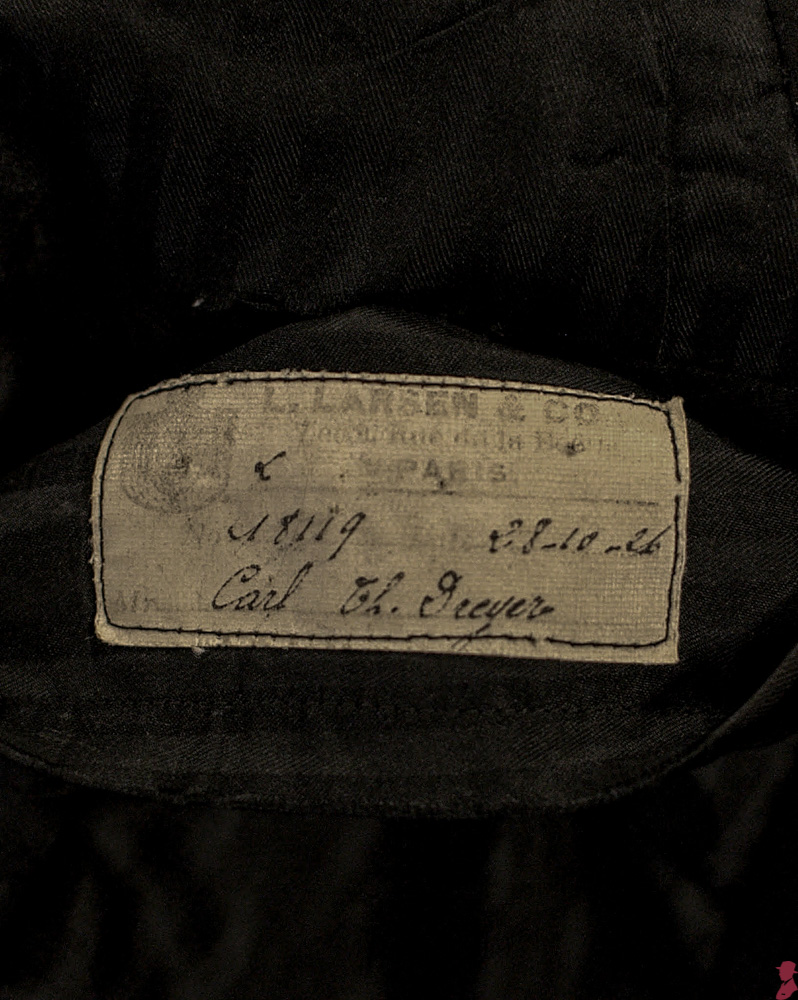 In the 1960s Dreyer passed on the dinner jacket to his photographer Henning Bendtsen. He would later give it to film director Lars von Trier, who used Bendtsen as photographer on his first movies.
Eventually, Lars von Trier got too fat for the dinner jacket, and he shipped the dinner jacket to the Danish Film Institute. He had promised Bendtsen to give the tuxedo to the Film Institute, if he couldn't use it anymore.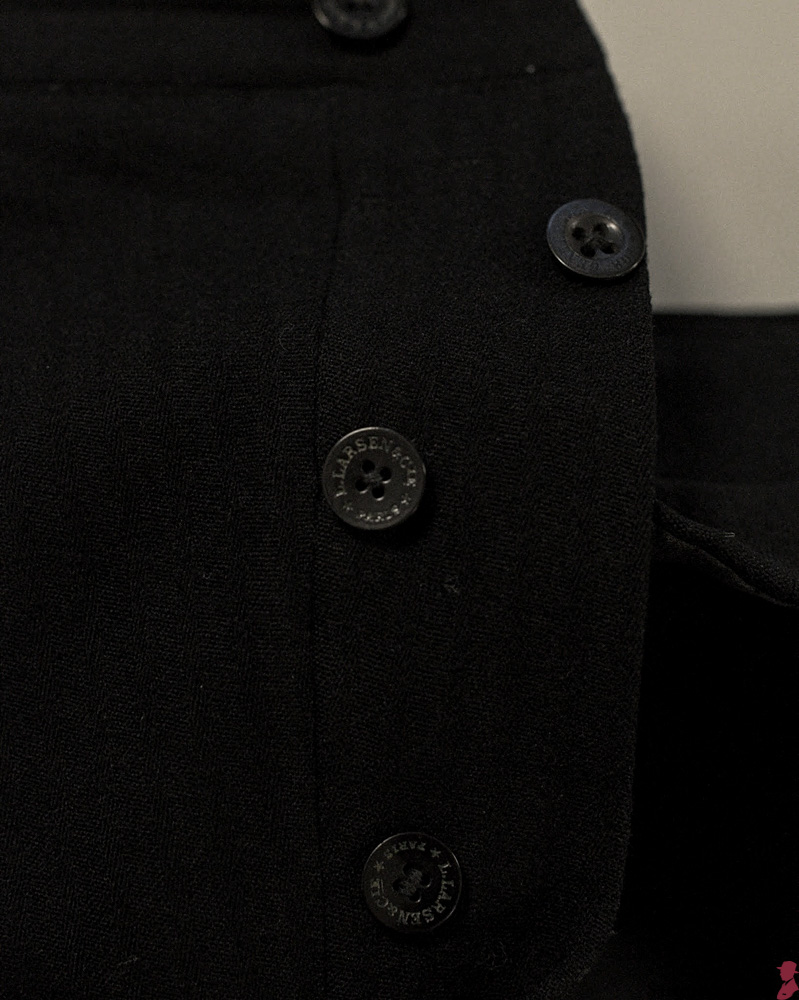 In 2014 I went to visit their archive outside Copenhagen to inspect the dinner jacket and to confirm that Larsen had made it for Dreyer.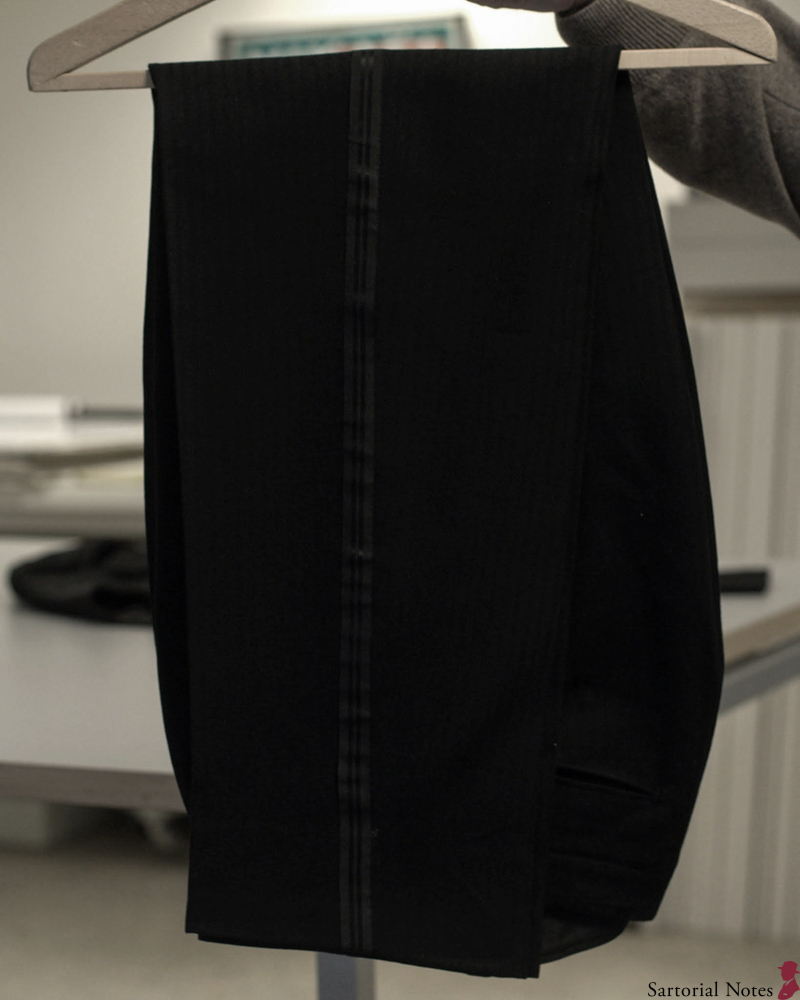 I've written the whole story here.
The end
Larsen's shop was situated in Rue la Boëtie 7-9 in Paris. How long it lasted that I haven't been able to clarify. Pierre Larsen died in 1985. My guess is that Pierre Larsen closed or sold the shop at end of the 1970s. He and his wife didn't have children.
Larsen examples from Les Arts Décoratifs in Paris
I spoke with the archive department at Les Arts Décoratifs in Paris about tailor Larsen, and they store a few examples of Larsen's work, that is, of Pierre Larsen's work, since the garments are from 1960 and 1961.
Photography: Sartorial Notes based on photos from a relative of tailor Larsen and Les Arts Décoratifs