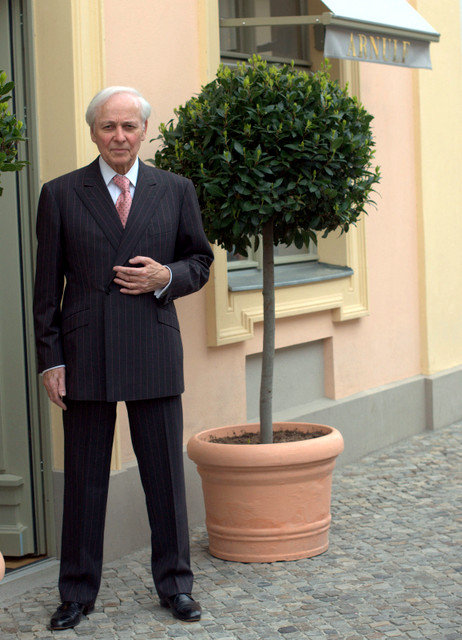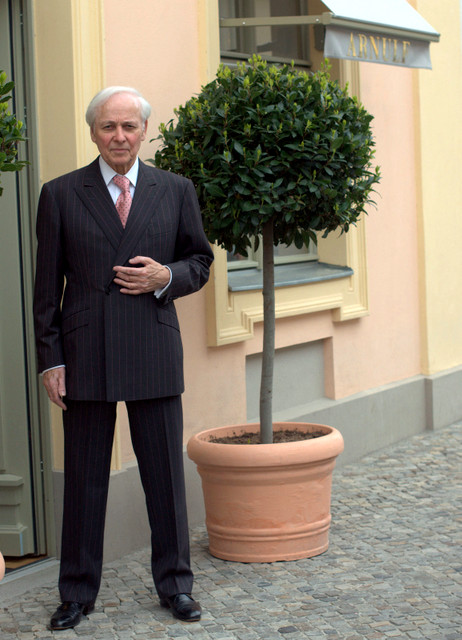 Bespoke tailor Volkmar Arnulf outside his shop in Potsdam.
English and Italian bespoke tailors get most attention. For good reason, you might say, because we find true masters of the craft among them.
However, true masters of bespoke tailoring are in other countries as well, among them Germany. Tradition and numbers of tailors have diminished rapidly since the 1950s but as Sator (one of the very great sartorial voices at the web, who, sadly, has disappeared) has documented at the now almost deserted Cutter and Tailor Forum, Germany has a very strong bespoke tradition. Tailors, who have studied tailoring history, will even argue the Germany has produced the most advanced, flexible and refined bespoke cutting systems by far.
All this, of course, will not convice romantic customers of bespoke, who have fallen in love with the artistic Italian approach or the hyper conservative English take on tailoring. These customers will dismiss German tailoring as "scientific" claiming that it can be great for cars but not clothing.
To me, though, the solitary de-mystifying German view on tailoring has made German tailoring more mysterious and attracting, and I have been considering a bespoke project with a German tailor for a while.
I then came upon a post at Bernhard Roetzel's blog about Berlin based Volkmar Arnulf, tailor to former chancellor Helmut Kohl. Subsequently, I read a couple newspaper interviews with Mr Arnulf, and I got the impression that he is the genuine oldschool German master tailor, I was looking for.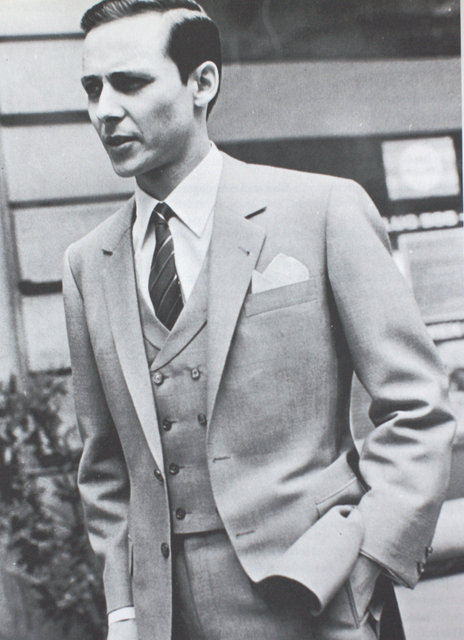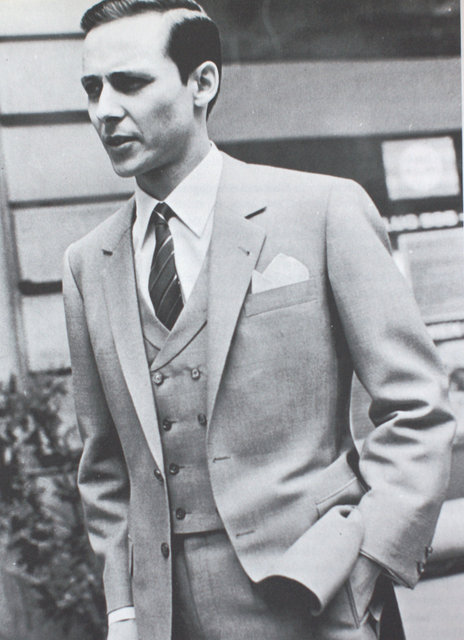 Volkmar Arnulf as young master tailor in 1966 
Last week I made a first visit to his shop, which is in Potsdam now 20 kilometers outside Berlin. Mr Arnulf was located on Kurfürstendam in central Berlin for 45 years, before he chose to leave last year. The rent was sky rocking, and he declined to keep paying it.
Mr Arnulf comes from Bernau outside Berlin. He began apprenticing in 1950 at the age of 14 in a large tailoring shop in Berlin, which meant he came to know not only men's tailoring but also women's tailoring and uniform tailoring from early on.
After finishing his apprenticeship in 1953, he worked for different top tailors in Berlin.  During those years he started to specialize in cutting, and he also spent time on working as a model maker.
In 1962 he passed the "Meisterprüfung", and the same year he set up his own shop in Berlin. Five years later, he moved it to Kurfürstendam.
At that time there were dozens of tailors in Berlin, mostly in West-Berlin, because East-Berlin tailors had been collectivized losing all aspirations, Mr Arnulf tells.
Funnily enough, the DDR leadership later concluded that bespoke tailors could provide a harmless individualization in clothing that people were dreaming about, and bespoke tailors were again allowed to work on their own, which gave a sort of comeback to the trade in East-Berlin.
Though, not for long. The East-Berlin bespoke trade imploded almost overnight in 1989, when DDR citizens got access to enjoy Coca Cola, designer clothing and other marvellous products of The Free World.
"In a year, 90 percent of bespoke tailors in East-Berlin disappeared," Volkmar Arnulf tells me.
Nowadays, there are no more than five or six bespoke tailors left in whole of Berlin, as far as I can see. And, Volkmar Arnulf seems to be the only one left of the old masters.
Indeed, he acts like an old master, who feel obliged to protect the trade. Besides running his own tailor shop, he has taught cutting techniques, written about cutting and Berlin tailors, for instance "Chronik der Berliner Schneidergilde 1288-1988", and he has been president of The Berlin Tailor's Guild.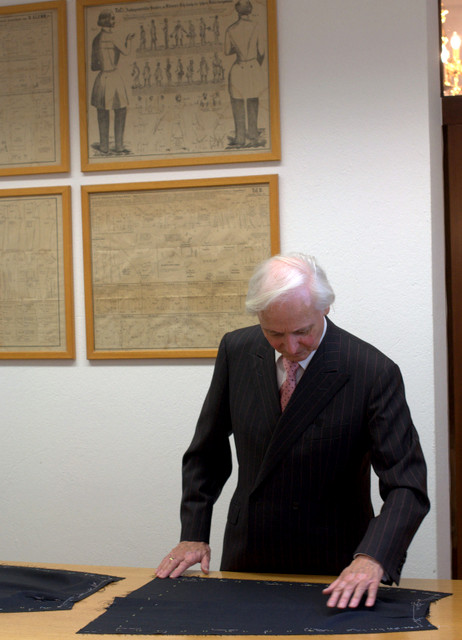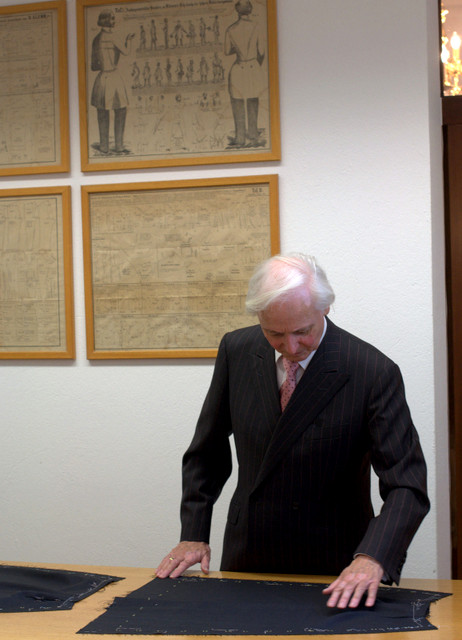 Volkmar Arnulf at the cutting table with Klemm's groundbreaking 19th Century cutting system on the wall behind him.
Despite his position, I meet a humble man in Potsdam.
"In this craft, you never stop learning. At my age, I still learn," he says.
Volkmar Arnulf inspects my suit jacket, which is bespoke from Italy.
"No, I will not criticize it," he remarks smiling to me.
I don't know, if he is impressed, or not. However, I think he respects, what he sees, although he differs on construction and styling. He gives one example:
"The corners of front and pocket are like brother and sister. In my opinion, they should follow the same curve or angel," he explains comparing my jacket to one of his own, which has pockets corners and front corners reflecting each other nicely.
That said, Volkmar Arnulf stresses that to him bespoke tailoring is about the customer's need, not imposing a style on the customer. Evidently, as a tailor you are embedded in a certain history of tailoring but a first class bespoke tailor should really try to find out, what serves the customer using all his knowledge and tools.
"I always try to figure out, which line will make the customer look as good as he possibly can. Later, when striking the pattern, I apply various thought models to reach the right result," Volkmar Arnulf explains.
"How can a computer do that?" he asks rhetorically.
Made-to-measure with tape measure or scan machines is "nothing but a theater" to Volkmar Arnulf. Unfortunately, few men really understand, how much bespoke tailoring differs from heavy promoted individualized industrial suits.
"Money is there, there is no doubt about it but knowledge is lacking. We have not been good enough at communicating our craft," Volkmar Arnulf tells me.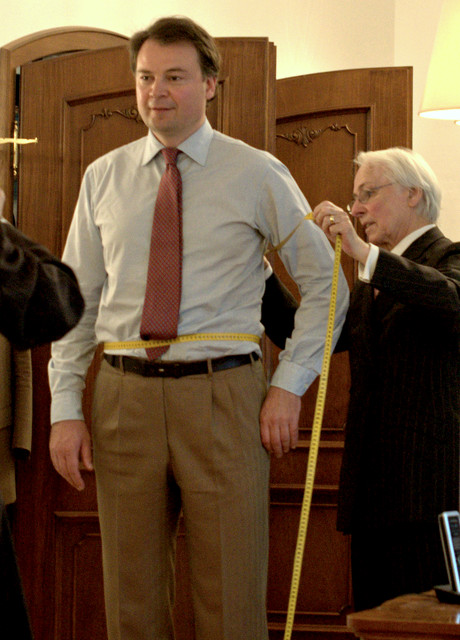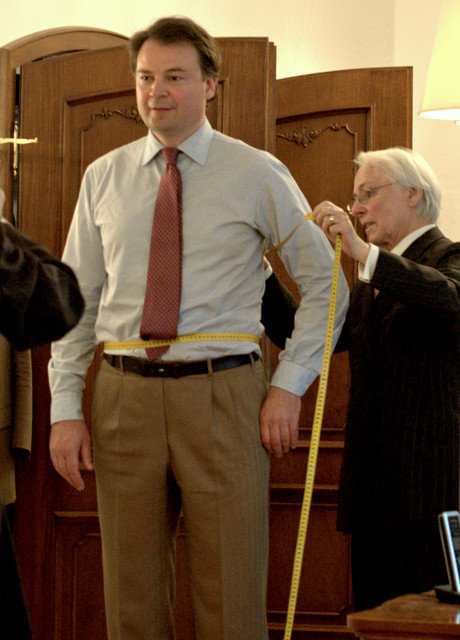 After the conversation, we proceed to the suit, I want him to make up. It will be a double breasted, and I bring an English vintage cloth for it. As I was hoping, Mr Arnulf likes the cloth spontaneously.
Measuring takes place backstage. In front of an enourmous mirror, Mr Arnulf spends 10 minutes or so measuring my upper body and legs. He makes a couple of drawings as well. I must say, I have never experienced a tailor being that detailed about measurements. I don't know, if it promises a better result but it feels reassuring.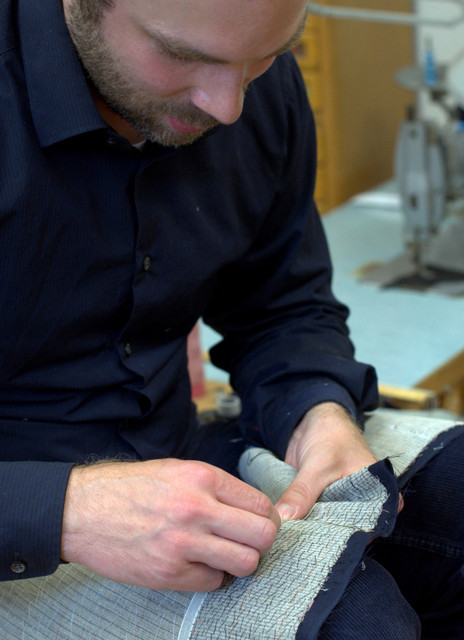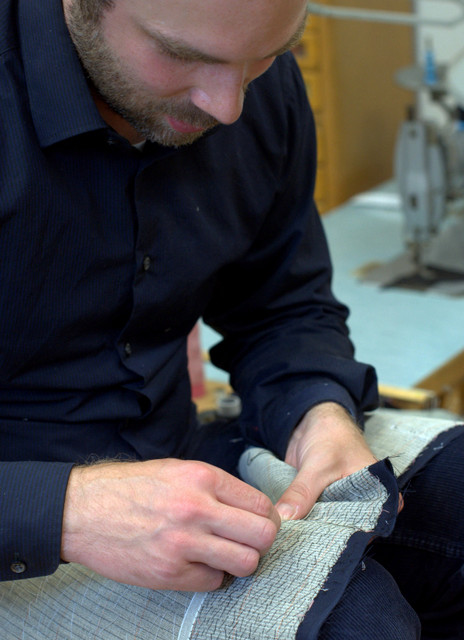 Before I leave, Mr Arnulf shows me around in the workshop behind the front shop. He has four employees, who works on different parts of the suit. Lapels, collars, interlining, shoulder seam etcetera are all sewn by hand. The quality of the make looks to be on par with the very best I have met in England and Italy.
It reminds me of Mr Arnulf's meticulous going through one of his own jacket about an hour before. He explained how he matches all patterns carefully, including the pattern on pockets jettings, which are aligned with rest of the jacket. He only avoids matching stripes on the shoulders of a double breasted jacket, because it disturbs the fit, unless the suit is a for tv production or the like, where pattern matching on shoulders is regarded as a mark of quality.
To be continued …
Source: The Journal of Style