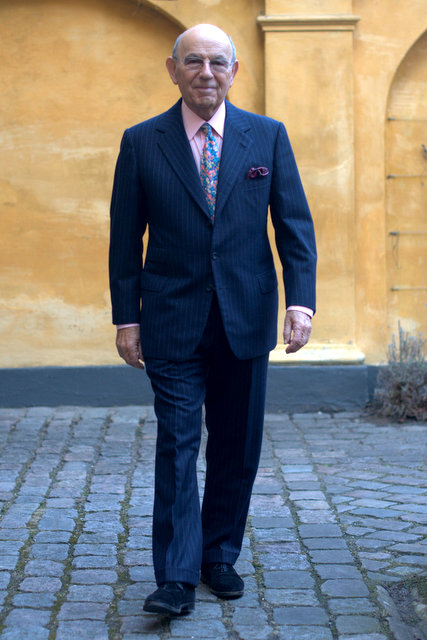 It happened in the end of 1960s. Former ambassador Ole Philipson confirms, what I have often heard, that old dress codes collapsed, when the cultural change swept the western hemisphere 45 years ago. 

Up until the mid-1960s young officials at the Ministry of Foreign Affairs were sent downtown to order dinner jacket and tailcoat at Brødrene Andersen, then the leading menswear retailer and tailor in Copenhagen. A few years later, icelandic sweaters were fashionable and acceptable among young officials …
Mr. Philipson's care for fine clothing began at home. His father was in the cloth trade, and mr. Philipson took part as a young man, before he changed course going to university.
"My father was convinced that elegant dressing was an important part of human identity," mr. Philipson says.
In the photo, mr. Philipson is wearing a bespoke blue suit from Degand in Brussel, and the pink shirt is bespoke from Turnbull & Asser. The floral light blue tie is from Liberty, and departed bespoke shoemaker Frode Alsbjørn has made the black suede toecaps.
Source: The Journal of Style