The charm of naivety is definitely what meets you when you step inside Saddler Dahlman's. Time doesn't so much stand still rather it follows its own off-beat and seductive path with tools, imagery and shapes that in many cases are well over a hundred years old.
And then there's the hand-made that calls out to the inner romantic. Dahlman has for two hundred years produced and repaired halters, saddles and other equestrian equipment. Besides that the company has since the 1940's fashioned leather accessories for menswear, designed in collaboration with some of the renowned architects of the past.
It hardly surprises that it is the latter endeavour that made The Journal of Style knock on the door, right there at number 5, Fortunsstræde in the centre of Copenhagen, where Dahlman has been based since 1930. The world of equestrianism is not The Journal of Style's strong point.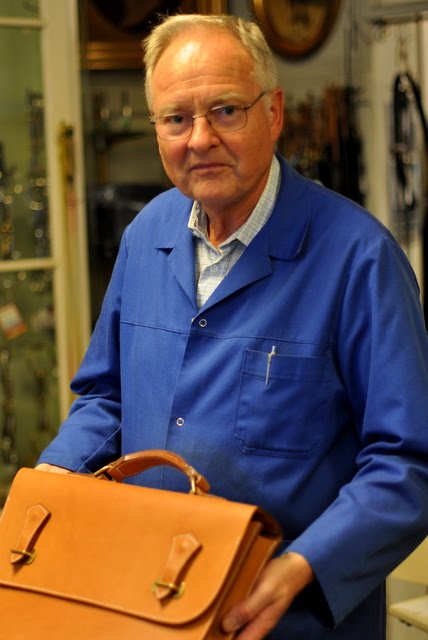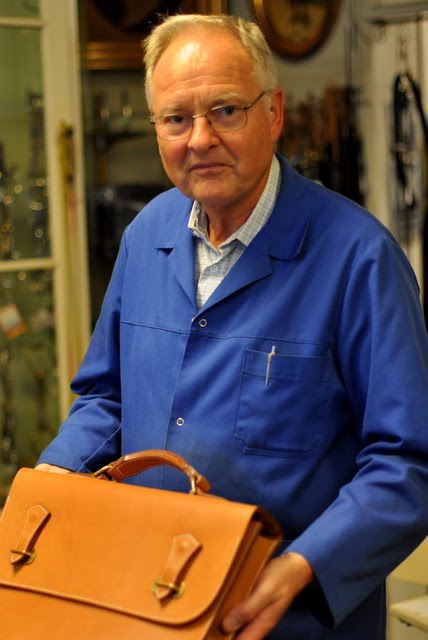 Erik Hendriksen received me. He runs Dahlman's in conjunction with his brother, Frank Hendriksen. They are third generation in the company. Their father, Willy Hendriksen, took over Dahlman's back in 1959 after having worked for the company for close to 30 years. He achieved all in all 76 years at the company without a single day off sick before he retired at the age of 90. Willy Hendriksen's father, Henry Hendriksen, arrived at Dahlman's in 1897.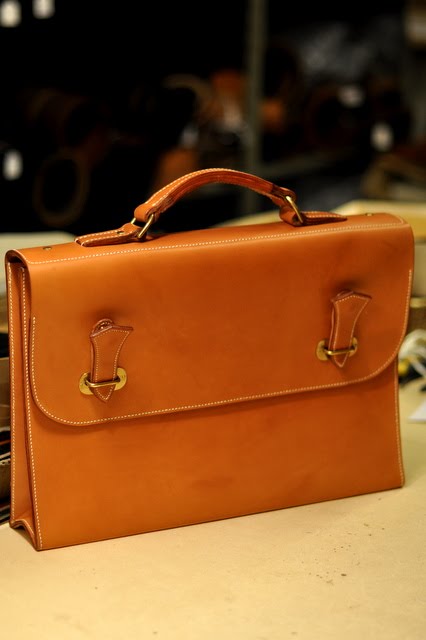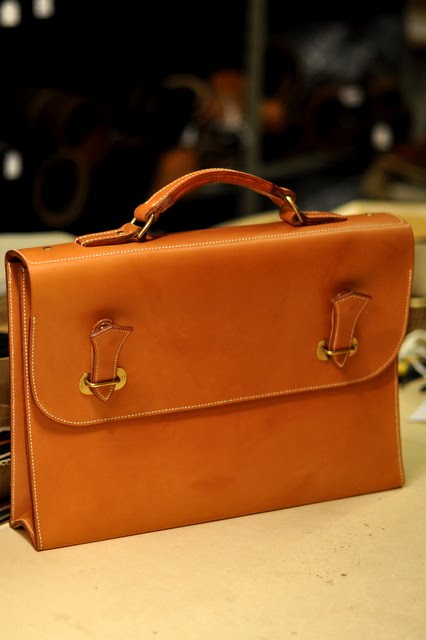 At Stiljournalen's request Erik Hendriksen retrieved a beautifully natural colour leather briefcase from a display case. He revealed that the design came to fruition in 1942 when the architect Erik Herløw approached them with the design for a fresh take on the briefcase. Together Erik Herløw and Dahlman's created a very simple design of vegetable tanned core leather with a unique brass closure, one where you kind of push a leather flange through a small clasp. Then the briefcase was DKR 300. Today it's priced at close to DKR 20,000, approx. 4.000 USD.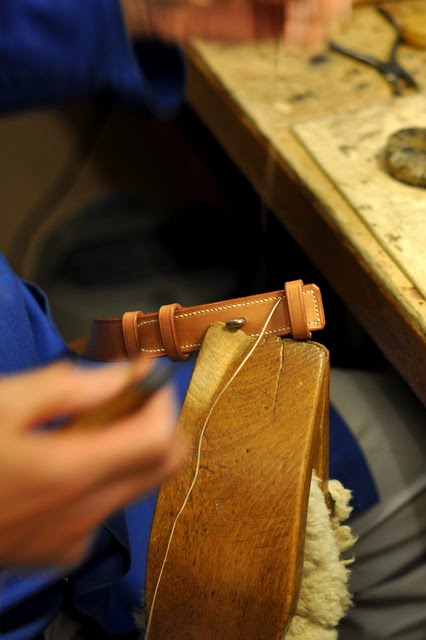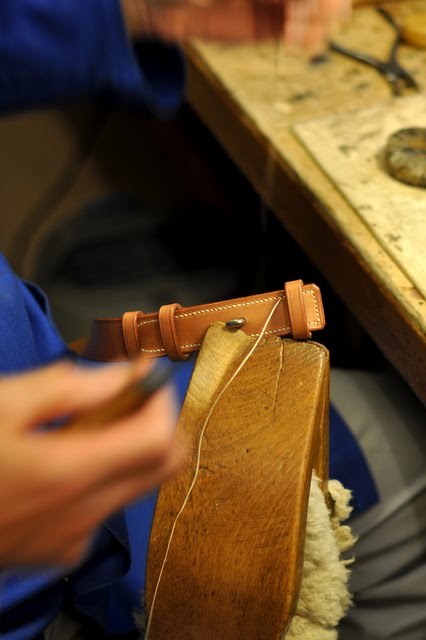 I also studied the Saumur metal hook belt, another classic from the Dahlman studio. Just like the briefcase, an architect, or rather two of them, conceived the design for the belt. According to Erik Hendriksen it was never quite resolved who can take the credit for the belt design, but both Erik Herløw and Poul Kühl were involved.
The belt has the same distinct mix of simplicity and functional innovation about it that also originates from Dahlman's architect's briefcase. The original version is of natural hue, 27 mm wide and closed with a Saumur style hook, just like the one that is used for traditional equestrian reins.
The closing of the belt may be simple but you do have to practise how to do it so you don't break the leather as you close it, Erik Hendriksen remarked. He then proceeded to show Stiljournalen using a couple of practised fingers how one ought to open and close the Saumur metal hook belt.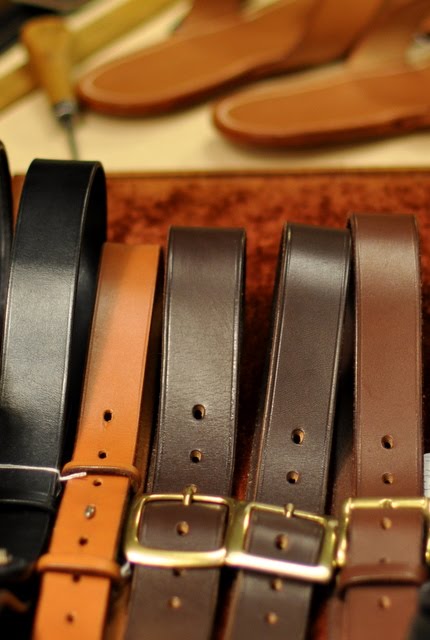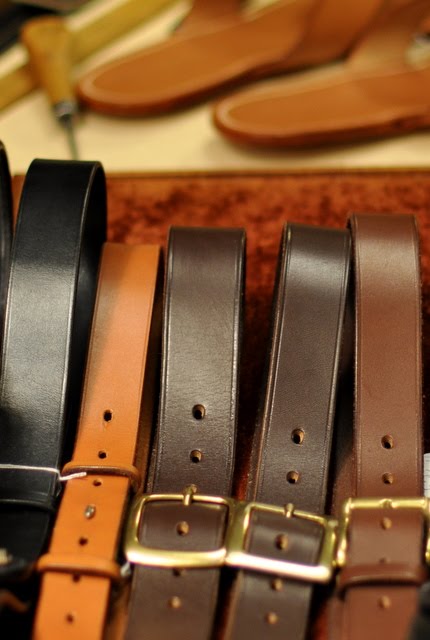 Initially they only produced brown versions of the Saumur hook belt, Erik Hendriksen continued, but during the 1950's they started making it in black as well. Again, it was an architect, Arne Jacobsen, who made the manufacture happen. He really wanted the Saumur hook belt in black. At that point Dahlman couldn't source the correct leather from the tannery, so they dyed some of their brown leather with grain blackener and produced the belt Arne Jacobsen had requested.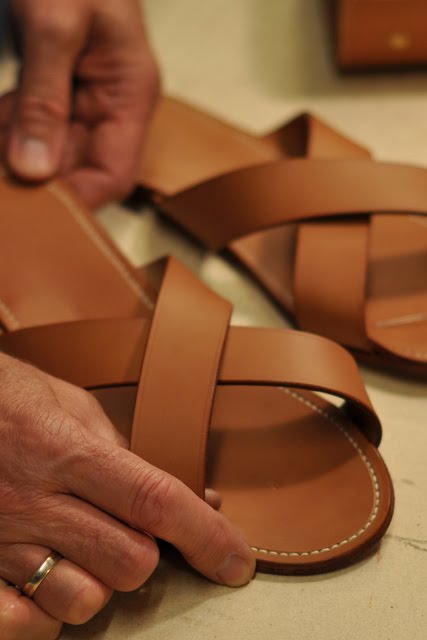 The Journal of Style also enquired about the natural colour sandals which Dahlman's had displayed on a shelf. They looked very inviting although a tad bohemian and yet again Erik Hendriksen could relay that it was Erik Herløw and Poul Kühl that came up with the idea for them. Erik Hendriksen told me that they custom-make the sandals so that all those of us with wide or narrow feet or a high or low instep can get a pair that fit perfectly. I don't recall the exact price, but just like the Saumur hook belt, it is roughly DKR 1,000, or approx. 200 USD, and a bit more if the sandals have to be custom-made.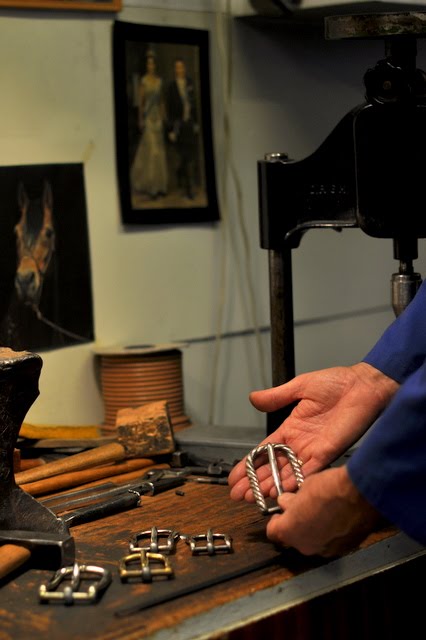 Erik Hendriksen showed me a bunch of silver plated buckles of which some were more than a hundred years old. Originally made for upmarket bridles but now have a second life as exquisite belt buckles.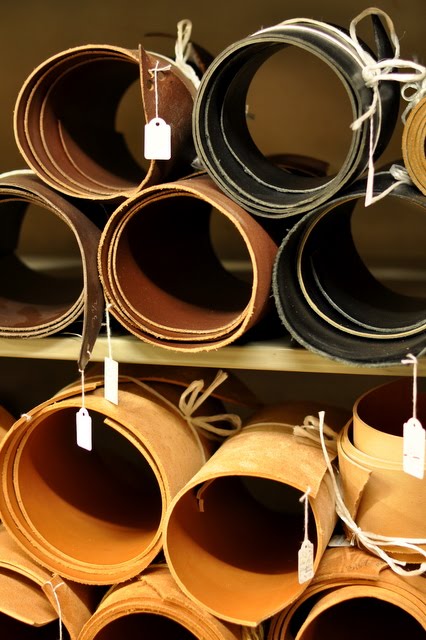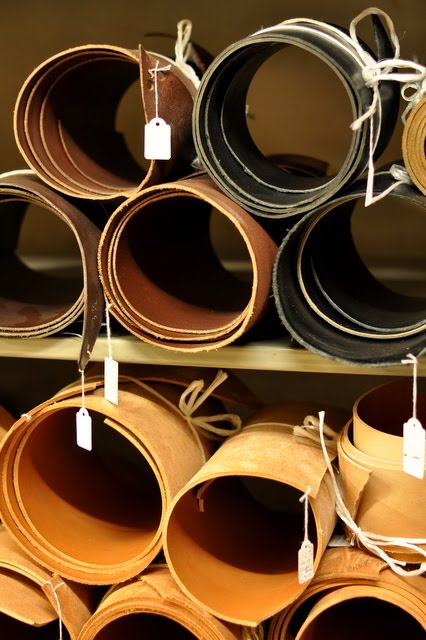 Along one wall the hides were stacked in rolls. By now I've seen my fair share of shoe leather and could thus conclude we were in an altogether more rustic genre. Everything was thick and vegetable tanned in the old fashioned style and you could grab hold of a juicy chubby pull-up when you folded it.
Yes, it was an encouraging visit that Stiljournalen paid to Dahlman's Saddlers. Lovely to experience that a company that reveres the artisan still exists in the heart of the capital.
You can explore more on Dahlman's homepage (in Danish).
Photo: The Journal of Style