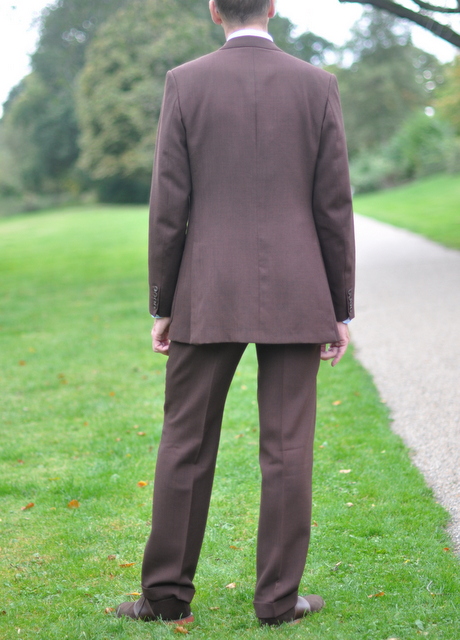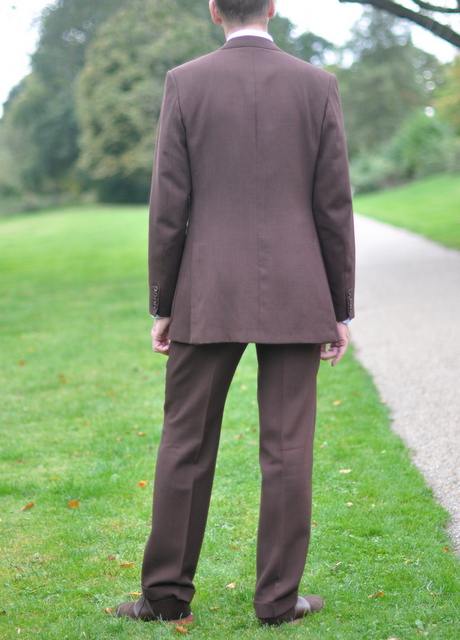 Not always. The good deal exists. However, digging into the tailoring and service from internet hyped bespoke tailor Graham Browne in London, the phrase came to mind.
With prices at around 1000 £ for a two-piece suit, Graham Browne offers accessibility to bespoke in the Sartorial Motherland of the World. You get all the hallmarks of bespoke tailoring, except for the handmade part, which gives the soft and flexible dimension and the elegant finish of the suit's interior. But measurements, paper pattern, canvas and fittings are there.
In theory Graham Brown seems a good deal. On a practical level, things are murky. At least in the following case, which consists of a customer from the North ordering a fresco suit at Graham Browne's.
The jacket tells a lot: How on earth could this tipi shaped garment leave the Graham Browne shop? Evidently, it lacks fitting. (No reason to blame the customer's hips or shoulders. He is well-proportioned).
The customer explains that the process went fast, and that there wasn't much care for his opinions or worries in any way. They were friendly, but not service-minded at all. Only one trial was necessary to finish the suit according to Graham Browne. Speed was crucial, clearly.
After wearing the suit at home, the customer decided to bring it all the way back to London.
At first, Graham Browne was uncomprehending. They didn't find a need for alterations, although they ought be able to see that a ready to wear jacket would serve the customer better. However, the customer insisted, and they accepted to give it a shot.
Now, I realize that all sorts of accidental elements may have hit this specific customer's experience. On the other hand, I can hardly imagine a garment like this leaving an Italian tailor's workshop, or a Savile Row tailor. And, I can definitely not imagine that they would hesitate to alter the garment, if it had left the shop, and the customer had decided to bring it back for alterations.
What you pay is what you get.
Photo: The Journal of Style