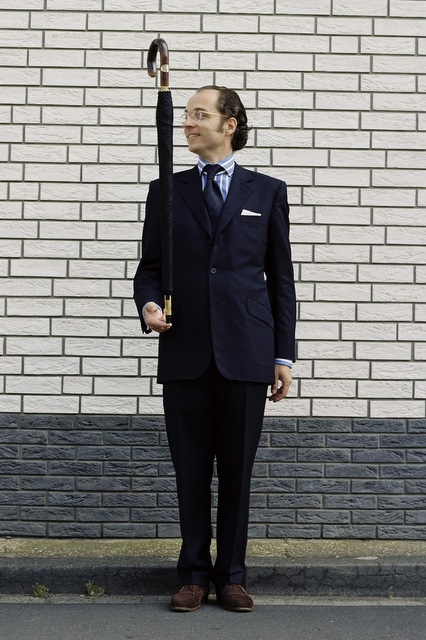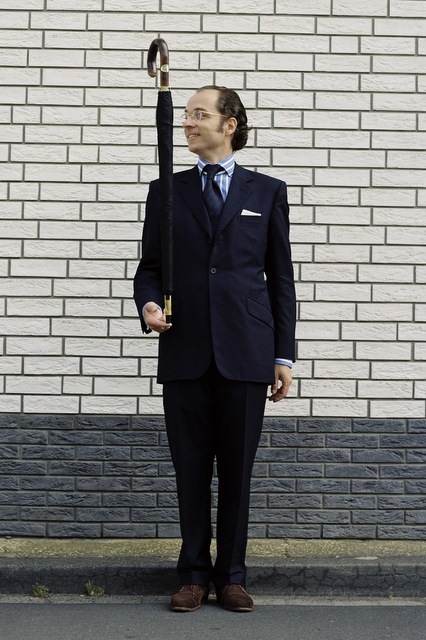 As most of you will know, Mr. Roetzel is the author of Gentleman, one of the classic books on timeless dressing. When I did my interview with him, he was very clear, unromantic and dry about dressing with style. I think he prefers to see the world how it is. He doesn't want to mystify style.
How do you look at the difference between Italian and English style?
In Italy style in menswear has the purpose to make a man look elegant and attractive. The English dress in a way that makes them look like aristocrats or "old money". They don't care so much about how sexy they look. They know that many women are not very fond of men who are too handsome and too well-dressed. The English will rather wear a slightly scruffy bespoke suit that was handed down from their grandfather (or was bought at Oxfam) while the Italians usually are super smart. The Italians take their style very seriously, they usually lack the ability to laugh at themselves. Thus they look great but they are very often slightly boring company. Italians in general tend to follow new fashions more than the English. I remember the time when the Woolrich Parka was new. Everybody in Italy wore it. It was really like a uniform and I couldn't stand the sight of the thing after a couple of days. The English are more hesitant to copy new looks. English style is all about classic and the only thing the add is the famous "twist".
What is dressing with style?
Style is usually something you acquire rather than being born with it. Thus all stylish people should be very humble because they haven't invented what they wear in 99 percent of the time (this includes myself). Style is very much about copying and imitating. It's similar to learning an instrument. I play the guitar myself and I have spent many years trying to sound like someone else. Sometimes you start to sound like yourself or look like yourself the moment when you realize that copying will not take you further. Or when you realize that all the time you spend studying others won't make you a master yourself. So dressing with style is a mixture of copying and making the best of one's abilities.
What inspires your own dressing?
When I was 21 I tried to look exactly like the Englishmen I admired. Some were characters on TV like John Steed or Siegfried Farnon, others were people from real life that I had seen on the street or in books. Then I started to discover Ivy League looks. Later there was a time in my life when I got in touch with Italian style which brought some new influences. Now I no longer try to look like an Englishman or American or Italian. I am what I am and I don't need to hide this fact by dressing like a Sloane Ranger or someone who lives in Naples. Stylish men in Germany have great difficulties accepting the fact that they are still Germans after all even if we eat Pasta all the time. My tailor is still English, my shoes are still made in Northampton and my shirtings come mainly from Switzerland but I mix everything more freely. In a way my style of dress is very boring because I wear the same things for a very long time. In summer my everyday dress has been khaki pants, a dress shirt, an English saddle leather belt with brass buckles, suede shoes and a V neck sweater for 20 years or so. There is nothing better than khaki pants in summer. Of course I sometimes wear pink pants or red pants or green pants but khaki is still the best. What inspires me? The cloths I find. And my own feeling. I remember feeling that camel is a great colour last fall and now I see it in every collection.
How do you look at the future of the suit?
Only God knows the future. But I think that the suit cannot be replaced. Dresscodes will probably change in some way but the suit will be here until the world comes to its end. If you look at a car from the 1920s it's beautiful but it is definitely outdated. The suit has been created in the same decade but it is still young. Again I must think of guitars. Look at the Telecaster or the Les Paul. They are both the definitive solid body guitars but someone who doesn't know would never guess that they were both released in the early fifties. Some things cannot be improved. Especially if form and function are in perfect harmony.
Postscript, February 2011
When I first published the interview at The London Lounge a year ago, it provoked a bit of discussion. Read more …
Photo: Bernhard Roetzel