You will stumble upon a lot of technical and very specific advice, if you want to find out, how to combine colours and patterns in classic dressing.
"Don't pair a striped tie with a striped shirt."
"Only apply two colours."
"Don't mix patterns in different scales."
Or …
"Mix patterns in different scales."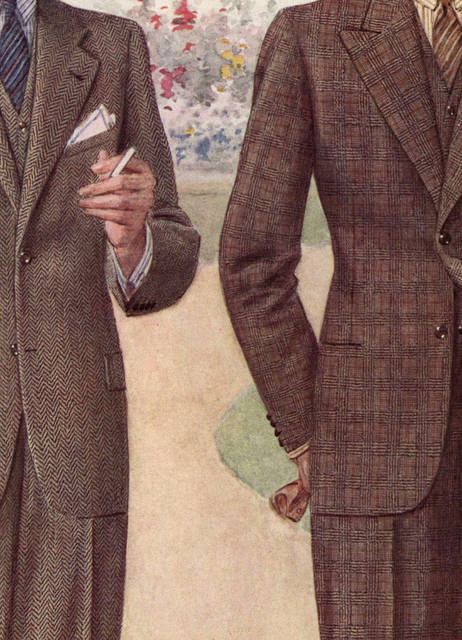 An otherwise great book like Alan Flusser's Dressing The Man is guilty of promoting that naive view. In my experience, a general and less limiting approach is more enjoyable, and it brings more pleasing results.
An example: If patterns are in power, tone down colours (see the gentlemen above), and if colours are in power, be careful with patterns, or avoid them altogether.
The fashion plate, which is from 1930s, also shows, how you can use a general perspective like "warm" and "cold". The model on the right in Prince of Wales sports warm brown colour tones in suit, shirt, tie, hat and shoes, whereas the fellow in the left applies cold colour tones in grey, blue and black.
Illustration from Grafton Fashions, The Metropolitan