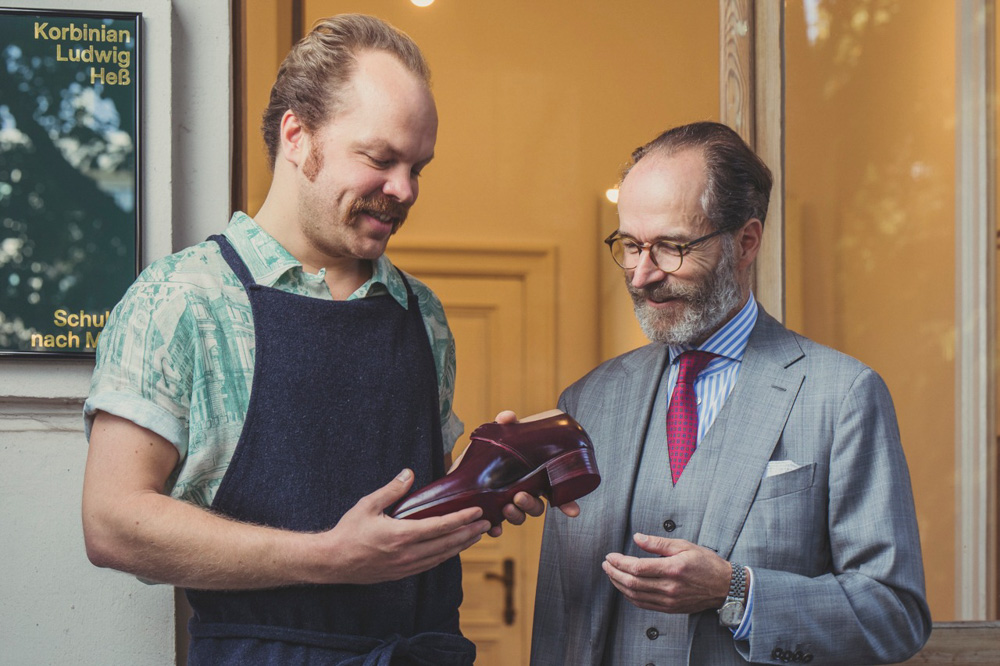 Menswear writer Bernhard Roetzel, author of the best selling book world-wide on classic menswear, "Gentleman", has a new book out on bespoke shoes: "Herrenschue nach Mass".
This first edition of the book is in German only, yet Bernhard Roetzel expects the book will be translated to English shortly.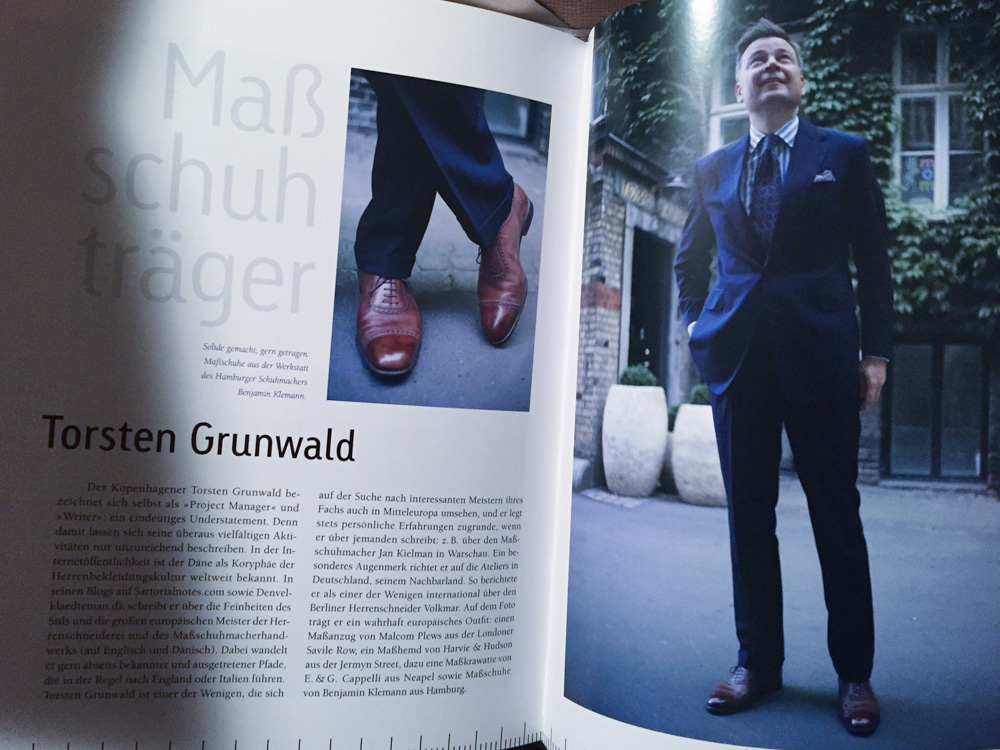 I've talked with Mr Roetzel about his latest book on bespoke shoes. I should say he features me in a couple of pages of the book calling me "a pioneer in the sartorial community", which is of course very kind of him.
1) Bernhard, what knowledge would you like to bring to readers with your new book?

Many people know the term "bespoke shoes" but they don't really know what bespoke shoes are, how they are made, what advantages they have and which difficulties a customer may face when ordering them. My book tries to answer all these questions in necessary detail but in a comprehensive way. Some authors offer too many details that are not relevant which leads to confusion. Other customers are used to wearing ready-to-wear Goodyear welted shoes which they think fit well although this is very often not the case. I try to explain how shoes should fit. Another question that I write about are the pros and cons of try-on shoes. I explain the different points of views to allow the reader to make a decision for himself.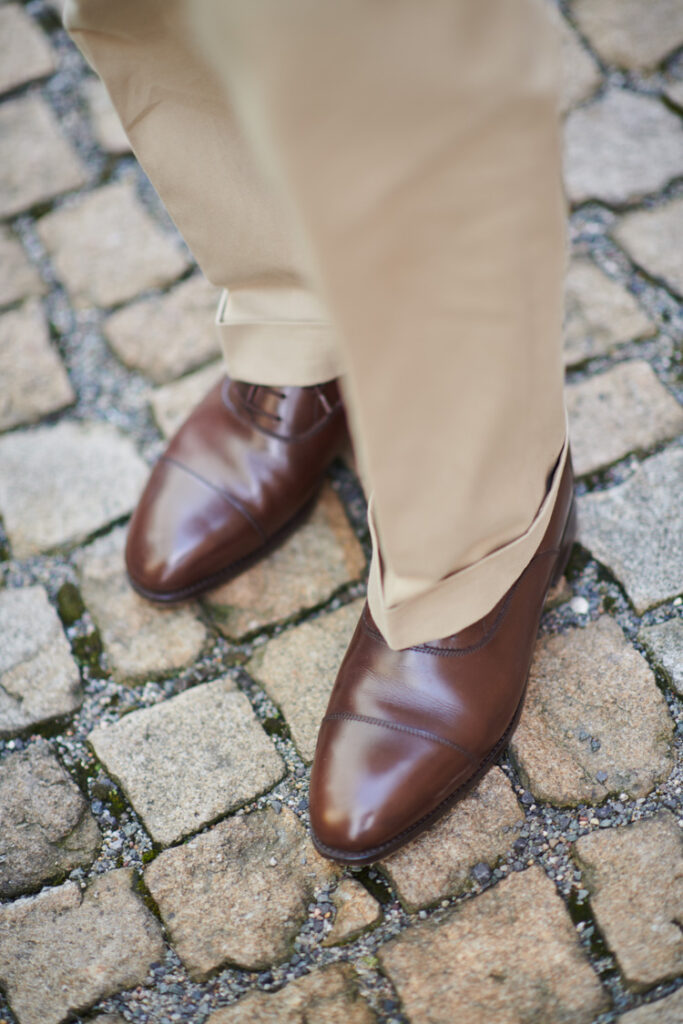 2) How does the book differ from the old Vass book on bespoke shoes?
At first glance it looks similar which was our intention because my book is meant to replace the old book. Nevertheless I have written a completely different book although the sequence of the chapters is also based on the steps of the shoemaking process.
The first difference is that my book has been planned and written by one person including the direction of the photography. I was present at most of the photoshootings in Berlin which was very helpful for me because I learned a lot while I watched Korbinian Ludwig Heß and his uppers maker from Japan Shigeki Motozuka. The old book was born because the original publisher had met Mr Vass. As Mr Vass is not a writer they needed to find someone to actually write the book. When you read this book you don't really know who you are listening to. I was involved in the old book at a late stage as a consultant, you can find my name with a credit in the book. I always liked the old book and I know that it has a certain cult state similar to my book "Gentleman" although I found twenty years ago that it focussed a bit too much on Hungarian shoes. I also wanted a different style of photos. I think Martin Smolka and Tommi Aittalla did a phantastic job. We have hundreds of pictures left that we couldn't use for lack of space.
Another difference is my rather unemotional, matter-of-fact attitude towards the subject. I am not a bespoke shoemaker trying to convince readers that bespoke shoes are the best option for everyone. I do see the weak points and I try to blow away the mist surrounding the subject.
3) What's your position in the sartorial debate about the advantages of bespoke shoes vis-a-vis ready-to-wear shoes?
If your feet have no peculiarities, if they are totally evenly shaped and match the sizes perfectly, then you can use ready-to-wear lasts all your life and be very happy. Buying ready-to-wear has many advantages, the biggest is that you see and can try what you get. There are so many beautifully made shoes on the market in different price categories that you can find something for almost every taste. But even with totally even feet you could still decide to order bespoke shoes just for the fun of it, for the fun of having something made especially for yourself. This is one big reason why people order bespoke shoes although they are very happy with what they get off-the-rack. Then we have many men with irregular feet, with odd toe shapes, with different feet lengths, with very narrow heels and a wide forefoot and so on. They will never find welted shoes that will fit them correctly and that feel good on their feet. Some could find better shoes using made-to-order or made-to-measure but a good bespoke shoemaker will make a big difference for everyone who's feet are far beyond the norm. I don't think that a completely handmade shoe is very much better technically. A Goodyear welted shoe made of good raw materials will last very, very long if you look after it. I don't believe that the handwork results in a shoe that will last longer. I have both bespoke shoes and ready-to-wear shoes that are 20 or more years old.

Once you do find the bespoke shoemaker who makes a shoe for you that is perfect or as good as physically possible you will notice the difference. Before you find these shoes you will not notice a significant difference to your best pair of ready-to-wear shoes. In fact I have had bespoke shoes made that fitted much worse than ready-to-wear.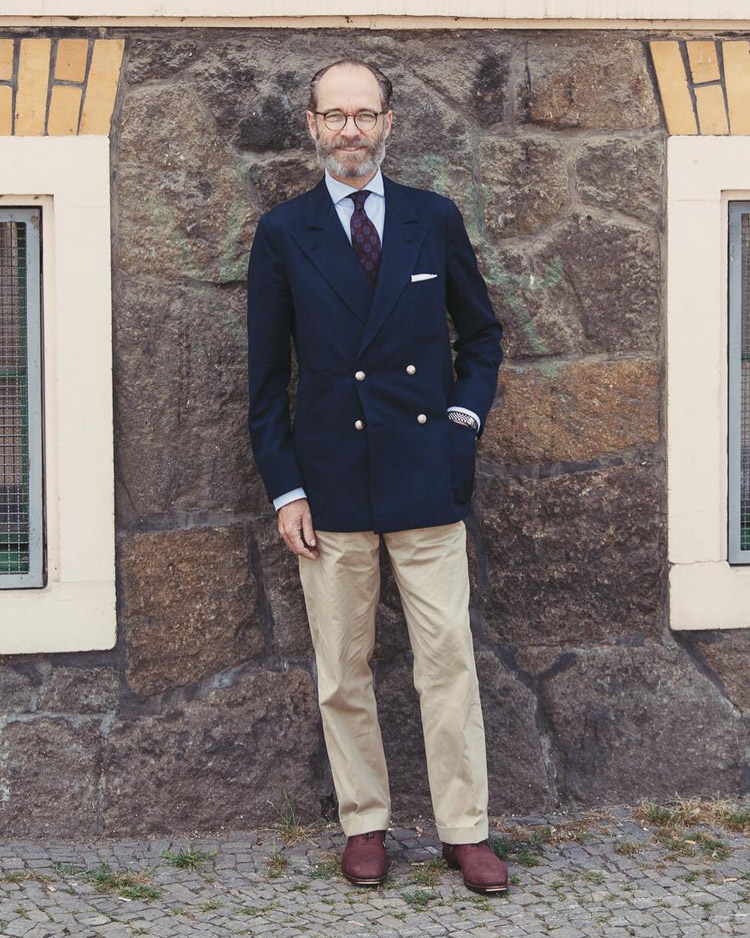 4) How would you rank design, fit and make, when it comes to shoes?
When I buy ready-wear I go by the look of a shoe first of all. Then I try it on and if doesn't fit I don't buy it. If I have two different pairs of a similar style, say a black captoe Oxford, and if both fit equally well I will buy the pair that looks better and offers better value. If I don't like the way a shoe looks I will never buy even if it fits very well. Clarks Wallabees are extremely comfortable for example but they don't match my clothing style so I don't wear them although have bought them in the past. I love the way some shoes from Tricker's look but I have never bought a pair because they are too wide for my feet. The make has become of less importance to me over the years. 20 years ago I preached that welted shoes are best but now I know that other makes can be very good if the last is good.
When it comes to judging bespoke shoes it is a bit different because one usually doesn't know in advance what the shoes will look like if you order for the first time. When I look for a bespoke shoemaker I judge him by the samples although they only show part of the truth because they are usually made for very regular foot shapes. For me the personality of the shoemaker is important, if I like and I trust him I am pretty confident. But if the shoes don't fit it doesn't help. Bespoke shoes must appeal to my eyes and they must be well made in comparison to other shoes that I own and in comparison to their price but first of all they must fit. Ill fitting bespoke shoes usually hurt more than ill fitting ready-to-wear shoes. On the other I will tolerate lacks in the look and the quality of the making if the shoes fit very well. I even like it when bespoke shoes look a bit strange, I don't expect them to be as beautiful as a pair of shoes form Gaziano & Girling, Aubercy or Zonkey Boot. As long as they fit well.
5) How do you see the state of bespoke shoemaking in Germany and elsewhere?
It's really difficult to make a judgement because one can only try very few bespoke shoemakers personally. I used to say that a try-on shoe is absolutely essential, since I had very well fitting shoes made without a trial pair by Kay Gundlack I have changed my mind. His shoes fit better than any other pair of bespoke shoes made after a fitting. Generally speaking I would say that German and Austrian bespoke shoemakers very often have a background in orthopaedic shoemaking which results in a very good fit if they get the shoes right. Sometimes German shoes don't look as attractive as Italian shoes but in this case the fit is more important. Personally I would use German, Austrian, Czech or Romanian shoemakers rather than English, French, Spanish or Italian, because I like to see a craftsman in his workshop rather than at trunkshows. I would also like to try a female shoemaker one day, I really like the work of Vivian Saskia Wittmer in Florence for example.
Generally speaking I am confident about the future of bespoke shoemaking, there are a number of promising young shoemakers active in many parts of Europe and I think that we will see a small Renaissance of the craft.
---
You can buy Bernhard Roetzels new book here (IN GERMAN ONLY).