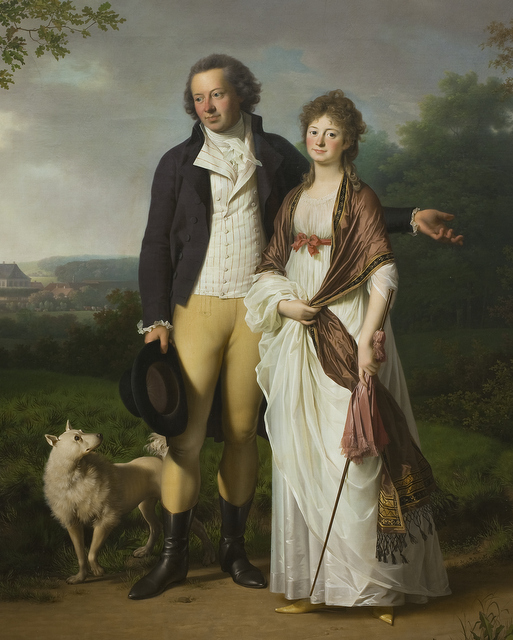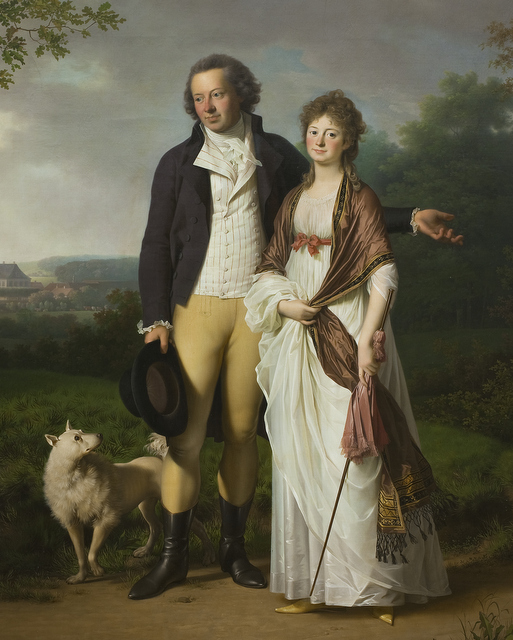 Beau Brummell dress on The Continent: Johan Christian Ryberg, son of the rich merchant Niels Ryberg, with his wife Engelke, dressed in blue tailcoat, pale buckskin trousers, hessian boots, and fox hunting top hat …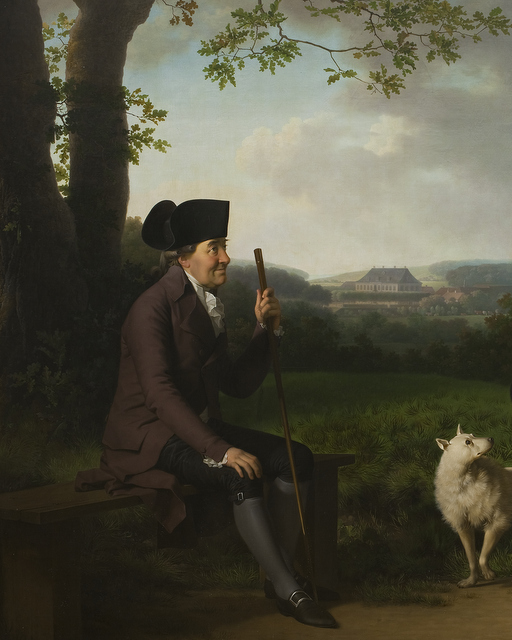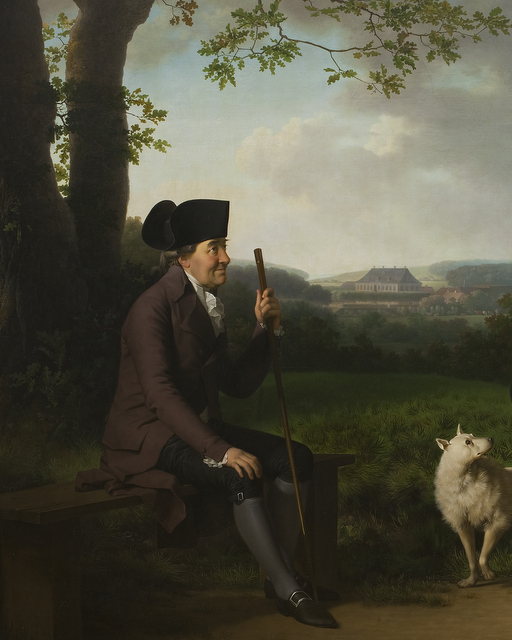 … and father Niels Ryberg in the same painting in late French court dress. Notice the silk stockings, the breeches, the buckled shoes, the Napoleon bicorne hat, and the wig.
Source: The Ryberg Family, by Jens Juel (1797), National Gallery of Denmark.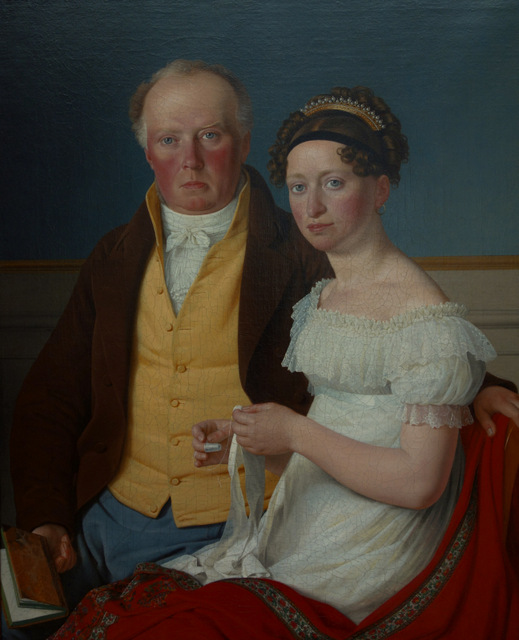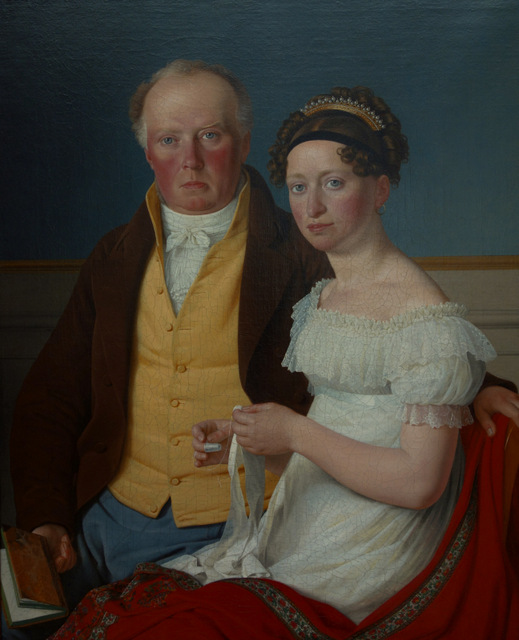 The brown tailcoat, the buff waistcoat and the open lower waistcoat button (who said King Edward VII invented that fashion?).
Source: Count Preben Bille-Brahe and his second wife Johanne Caroline nee Falbe, by C. W. Eckersberg (1817), Ny Carlsberg Glyptotek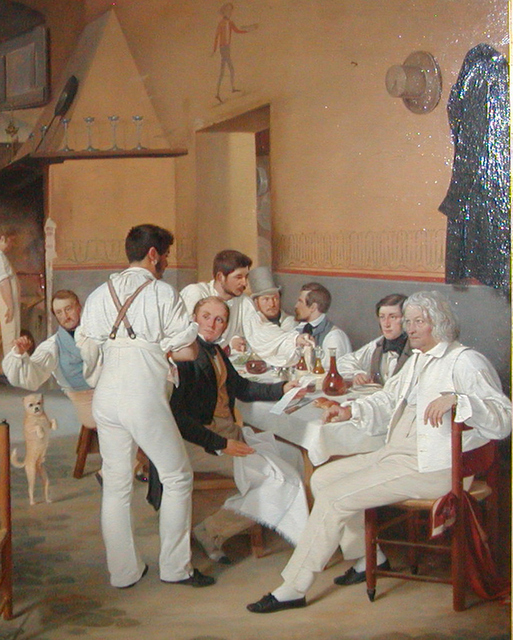 White summer clothing, Italian loafers (ooops!?) and straight X trouser braces.
Source: Danish Artists at an Osteria, by Ditlev Blunck (1837), Frederiksborg Castle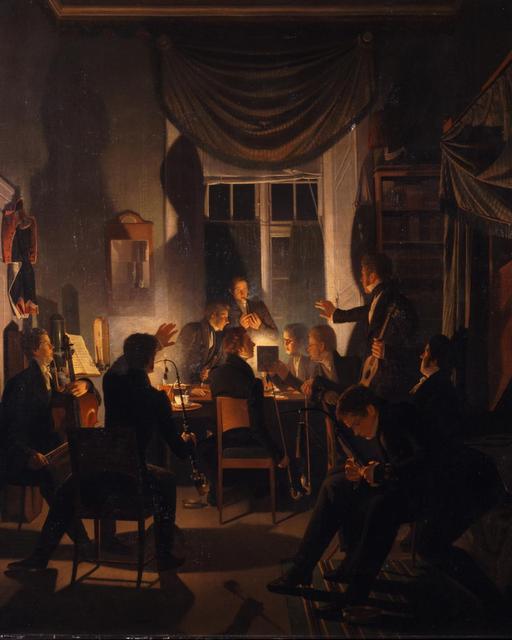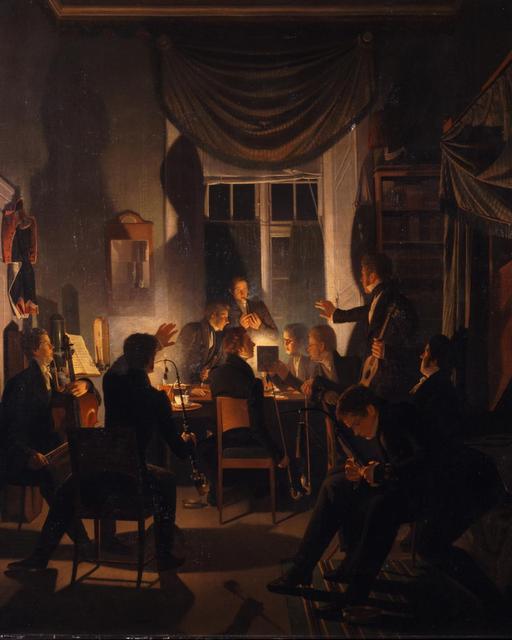 Early 19th Century evening wear, the coming of trousers, the last days of the white cravat, and the early bow tie.
Source: A Tobacco Party, by Wilhelm Bendz (1828), Ny Carlsberg Glyptotek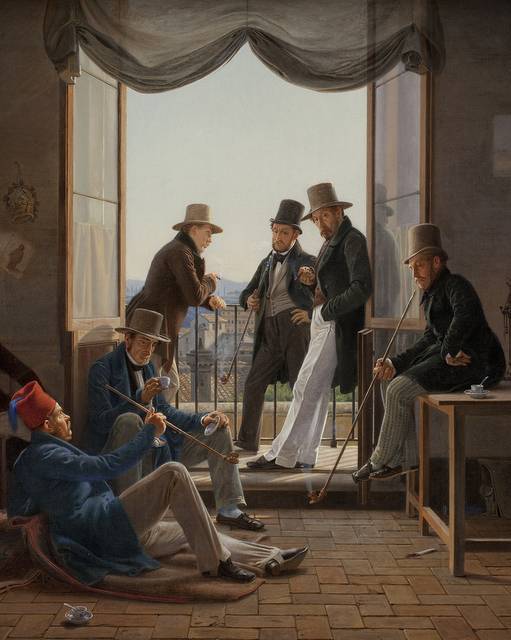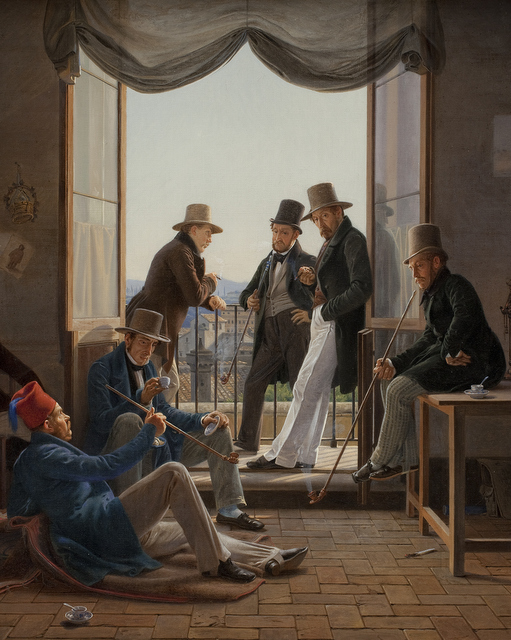 Trousers with elastic ankle strap, the royal blue frock coat, the red fez, Italian loafers (once again), checkered trousers, and espresso.
Source: A Company of Danish Artists in Rome, by Constantin Hansen (1837), National Gallery of Denmark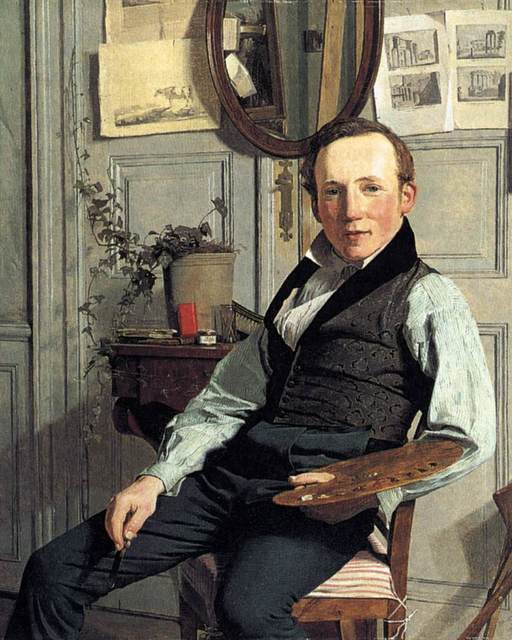 The striped white shirt, the full-cut shirt sleeve, the tightly cut waistcoat, the soft standing collar, and the fancy dark waistcoat.
Source: Portrait of The Landscape Painter Frederik Sødring, by Christen Købke (1832), Hirschsprung
—
Not long ago I met a famous iGent blogger. He turned out to be a nice chap but he disappointed me in one respect: he found clothing history "dull". It didn't make sense to me, and it still puzzles me. How can you tie a tie properly, if you don't understand, or at least, feel, how the tie has been used through history? Imagine a French chef, who doesn't care about the history of French cuisine. It would be bizarre.
To me it is about getting to the inner purpose of a garment or an accessory. To capture that purpose history and tradition are a goldmine. They are much more important than so-called rules and how-to guides. Indeed, you meet people, who have a devine intuition, and they just get the nature of, say, how to tie a tie just by looking at it for a second. But for most of us studying history is compulsory.
It brings me to old paintings.  They are great for tracking down the core of garments, accessories and style. Compared to photos paintings can add a spiritual layer. Moreover, if you go back to the 19th Century, which you must do, if you want to get hold of classic style, photo material becomes sparse. You only have paintings.
Some of my own favorite paintings of sartorial interest are Danish Golden Age oil paintings from start of the 19th Century. They are carefully painted with lots of precise details. They are very realistic too. Clearly, the settings are somewhat constructed but the clothing stays true to what the bourgeoisie and the artists wore at that time. I always end up with a different perspective on items like waiscoat, shirt and trousers of today by looking at those old paintings. The past becomes present.