The use of glasses, which protected the eyes against the sun started out in the early 20th Century. These sunglasses were in demand among automobile racing drivers and aviators in particular. 30-40 years later by the 1950s Hollywood stars, top politicians, royalties, and men about town had established easy-to-wear sunglasses as a necessary summer accessory for every fashionable man or woman.
There are a couple features to care about when selecting a pair of sunglasses. First of all they should protect against UV rays. If you wear sunglasses without UV protection you risk opening the eyes too much, when a natural reaction would have been to squint to protect the sight against the sun including UV rays. Most sunglasses have UV protection nowadays. However, if you buy a pair of cheap sunglasses you should check.
A second feature, polarized glasses, is more debatable. Polariod will filter white reflection from sun rays, which is comfortable and safeguarding, especially when driving a car. The cons regard the relationship to cellphones and LCD screens. It is poor. Easily you end up turning your head and phone to find the angle that makes it possible to read the screen. Looking at LCD screens through polaroized glasses has become better with the latest smartphones but it is not perfect yet.
When choosing a pair of sunglasses you should also be aware of fit, evidently. The width of the glasses should match the width of your eyes. The bridge should fit your nasal bridge. And the length of the temples should be adjusted to your ears.
In regards to aesthetics the rule of thumb states that you ought to go for glasses that balance the shape of your face. That is, a person with a round face will benefit from square glasses and vice versa. That rule of thumb should not be applied mechanically though. As in most style matters personal taste must prevail.
The frame material is a part of the style as well. In the 1950's and 1960's frames of real tortoise shell were still around. With UN Endangered Species Act of 1973 tortoise shell became rare and very expensive, since you had to rely on a diminishing stock of shells from before the UN act. Acetate is a good substitute though. You can produce it with deep colour shades unlike "shell" or "horn" plastic frames, which will always end up looking a little dull. Metal frames are another possibility for the glasses, of course.
When talking about materials, we must remember the lenses. Mineral glass is the classic material for lenses, however plastic lenses are lighter, will not brake as easily if you loose them, and the sight can be almost as good as through mineral glasses. In other words, you can consider plastic lenses without losing your classic style credibility.
A final thing about brands and classics: What makes a pair of sunglasses a classic? Marketing, mostly. If you go back in history, you will see that virtually all the famous models have depended on product placement in the movies, cooperation with actors and symbolic institutions like the army, and so on. This phenomenon is illustrated by the awkward fact that most classic sunglasses today are inaccurate copies of the original ones. Materials, production techniques and fashion have changed "the original" of today.
With that slightly cynical perspective in mind let's take a look at some men's classic sunglasses.
Wayfarer sunglasses are modernist and minimalist shades from the 1950s, which interestingly enough became very popular in the sumptuous 1980s.  Jack Nicholson is a heavy user of Wayfarer glasses.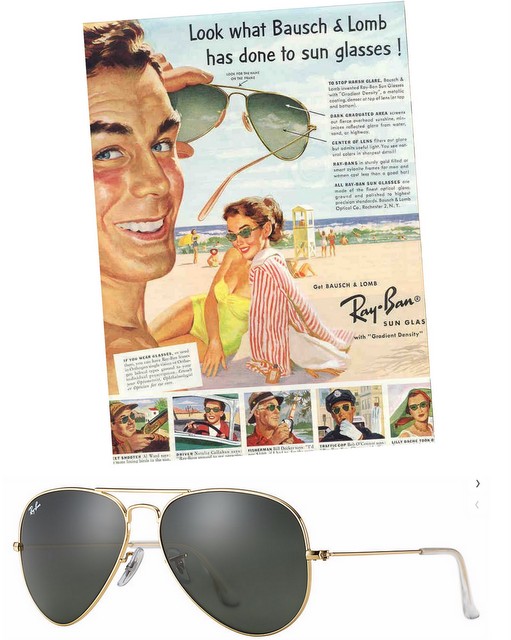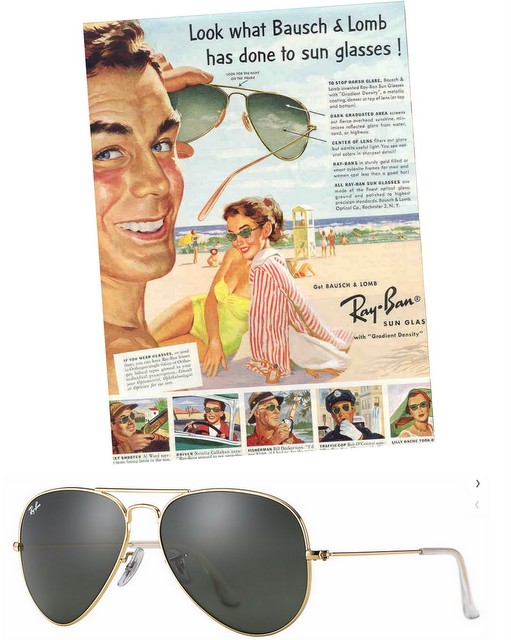 Aviators, perhaps the most famous sunglasses of them all. Bausch & Lomb, the firm behind Ray-Ban, developed the aviator model for the US Army Air Service in 1930s, and shortly after in 1937 they used the collaboration to promote the sunglasses to the public. The most classic variant will have a golden frame and green lenses.

Many men who favour classic style have a soft spot for Persol sunglasses. The refined tortoise shell frame and the dark lenses go well with suit and tie. Persol's model 649 has the largest lenses. Persol developed the model for the tram drivers in Turin in the 1957.
"The novelty of its design made it a very successful pair of glasses, copied over the years by many competitors, and in 1961 they entered into legend when Marcello Mastroianni wore them in the film "Divorce Italian Style"," as Persol celebrates the model at their website.
Persol can thank another movie star, Steve McQueen, for the success of their other famous model, the 714. Steve McQueen wore the 714 design in the highly stylish movie The Thomas Crown Affair (1968), and he was often photographed off screen wearing Persol sunglasses. The 714 has somewhat smaller lenses than the 649, and it has a hinge at the bridge, so you can fold it.
If any the Prada model SPR07F must be the shades of the Fellini buff. Again Marcello Mastroianni is the glamourous bearer, in this round in the famous Federico Fellini movie 8 1/2 from 1963. Truth to be told there is no real proof that Mastroianni wore Prada sunglasses in the movie but some sources claim that, and the model SPR07F looks to be very similar indeed.
Tony Montana (Al Pacino) in the movie Scarface (1983) wore shades from Porsche/Carrera and Linda Farrow. Both models, no. 5622 and no. 6031, are interpretations of the aviator design. The Porsche/Carrera model became famous in particular. Ferdinand Alexander Porsche who designed the first Porsche 911 in 1963 came up with the model in 1979 in collaboration with Carrera.
James Dean wore glasses with a tortoise shell frame, probably from Tart Arnel. When he needed protection against the sun he attached the newly invented clip-on shades. That also means that clip-ons are for men who actually wear glasses. They would be silly to wear if your sight is fine.
Browline glasses connect to the early 1960s, scholars, and political awareness. Malcolm X wore them a lot. When Ray-Ban introduced their Clubmaster sunglasses in the 1980s the image of browliners became less elitist. The Ronsir glasses from 1947 from Shuron are regarded as the first browliners on the market.
Wild journalist Hunter S. Thompson liked sunglasses with ambermatic lenses. At numerous occasions he was seen sporting the Ray-Ban Shooter, which is an expanded version with ambermatic lenses of the Aviator. You will not find the Shooter in the present catalog from Ray-Ban. Maybe they don't fit the brand strategy. You can, however, find copies and vintage models online.
No, we don't know, who made Cary Grant's glasses in North by Northwest. They look similar to discontinued models like Persol Ratti 850 and Ray-Ban Dallas but they are neither. Moscot's old Lemtosh design shown above is another relative, though the lenses look smaller than the ones which Cary's shades have. Mysterious Cary stays a class above.
Where to buy
Sunglasses, including classic models, are all over the internet. Before buying read the product description though. In many cases the same model comes with a acetate frame or a plastic frame, polarized or not polarized, mineral glass or plastic glass. Moreover, you risk that your fine new sunglasses fit poorly when you buy them online. So, there is a case to be made for buying your glasses at your local optician. Many opticians will have a great selection of classic sunglasses, and they can adjust the frame and temples to make the glasses fit perfectly.
Photos: Persol, Ray-Ban, Coolframes, Shuron, Tart Opticals, Lunettes og Moscot