Invention of the tartan dinner jacket
"Few of my father's clothes were any use to me after his death. … I did, however, take one of his Inverness capes, and a Rothesay Hunting Tartan suit, which he used to wear for tea after shooting. I had it altered to fit me, substituting zip flies, which would have horrified my father for the buttons. It still contains in the pocket a tab bearing my father's name, H.R.H. The Duke of York, and the date 1897," the Duke of Windsor writes in his memoire, A Family Album (1960).
The tartan suit was red with single-breasted shawl collar design.
"I happened to wear it one evening for a dinner at La Croë near Antibes [The French Riviera], where the Duchess and I lived for a while after the last war. One of our guests mentioned the fact to a friend in the men's fashion trade, who immediately cabled the news to America. Within a few months tartan had become a popular material for every sort of masculine garment, from dinner jackets and cummerbunds to swimming trunks and beach shorts. Later the craze extended to luggage," the Duke adds in A Family Album.
Unlike the Duke's dinner jacket the American tartan tuxedo would have the lapels covered with black silk. It would also follow the dominant tradition of using black trousers with a coloured dinner jacket.
The craze spread to Europe. Dinner jackets for summer got tartans too.
Another tartan dinner jacket
In 1951 the Duke had his very own dinner suit made by Scholte in a green a tartan. That is, Scholte made the jacket, Harris in New York made the pants, and Hawes & Curtis made the waistcoat.
The dinner jacket, or better, dinner suit, was a double breasted 4 x 1 peak lapel design. The Duke had many jackets in that Kent style.
A tartan dinner jacket on Savile Row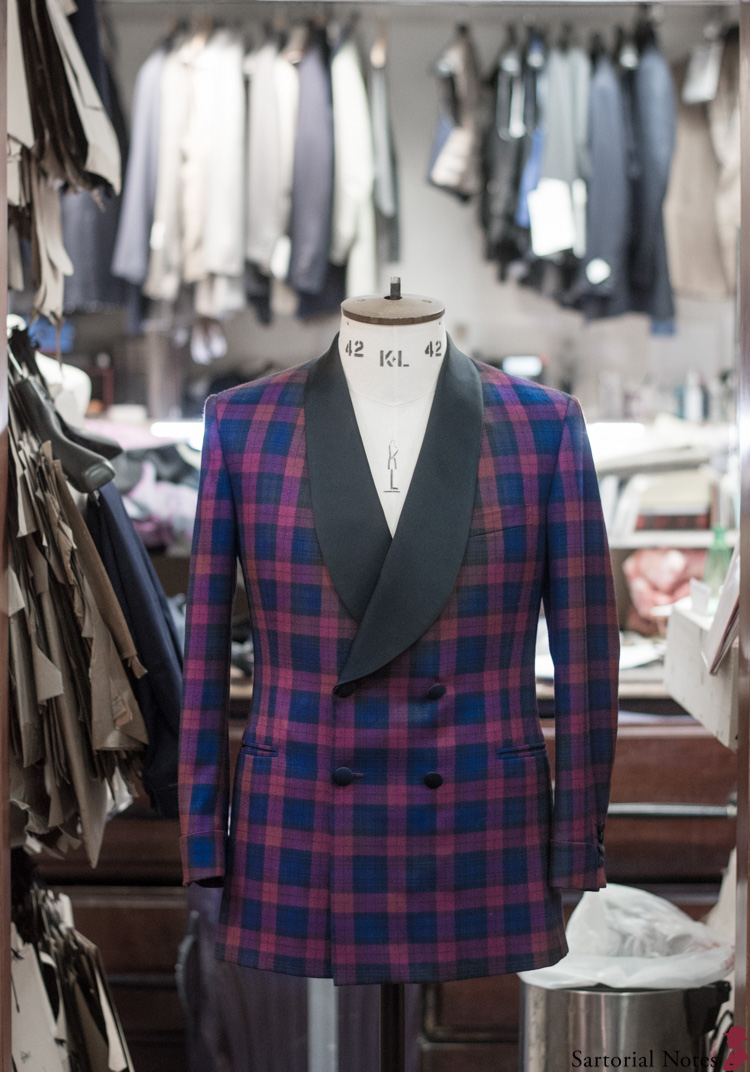 When I was in London recently, I dropped by Davies & Son on Savile Row, a somewhat overlooked tailor on The Row.
On a dummy, a beautiful tartan dinner jacket was on display.
It made me wonder, how tartans and dinner jackets found each other.