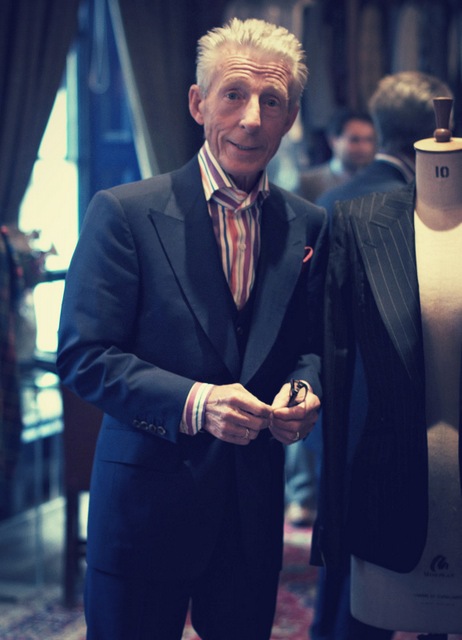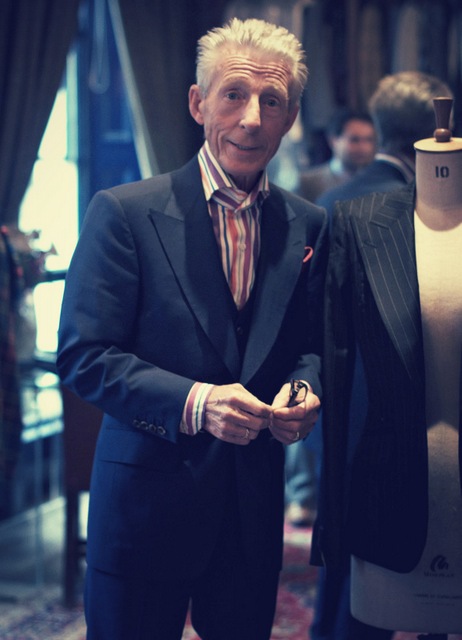 "You can take the boy out of the Row, but you cannot take the Row out of the boy."
Although Edward Sexton has moved his shop away from Savile Row long ago, he stresses the connection at his website, for good reason. Savile Row is a very strong brand, and he, Edward Sexton, is regarded as one of the most important Savile Row cutters in the last decades.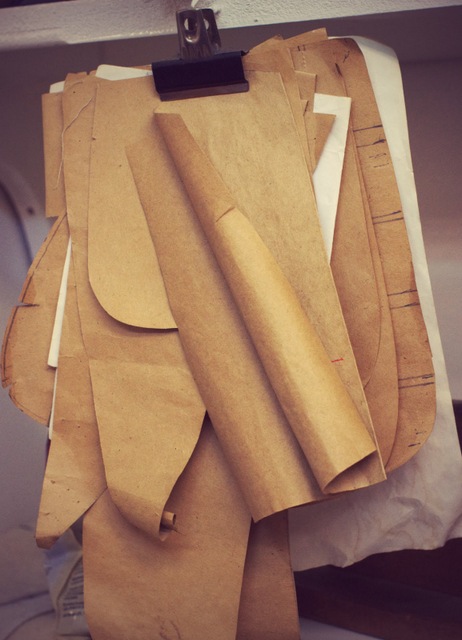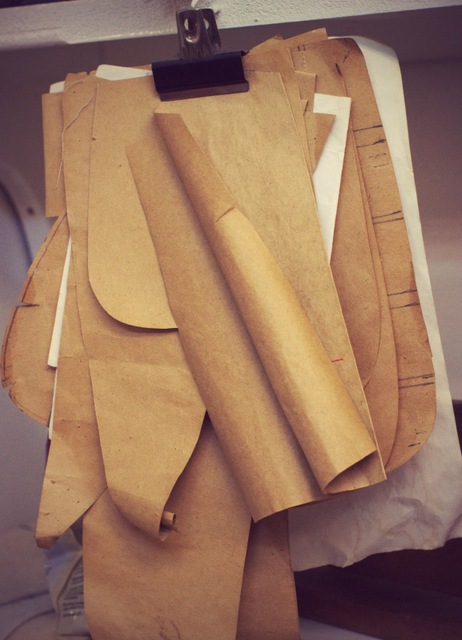 Together with designer and salesman Tommy Nutter, he brought the flower power style of Carnaby Street to Savile Row in 1969.
James Sherwood sums up the story in the book The London Cut:
"Edward was only sixteen when he began as an apprentice at Kilgour French and Stanbury with the legendary Fred Stanbury as his mentor. Ferociously ambitious, he spent his days learning from the master of bespoke tailoring and his nights at the London College of Fashion. In 1967 he joined Donaldson, Williams and Ward in the Burlington Arcade where he cut for customers such as the Royal House of Luxembourg. The young Tommy Nutter was working there as a front of house salesman, and a relationship which was to transform the men's tailoring business was born.
Nutter used his charm to persuade some influential business people and celebrities to invest in a new venture. Nutters opened its doors on Valentine's Day 1969. The opening party was memorable for the guest list, which included Lord Montagu, the Duke of Bedford, Mick and Bianca Jagger, Twiggy, Justin de Villeneuve, Paul McCartney and global tycoons Kerry Packer and Rupert Murdoch, and for the décor which included huge purple candles that were penis shaped."
Celebrity stir and marketing gimmicks aside, what really made the Edward Sexton and Tommy Nutter's new shop on Savile Row interesting was that they had a huge respect for the Savile Row craft. They didn't compromise on the make. They created fashionable garments but with a sense of history and with the tools and methods of the craftsman.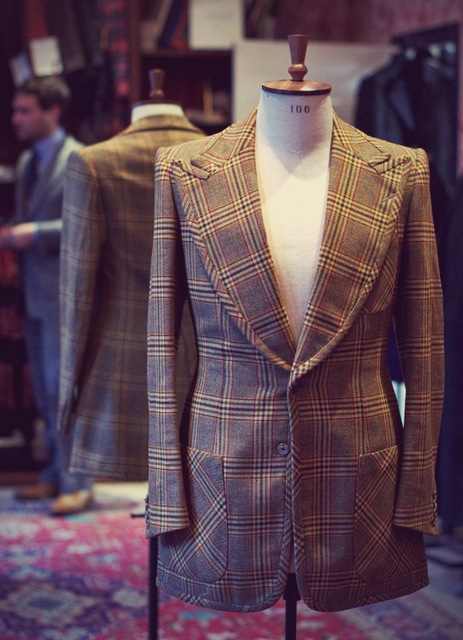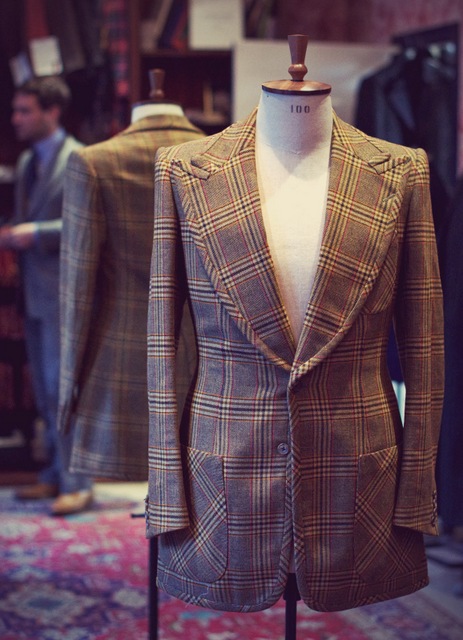 When I visit Mr Sexton and his staff in his labyrinthine workshop in a 1st floor on 26 Beauchamp Place, they have one of the old famous jackets on display. The lapels are very wide with lots of belly, shoulders are square and roped, the skirt is long.
"We took the hacking jacket, and we tightened shoulders and skirt," Edward Sexton tells me.
The traditional hacking jacket for equestrian pursuits has a long flaired skirt, three or four button front, throat tab, ticket pocket and a breast pocket with flap, Sydney Barney writes in Clothes and the Horse. Although the Sexton-Nutter jacket appears different in several ways, it is easy to follow Mr Sexton. The elongated hacking jacket silhouette remains in their venerable jacket.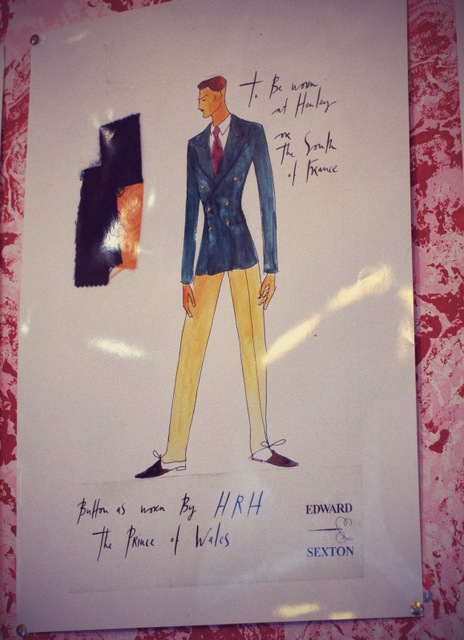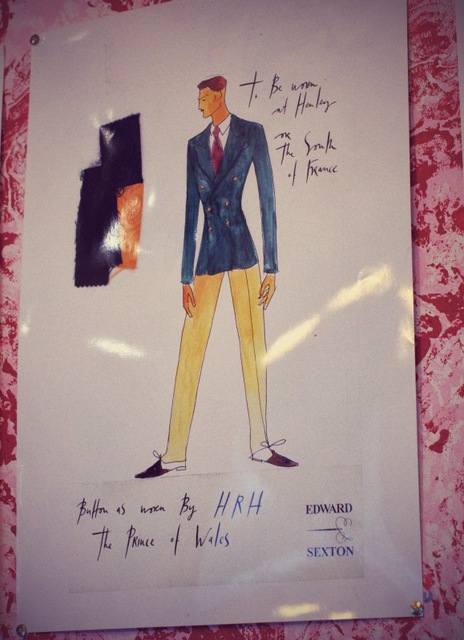 Today Edward Sexton's cut looks more understated. Shoulders, lapels and skirt bear a resemblance to the legendary cut but a subtle resemblance.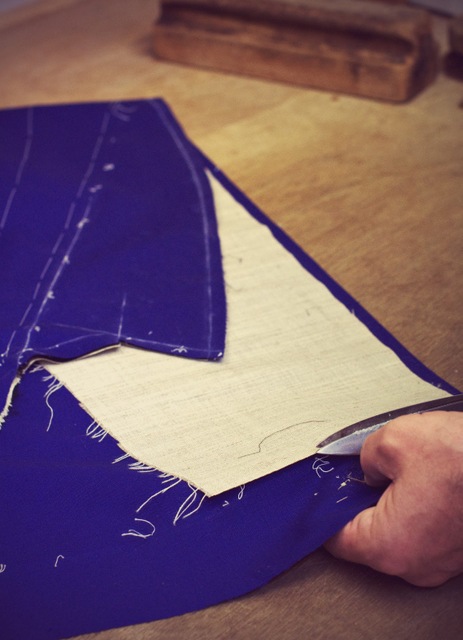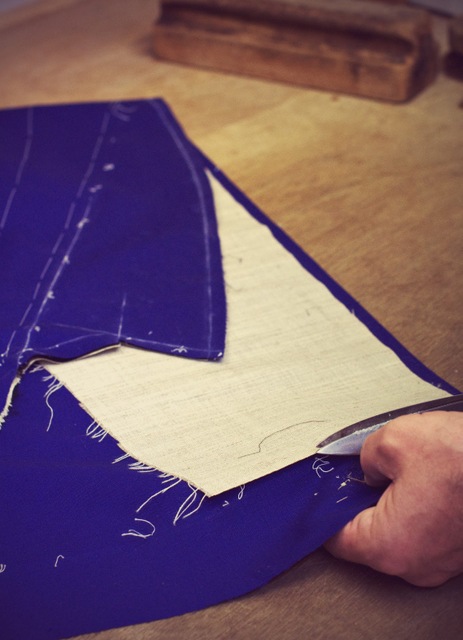 Cloth has changed too. Edward Sexton is one of those tailors, who embrace the new lightweight cloth. That is development, and the tailor should adapt, he says.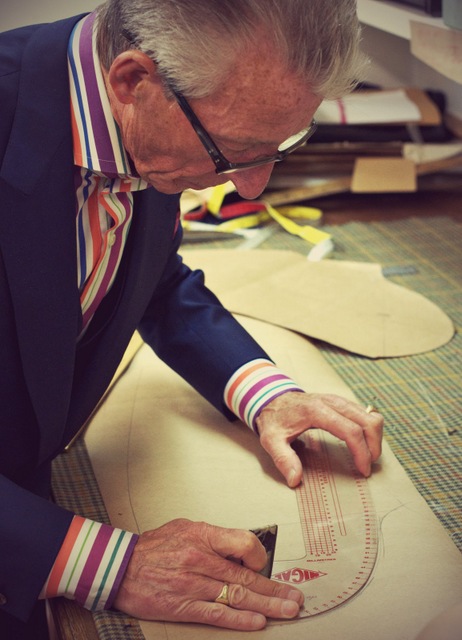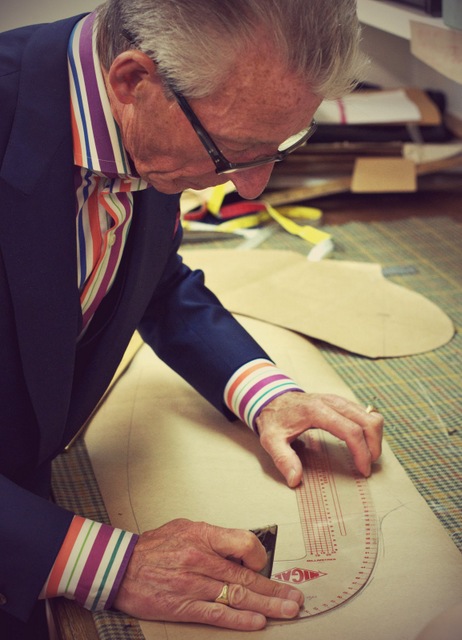 Neither does Edward Sexton feel called to criticize fashion. Like any tailor, he insists on a clear distinction between bespoke suits and factory made suits but he doesn't condemn the latter. He has been working as consultant himself for Chester Barrie and other ready-to-wear companies helping them to create new suits models.
Source: The Journal of Style