New and old travelling tailors
We've seen travelling tailors for decades. Savile Row started their American trunk shows in the inter-war period. Bargain tailors and made-to-measure firms from the East have been going to Europe since the 1980s.
Low fair airlines and the web haven't changed the tradition, structurally. However, cross-border acitivity has increased a lot. Both tailors and clients travel a lot more to meet each other.
Supply and demand are forces behind the development as well. Italy still has a huge amount of bespoke tailors. I suppose you can find 200-300 bespoke tailors from south to north. No other European country can level that. Big countries like France, Spain, England and Germany are far behind in numbers.
The bespoke tailors in Italy today are only a fraction of the amount tailors in the past, though. The reality is that Italy's tailors have been under pressure for many years. Although Italian men dress more formally than most European men, casualization has been sweeping through the Southern European country too.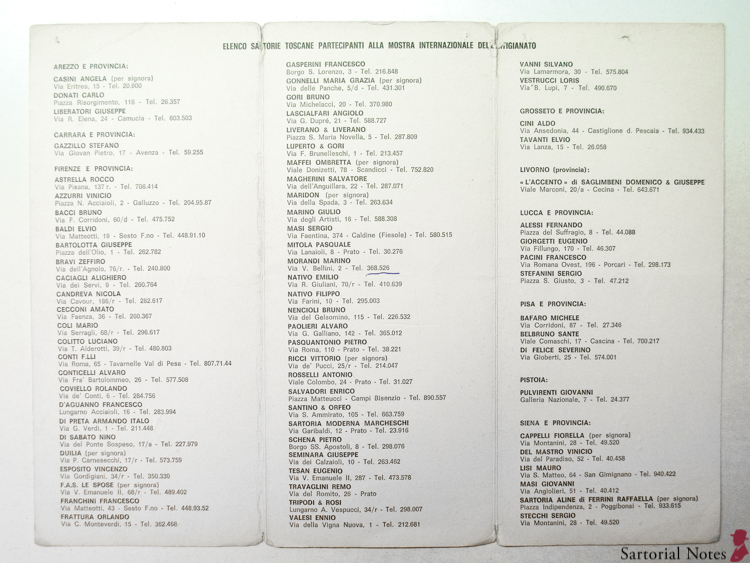 More than 50 Florentine tailors
I found a leaflet from 1980 about Florentine tailors. It lists more than 50 bespoke tailors in and around Florence. Today you can muster 9 or 10 tailors in and around the Tuscan capital at a maximum.
The decrease in tailors has lowered the output of bespoke suits and garments. It hasn't been enough, though. The demand for bespoke suits among Italian men has been going down even more.
So, many Italian tailors have been forced to create "an outlet", a business with foreign clients. Like their counterparts on Savile Row they have become travelling tailors. And, many of their clients have become travelling clients. Clients go abroad to meet their tailor.
A different product
If you love bespoke clothing this is a great development. This is the only way bespoke can survive. Gradually, it costs more than ready-to-wear, since you cannot streamline bespoke. A good bespoke suit still takes +50 hours to craft.
But you can make bespoke more accessible by becoming efficient at travelling.
As clients we just have to adjust our expectations. Invariably, a bespoke suit by a travelling tailor (or for a travelling client) is a more standardized product. Wise tailors and wise clients don't opt for complicated, very personalized tailoring, when they only meet each other twice a year. Risks of failure are too big.
It is of course different, if you you've been a client for years. Little by little you can make an order more advanced, because you know each other.
Photos: Sartorial Notes