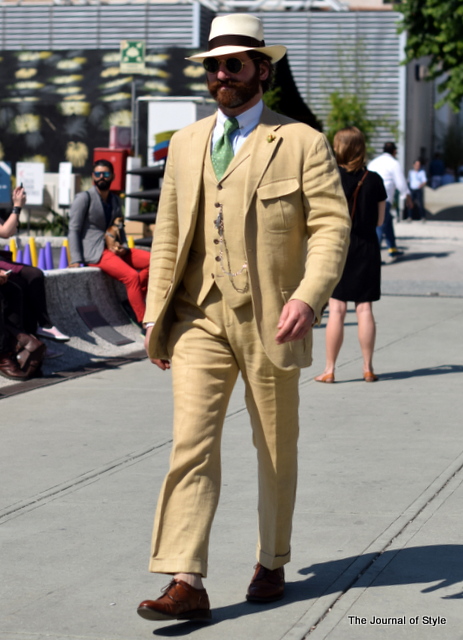 There's a fine line between retro style men and classic style men. Both love the univers of suit, shirt and tie, however they approach it differently.
The former are less serious in regards to clothing. They play with clothing, they are not afraid to stand out. Retro style men like bespoke clothing but will not spend a fortune, so they buy it second hand.  Retro style men are very interested in accessories, colours and patterns.
Classic style men, on the other hand, are obsessed with fit. Moreover, they feel they are continuing a way of dressing, which has never deceased. Classic style men will shy away from items, which they feel are outdated. You will not see classic style men in plus fours and spats.
To use a few terms that a tiresome, you can say that retro style men are postmodernists, wheras classic style men are modernists.
Bueno, is the Pitti Uomo gentleman above a postmodern retro style man or a classic style man?
I'm tempted to put him in the former camp, perhaps due to the panama hat, the outer jacket pockets, the collar pin and the beard. On the other hand, he hasn't left the classic style tradition entirely. In fact I could confuse him with a classic style man on his way to a garden party on a warm summer's day.
Photo: The Journal of Style