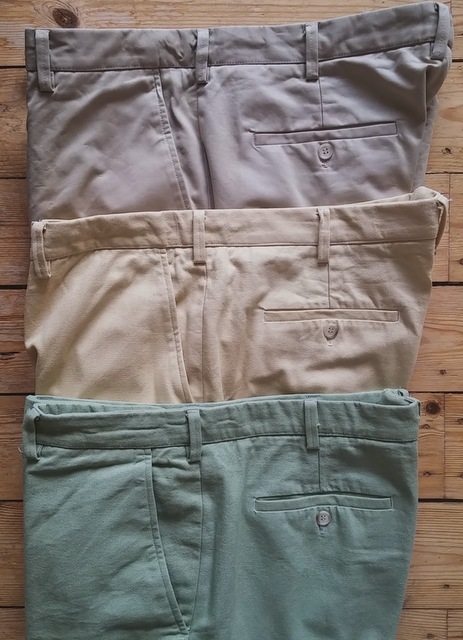 Another report from Berlin. This time not about Mr Arnulf but Nicola Gebhard, who has specialized in bespoke trousers. Asking for 140 euros (excluding cloth) for a pair of trousers, she has a very accessible price point. Evidently, with that price, Nicola Gebhard delivers a different product from Mr Arnulf and other top tailors. Still, she has proper tailor education, and she makes a fine pair of trousers, perhaps, casual trousers in cotton or denim in particular.
That I know, because I have ordered four pair of trousers from her by now. One pair of flannel trousers with pleats and turn-ups, and three pair of flat front cotton trousers. The latter trousers I like the most.
Nicola Gebhard sews all seems on her sewing machine, and she fuses the waistband instead of using canvas. Still, you have a true bespoke process with paper pattern and fittings, and she can make any sort of trousers that you would like.
She prefers to speak German but she knows English.
More at her website (in German) …
Source: The Journal of Style