After commisioning a suit from Malcolm Plews I went to meet more Savile Row tailors. I've been to The Row before photographing. This time I was much more effective. Just when I turned around the corner from Vigo Street I bumped into Davide Taub, head cutter at Gieves, who was going out for lunch, I suppose. I presented myself, and I got this photo of him besides the famous Savile Row street name sign. Among other things, we talked about an event in Florence, which we both attended.
Curiously, the day before I had read an excellent story in The New Yorker about him and bespoke suits. Taub appears to be an artist like tailor, who enjoys experiments, when he gets a chance to carry them out. After all, most men going to a Savile Row tailor prefers a traditional navy blue or grey suit.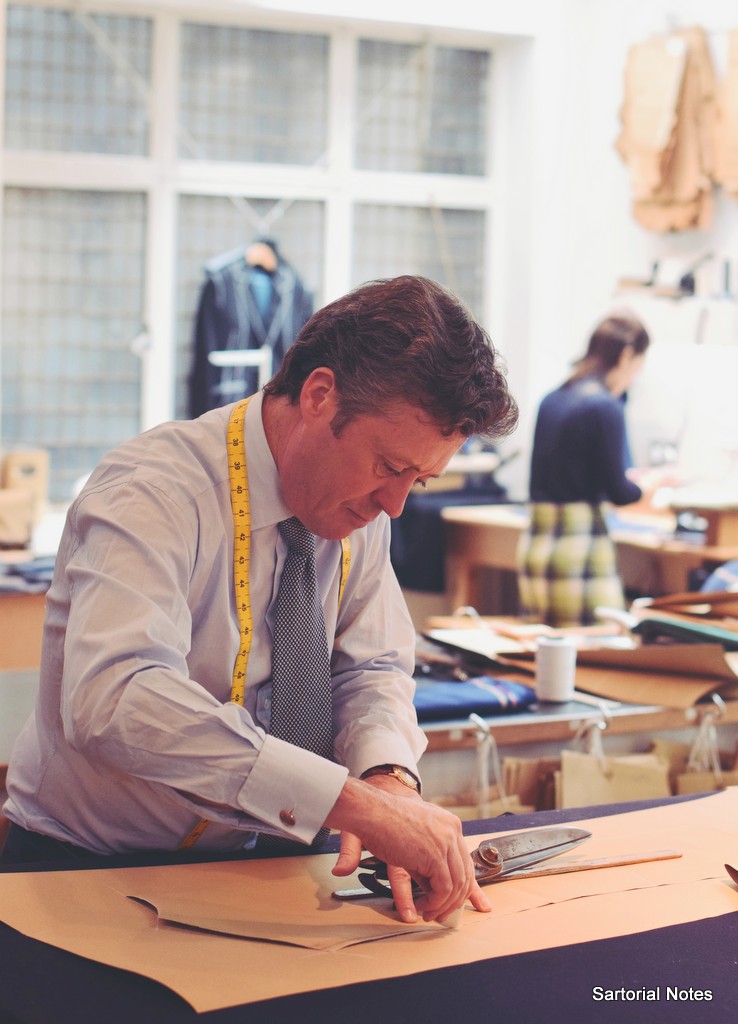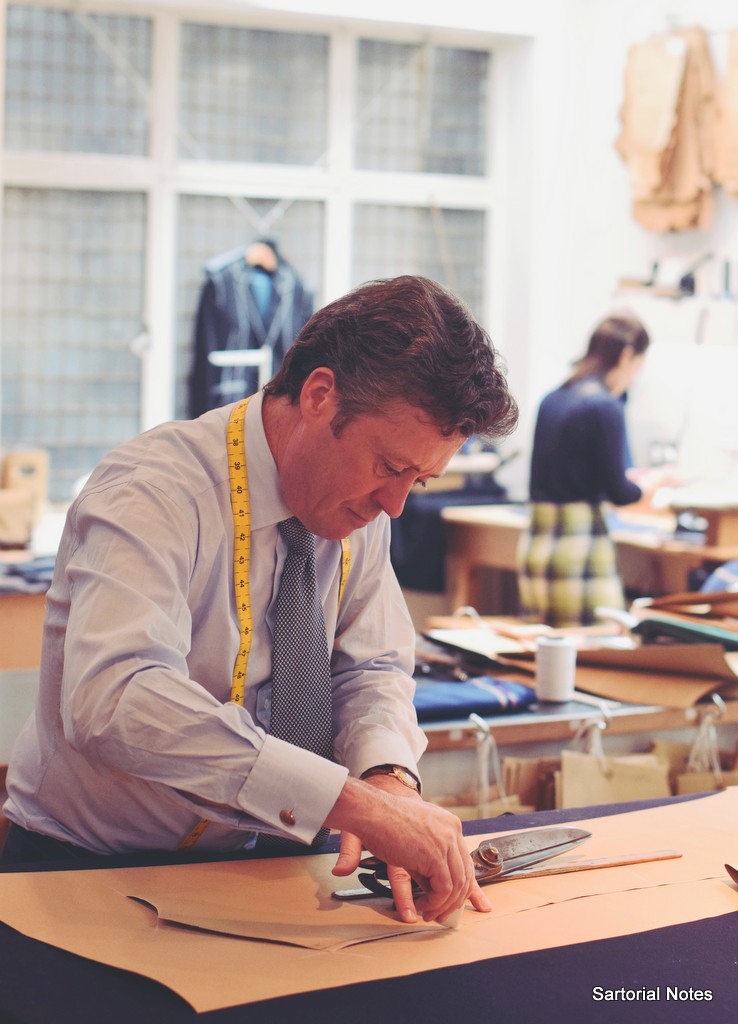 Richard Anderson
Close to Gieves you find Richard Anderson, the Huntsman alumnus, who by now has built his own strong house on Savile Row.  Some years ago he published the book "Savile Row Ripped And Smoothed" about his life as a tailor. It is highly entertaining.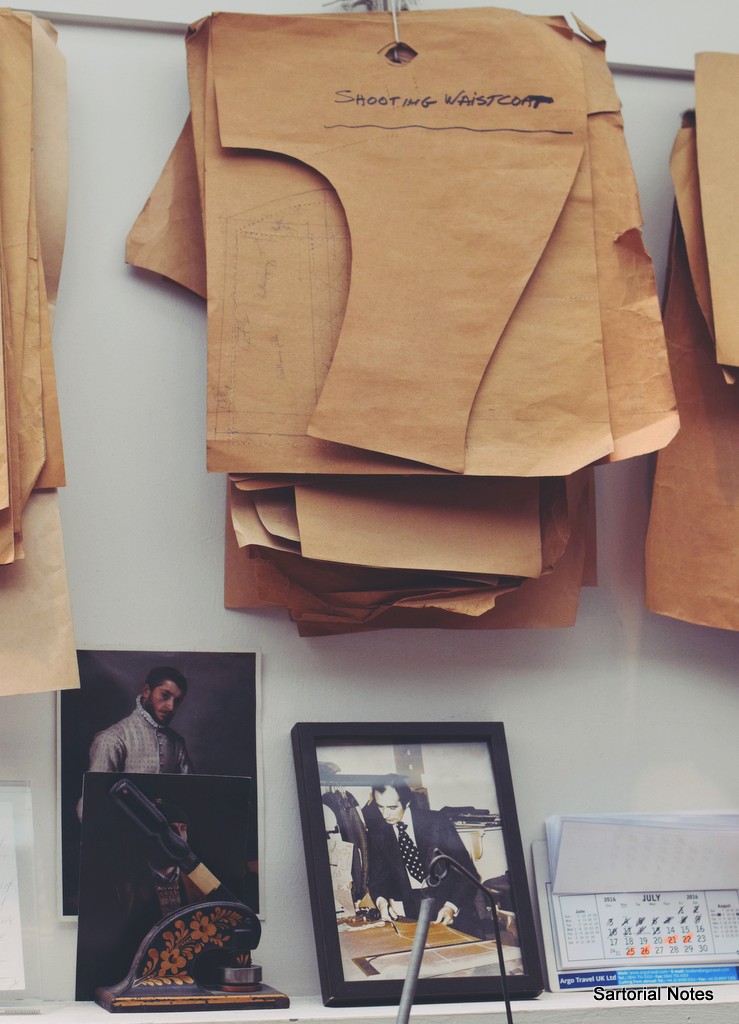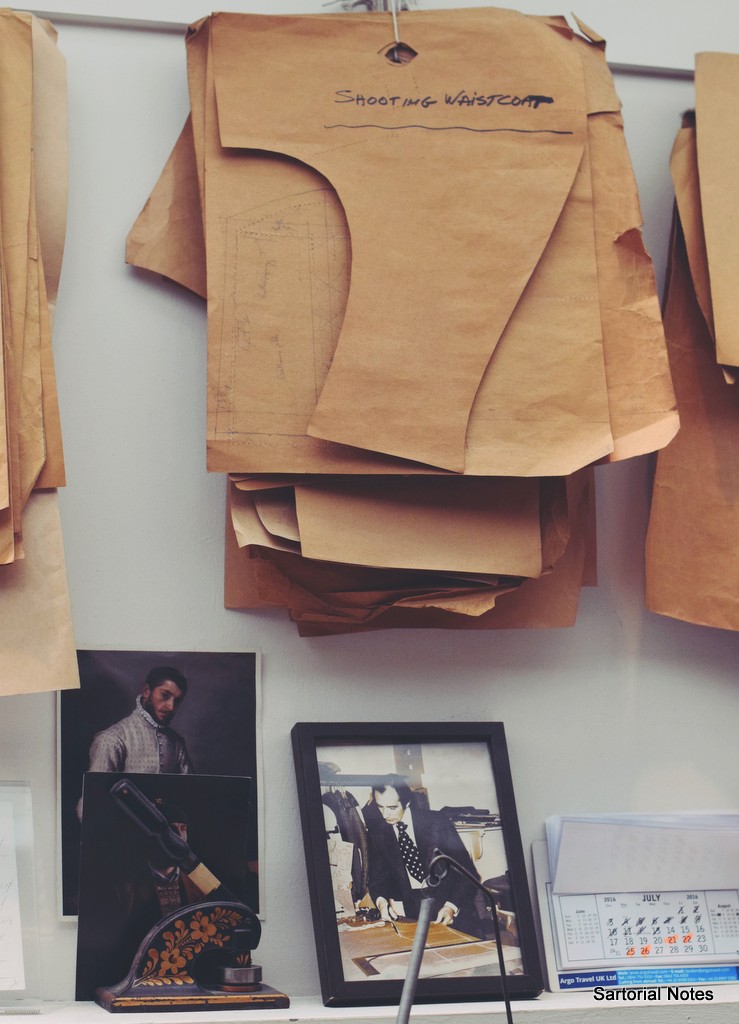 One of characters in the book is Colin Hammick, the slender head cutter at Huntsman's in the 1970s and 1980s, and Richard Anderson's main teacher. I could not help noticing a framed photo of Colin Hammick on a shelf in Richard Anderson's shop. Colin Hammick "demonstrated a natural eye for flattering cuts," Huntsman writes on their website nowadays. I'm sure Richard Anderson subscribes to that.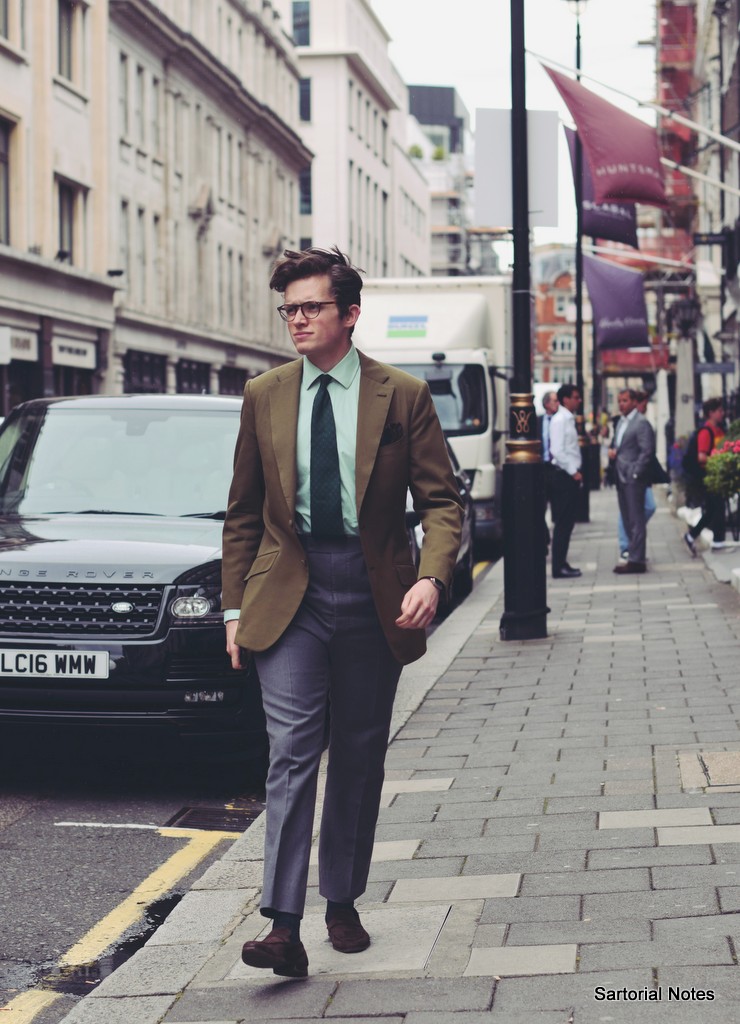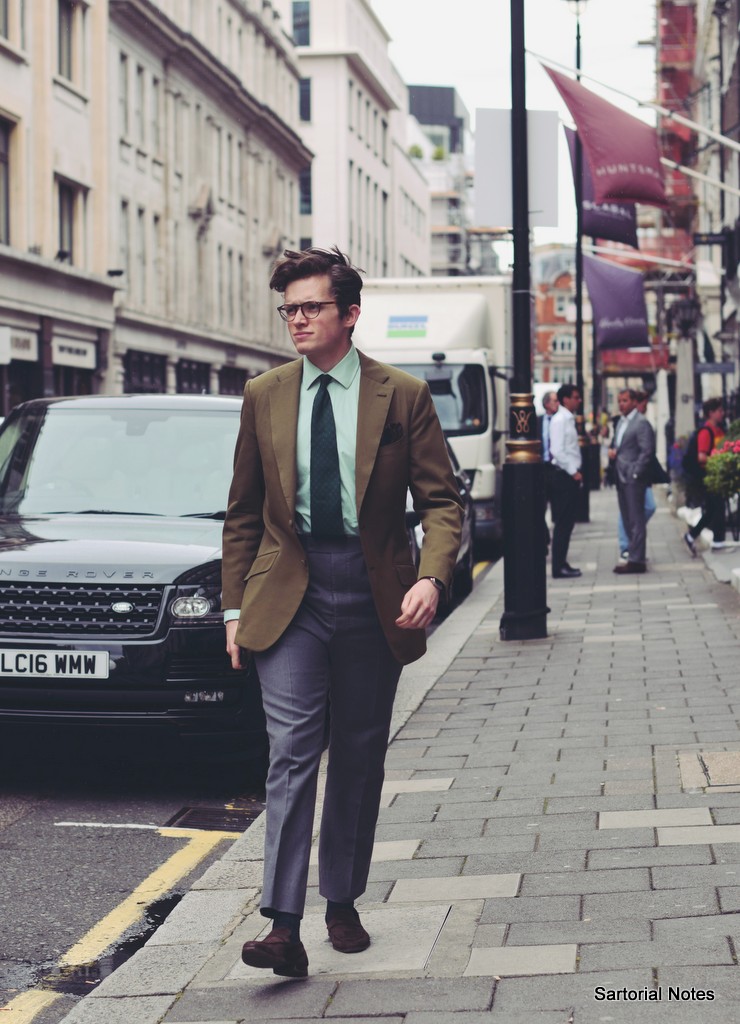 Although blue suits dominate the business look around Mayfair, I have the impression that there is an awareness of fashion, of stile latino. The young man's use of colours above, and the manner he secures the tip of the tie behind the waistband made me think of Pitti Uomo.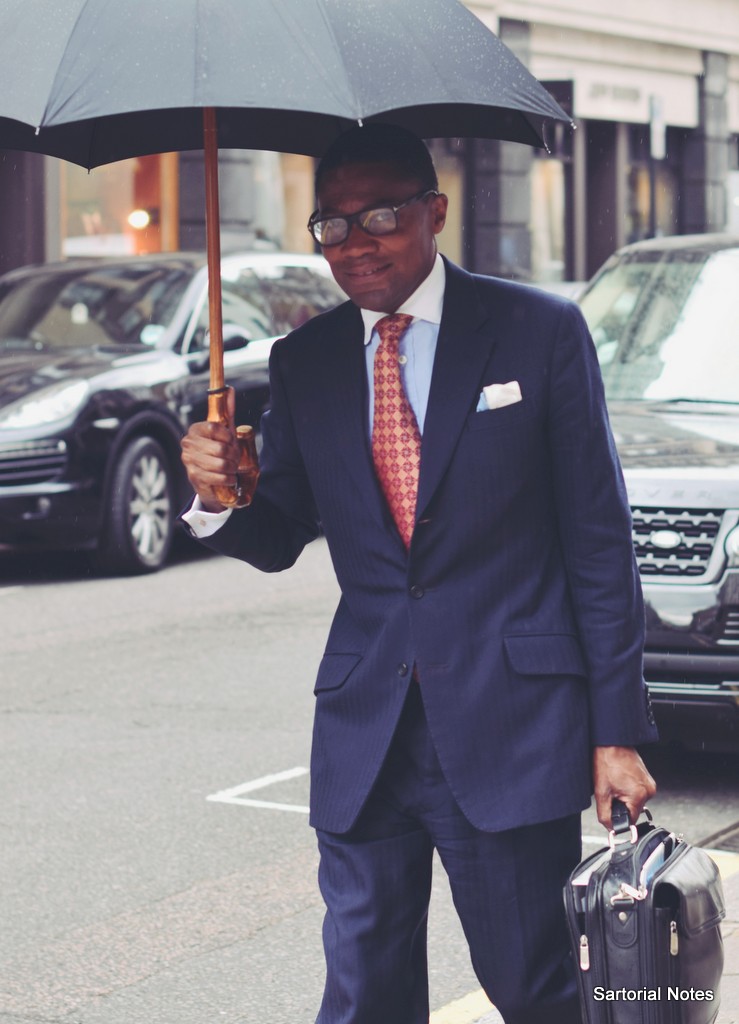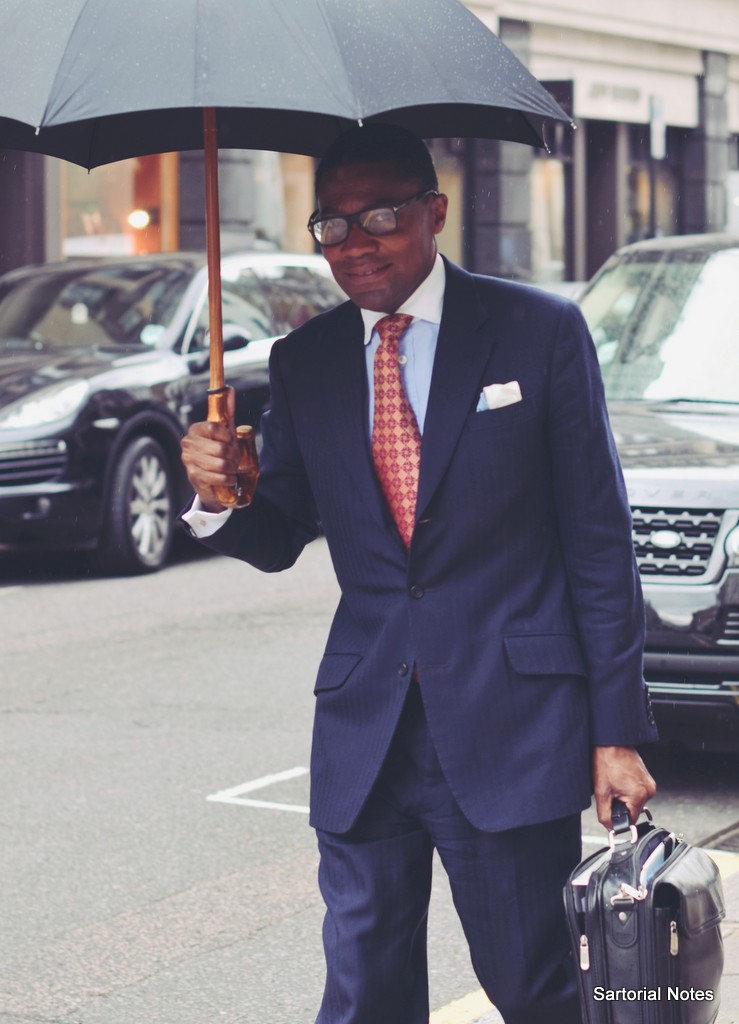 That said the style of blue suit, white or sky blue shirt and black shoes is de rigueur. Especially, I noted the black shoes. The idea that brown shoes have become much more popular during the last years might be well-founded in general. However, on the streets of London City black shoes follow the business suit.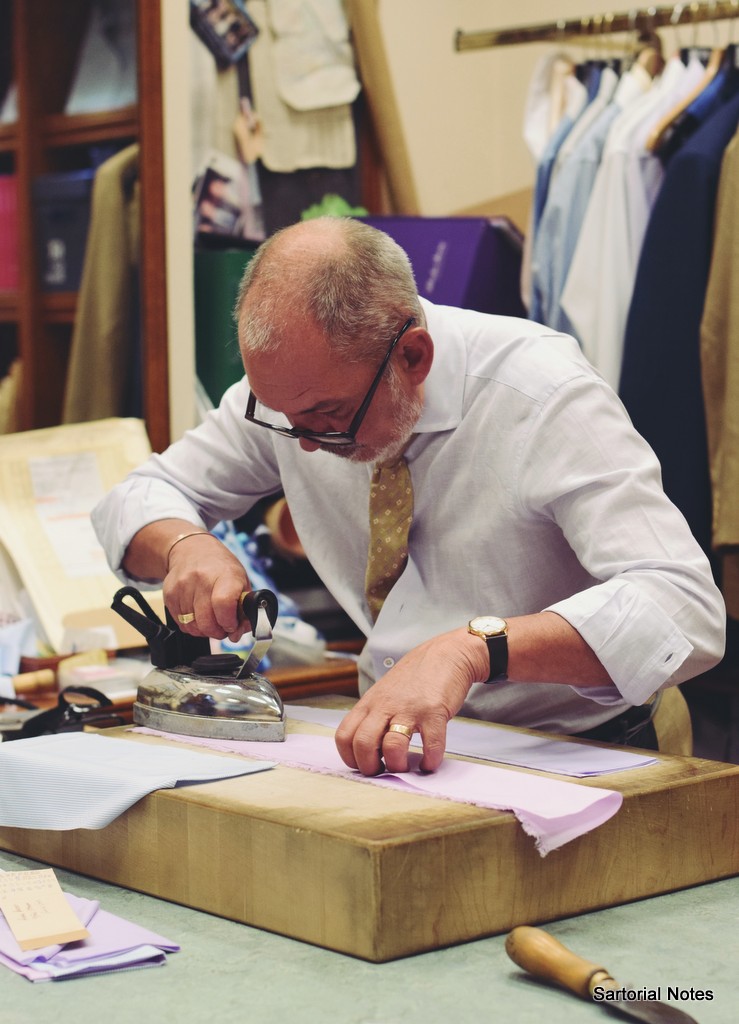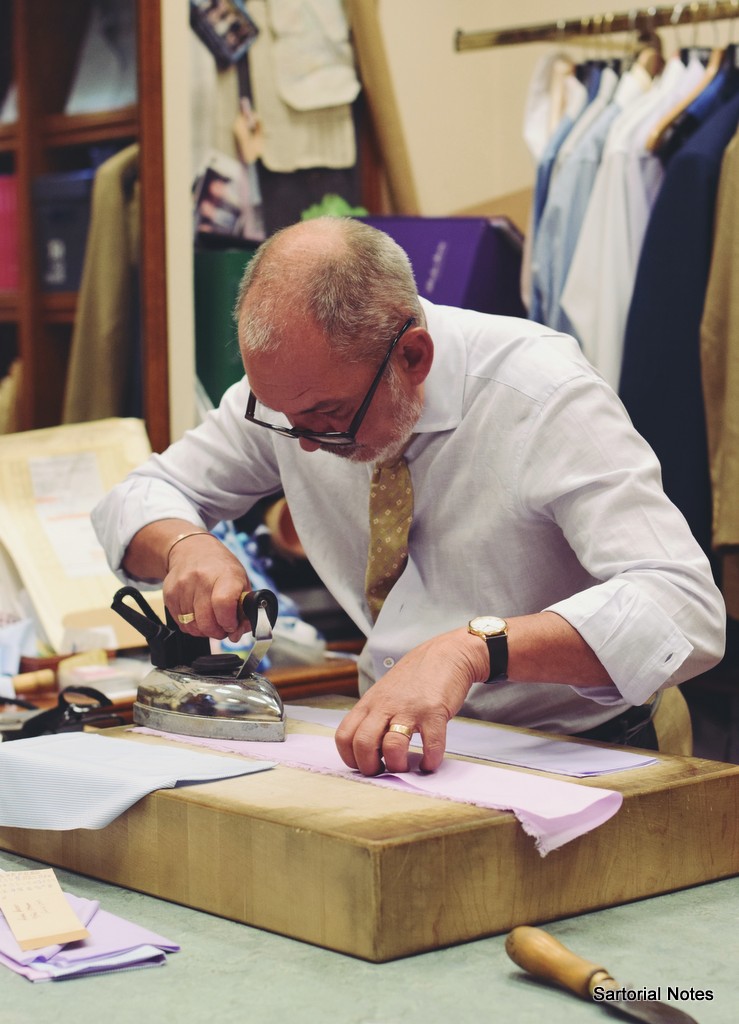 Dege & Skinner
At Savile Row number 10 family-owned Dege & Skinner is housed. Besides the bespoke tailoring operation they have a strong shirtmaking department, which Robert Whittaker is heading. He was there cutting, when I came by.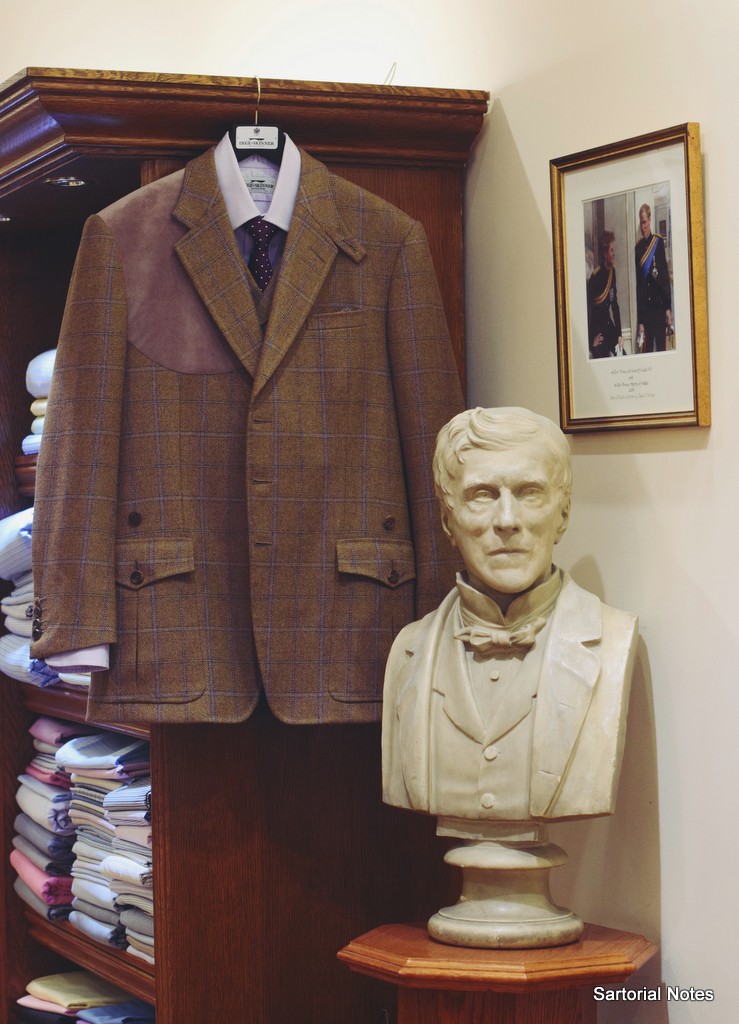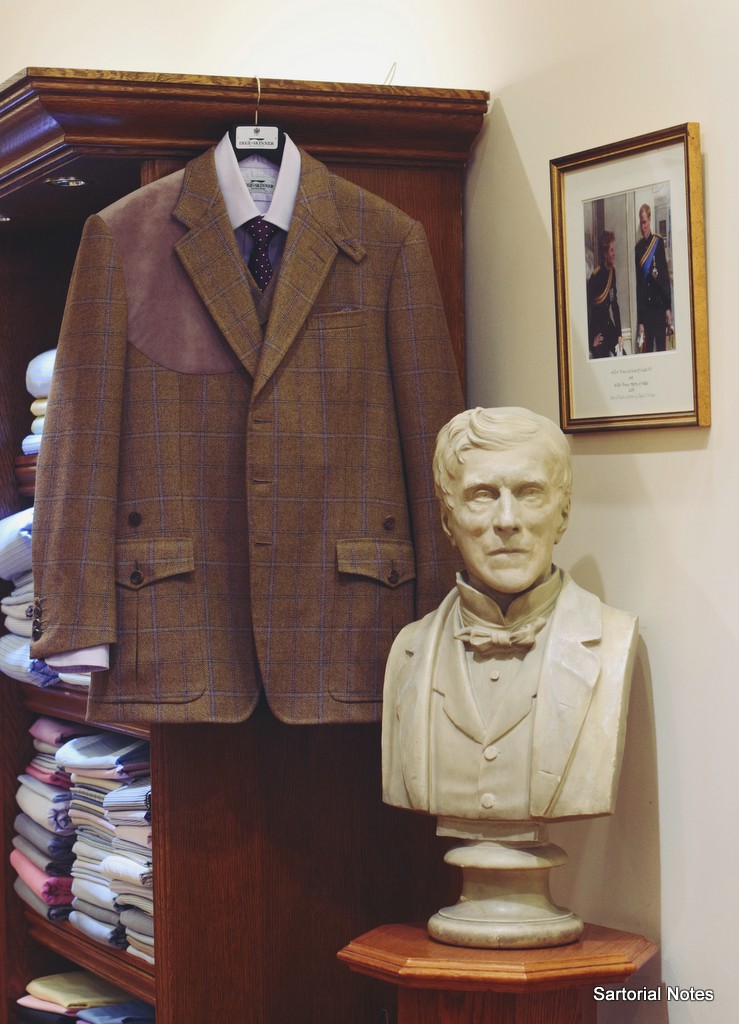 Five years ago a book about the owner Michael Skinner was published, "Michael Skinner – Master Tailor. In Conversation with Hormazd Narielwalla". Most people, who are very interested in bespoke, including the military and equestrian tradition, should find it worthwhile reading or flipping through, although it is not as well-written as the Richard Anderson-book.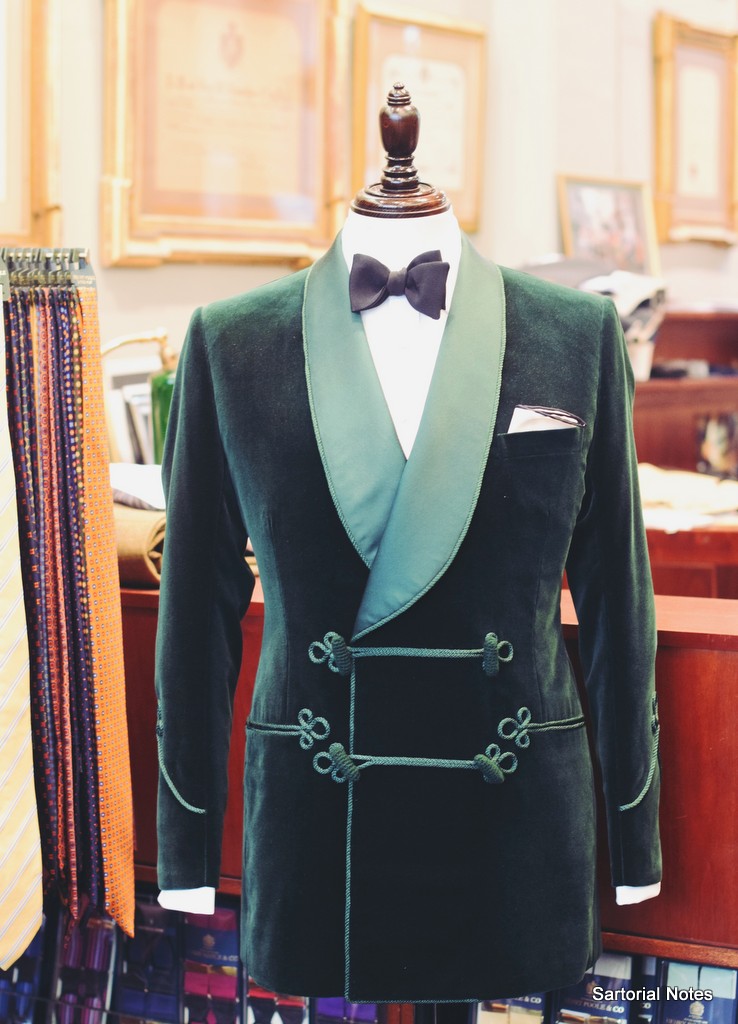 Henry Poole
In spite of doing a longer piece about Henry Poole some years ago, I had to enter the old shop again to have a look. Had anything changed? Perhaps, however in that case I did not notice it.
Maybe the green velvet smoking jacket was not at display last time. We got a chat about it now, and I learned that traditionally, when a smoking jacket was the dress code at an occasion, the host would wear a bottle green smoking jacket, whereas the guests could dress in a read, black or other shade smoking jacket.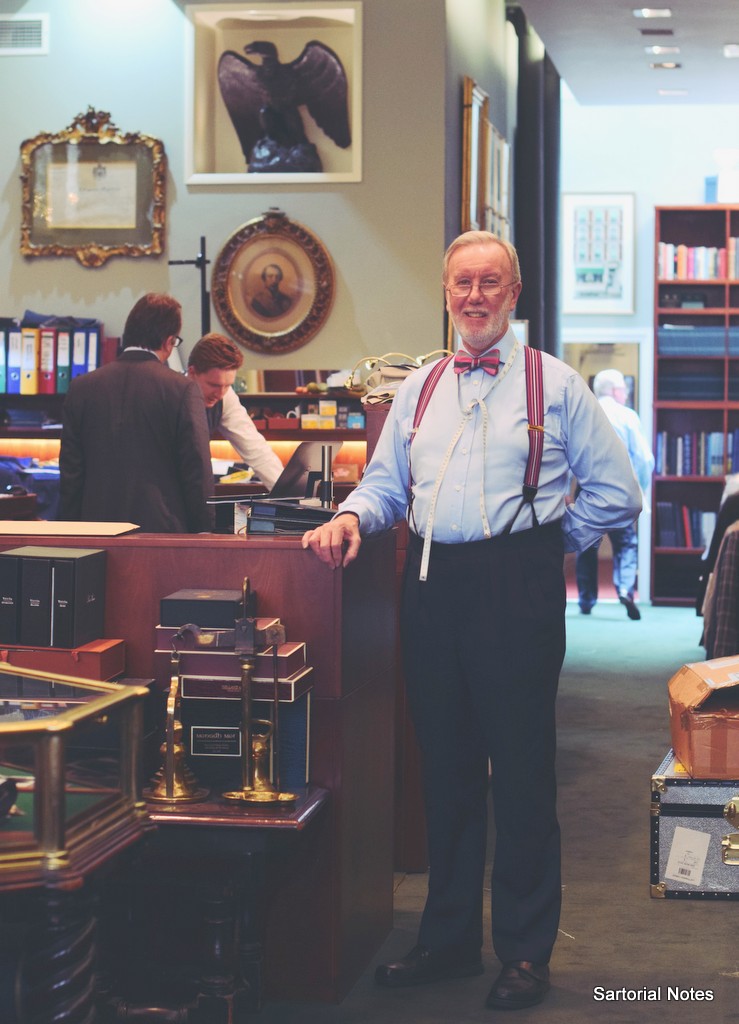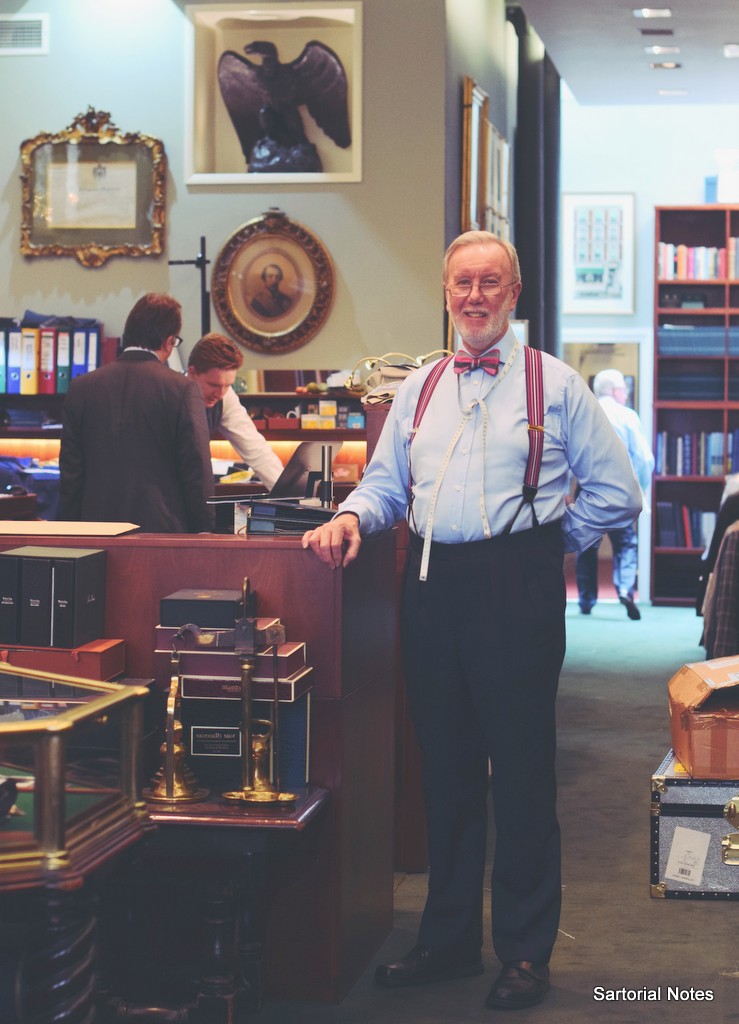 I met senior cutter Alan Alexander again in Poole's shop. His elegant style of bow tie and braces appeared to be exactly similar to the style, which he had been donning last time I saw him, that is, five years ago.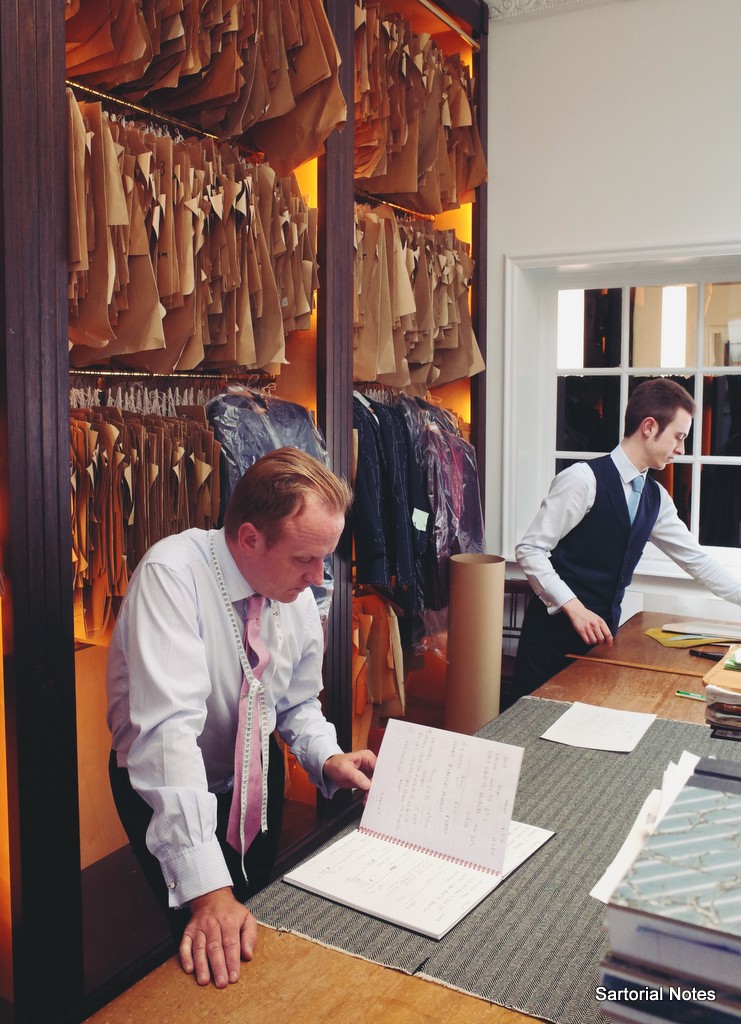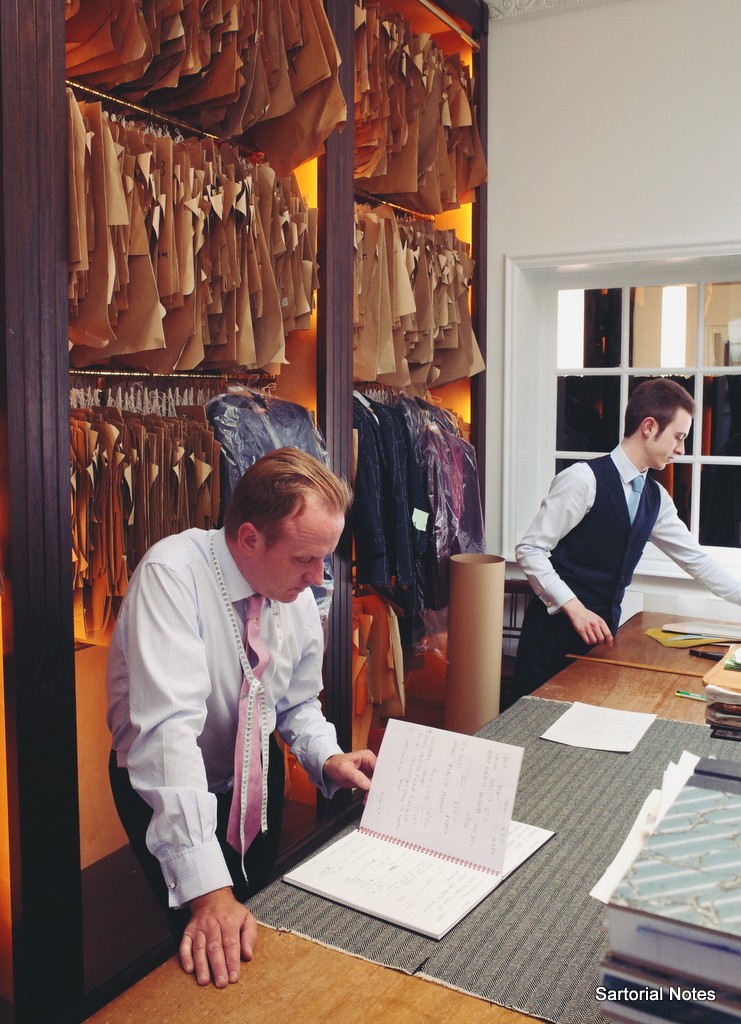 Anderson & Sheppard
Leaving Savile Row I came to Old Burlington Street. There you find Anderson & Sheppard, known for its soft tailoring. Together with Henry Poole Anderson & Sheppard is the Savile Row firm with the largest output of bespoke garments on an annual basis.
Speaking of books, which all old Savile Row houses seem to have published in recent years, Anderson & Sheppard's "A Style is Born" is the most beautiful book, probably. It doesn't contain much text but photos and layout are smashing.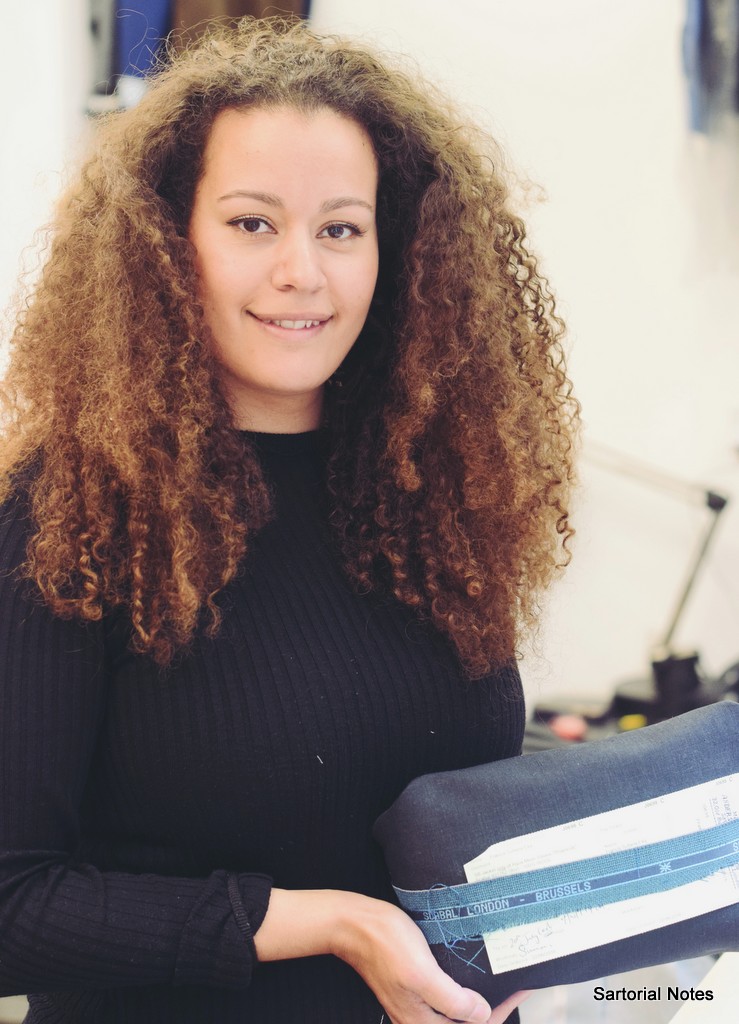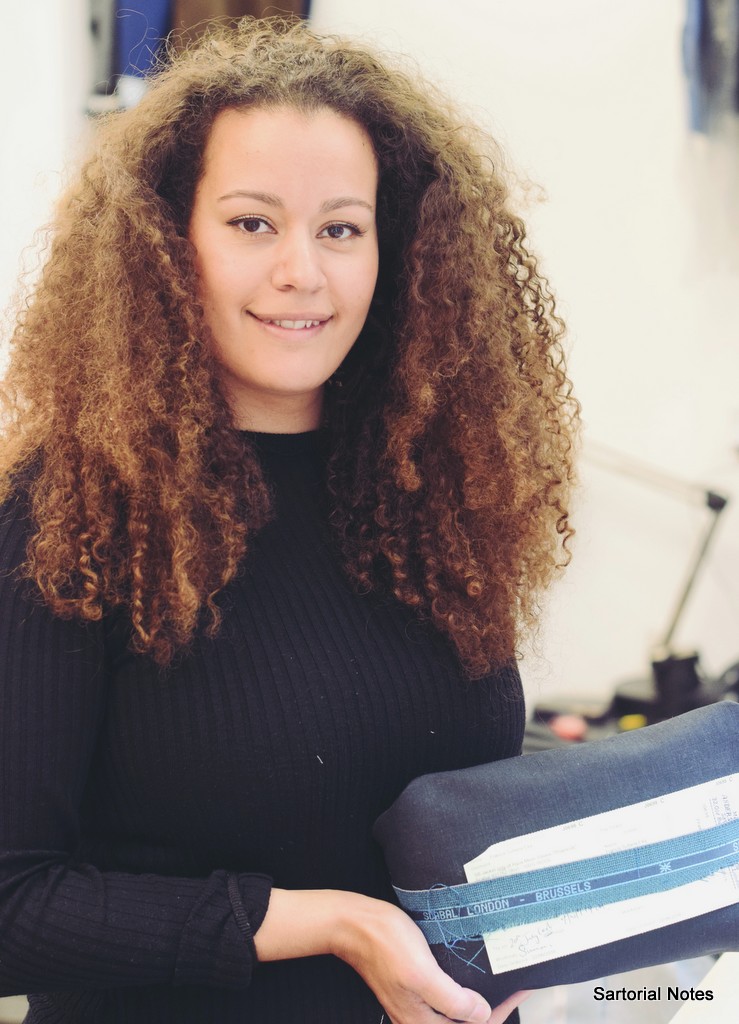 In the basement I met Sunna Johnson from Sweden. She finished her apprenticeship in 2013, and now she works as a coat maker at Anderson & Sheppard's. The sewing of a coat starts with a bundle of coat pieces from the cutter upstairs.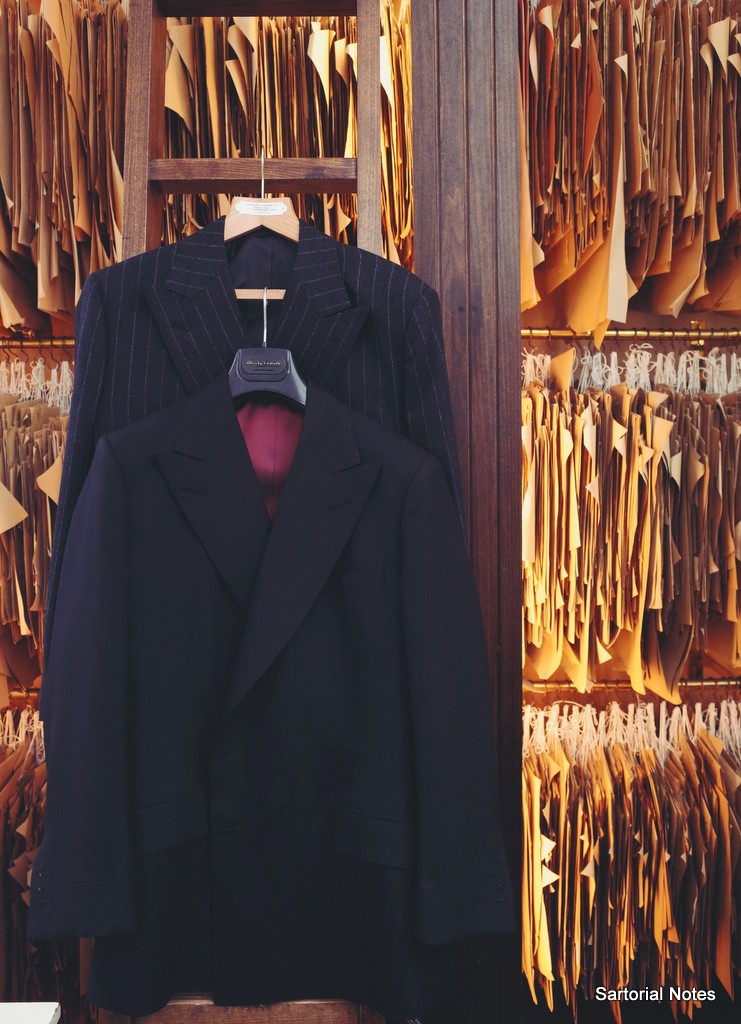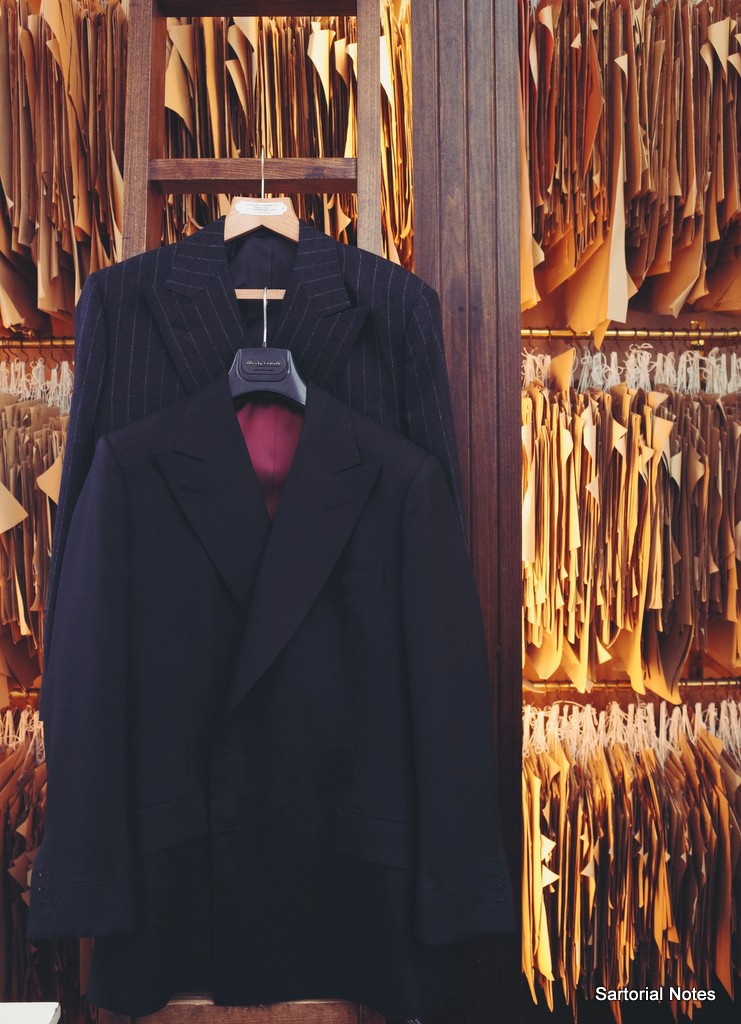 On the ground floor Anderson & Sheppard has a picturesque wall of paper patterns. Hanging on a ladder two double breasted jackets with rolling lapels were waiting for a client.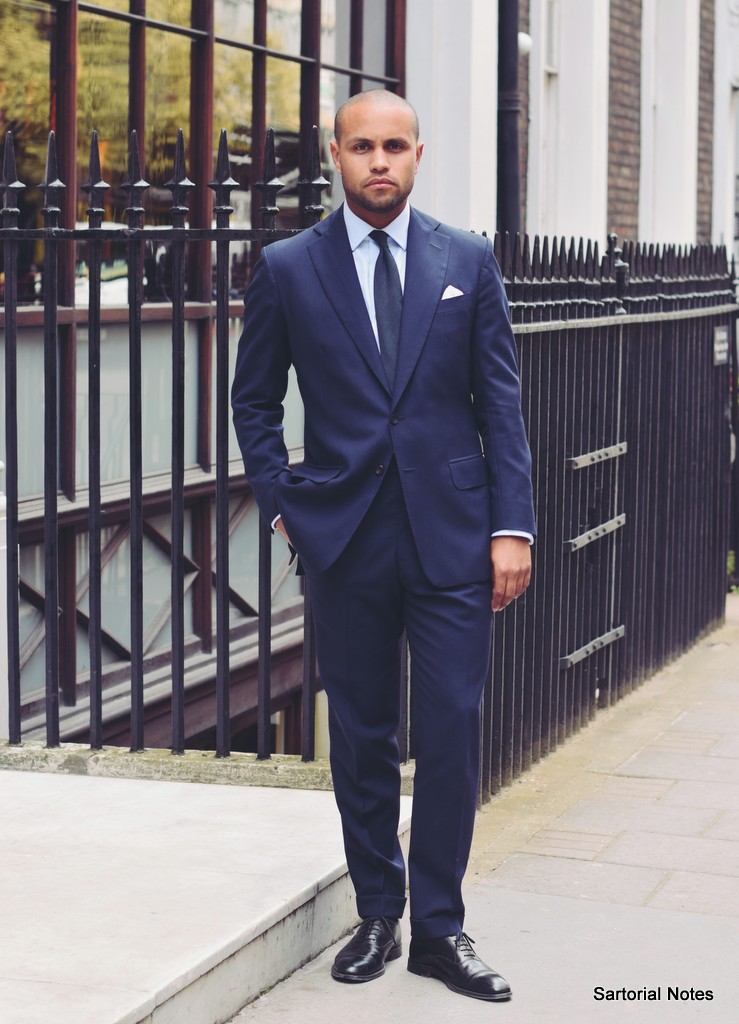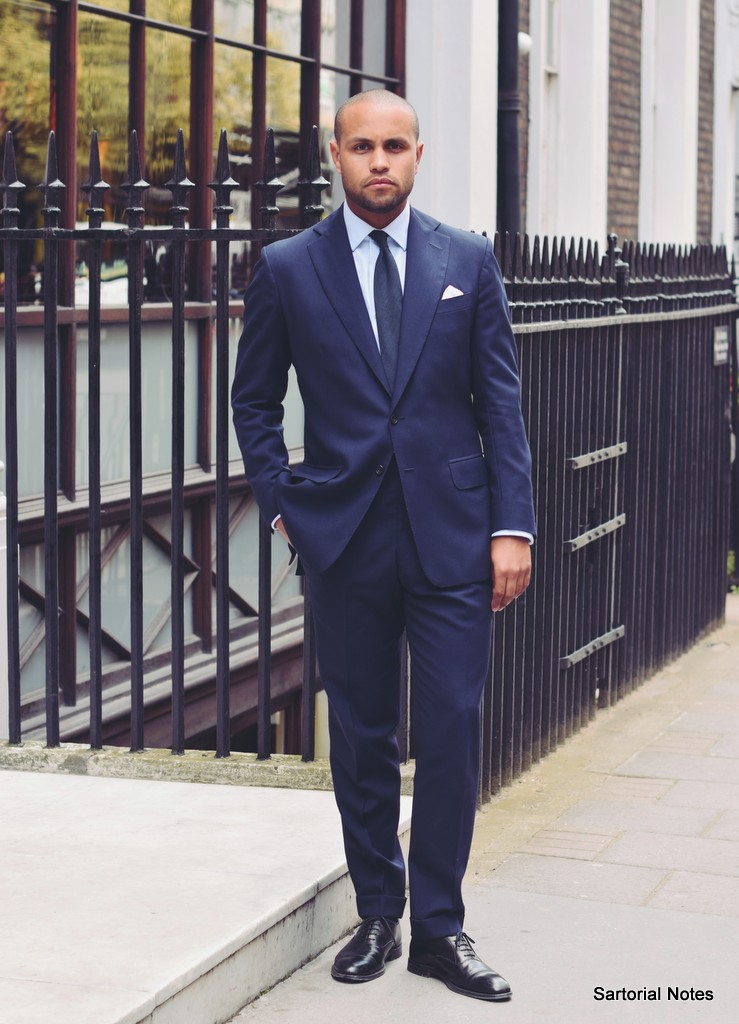 Outside the shop I got a photo of Oliver Trenchard, young cutter at Anderson & Sheppard's, who completed his apprenticeship in 2013 as well.
On the one hand Oliver's colour combination of blue suit, blue necktie, white shirt, and black shoes looks very conservative and correct. At the same time, the tight cut of trousers, sleeves, and chest is a reminder that today's Savile Row tailors are not foreign to fashion.
Giorgio Armani's infamous words from 2006 about Savile Row being "a bad English comedy, a melodrama lost in the past" seem awkward in 2016.
Photos of Savile Row tailors: Sartorial Notes