The Victorians are to blame. They enjoyed detachable starched collars, stiff shirt bib fronts, and starched cuffs. To handle these fashion items they needed small metal studs and cufflinks. Shirt buttons as we know them today were too weak.
When men's fashion became soft in the 1920s, and when makers started to attach collars and cuffs to the shirt the demand for small metal gizmos dropped. Only cufflinks have really made it through to our age. You notice shirt studs occasionally but almost only on evening wear. You could also say that mainly the Brits have cared for cufflinks. Many men use them with their daily suit in England today unlike in another classic style country like Italy, where men prefer normal barrel cuffs on their shirts. That said if you are interested in fine menswear you must be the owner of two or three pairs of cufflinks at least. There can be no dicussion about that. Here's a guide to cufflinks.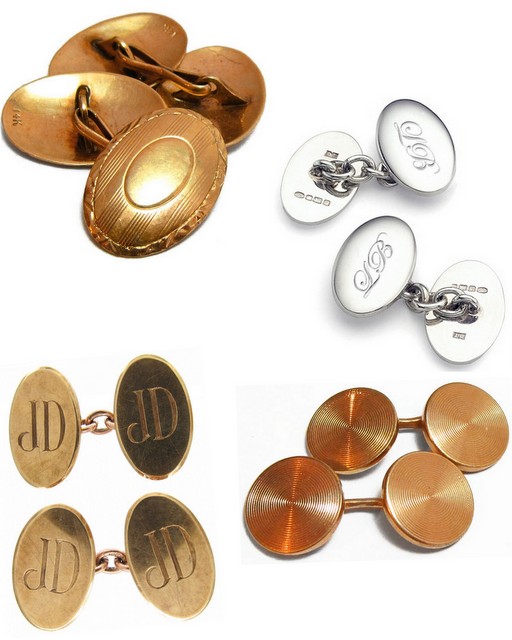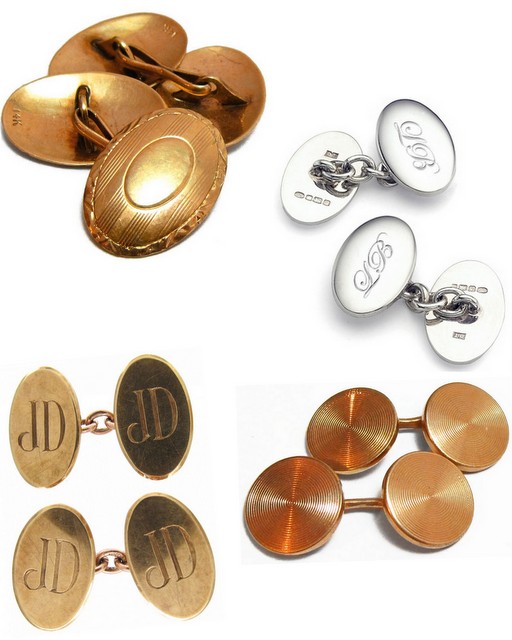 Oval chain cufflinks are the original cufflinks. Gold in 18 or 14 carat would the most attractive material, however oval cufflinks in silver or guilded silver are not illegal. Plain oval metal cufflinks call for your ingraved initials. Traditional Victorian cufflinks can be round or edged as well. Photos: Aspinal, The Antique Jewellery Company, unknown, and man at breakfast by Alfred Stieglitz (c. 1910)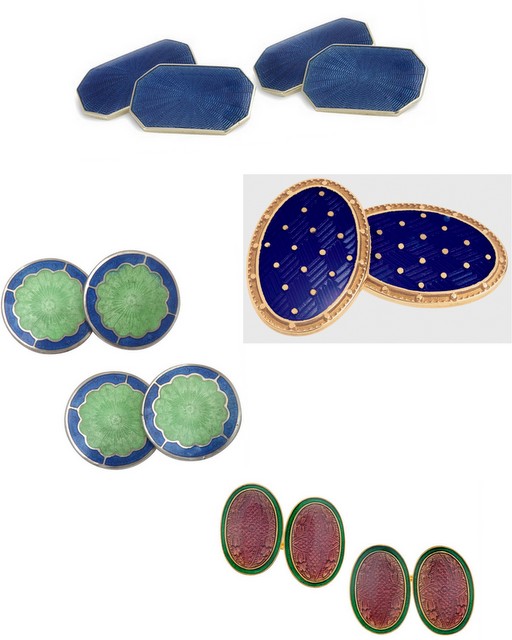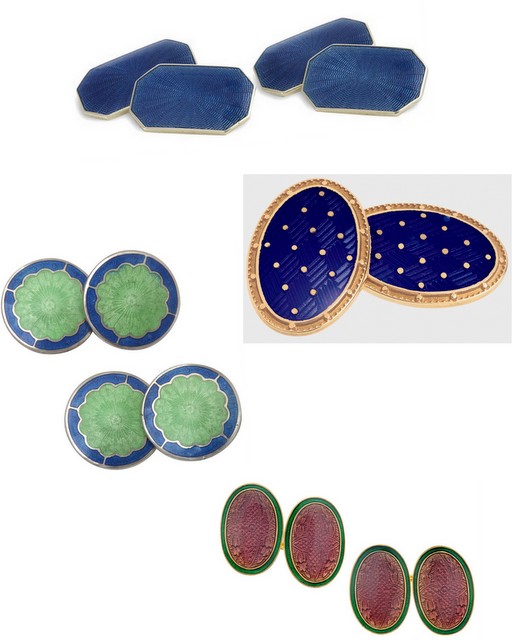 Enamel cufflinks are classics too. The smart feature is the colour options. Your cufflinks can start reflecting colours in your attire. Blue and wine red shades are the most versatile shades.
The shape of enamel cufflinks can be oval too, yet don't restrict yourself. They may also be round or rectangle edged. Photos: Longmire, Not on the High Street, Deliver Me Diamonds, 1stdibs, and Natalie Wood & Michael Caine by Bill Ray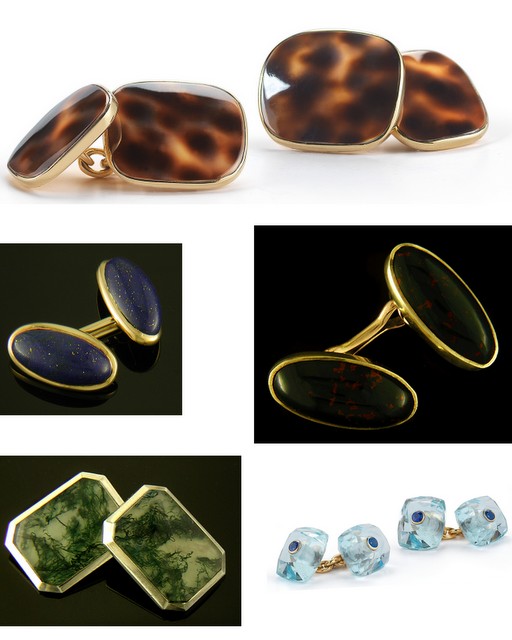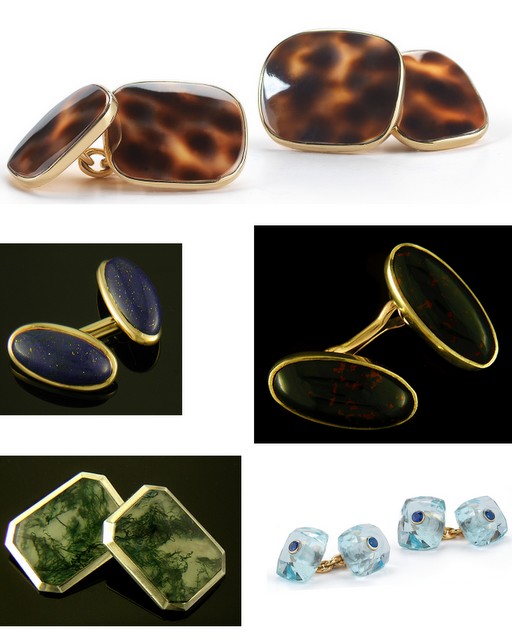 Gemstone cufflinks can be somewhat dubious. They may appear too ostentatious. On the other hand they can be very beautiful indeed. Choose subdued stones. Photos: Jewelry Expert and Seaman Schepps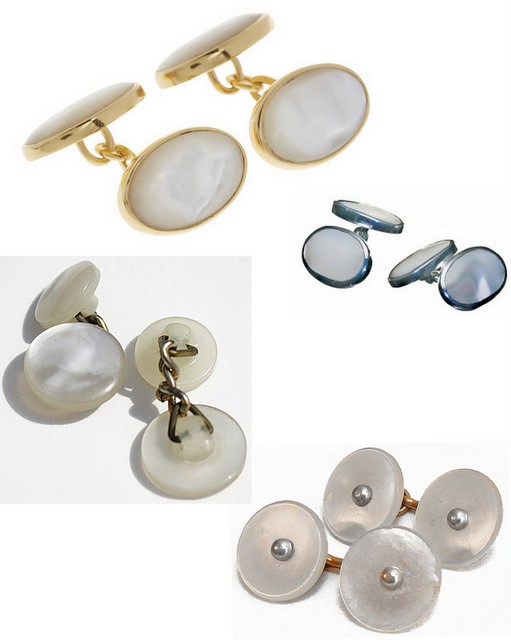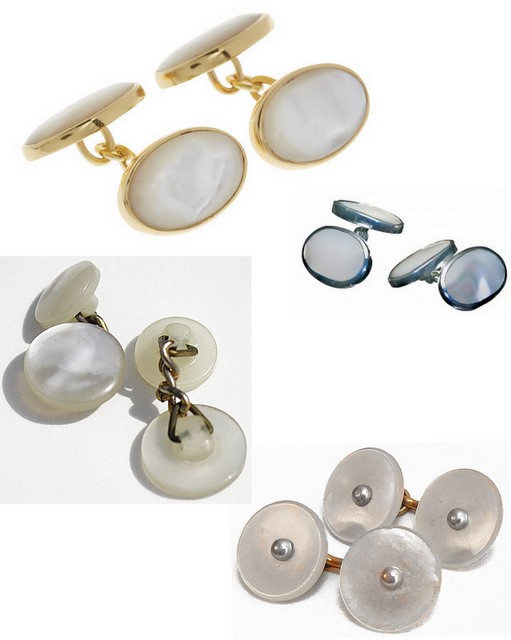 The noble looking mother of pearl cufflinks have been associated with evening wear. They can add a little interest to a white business shirt as well. Photos: Vintage Cufflinks, IntoVintage, Ede & Ravenscroft og Ragnas Jewelry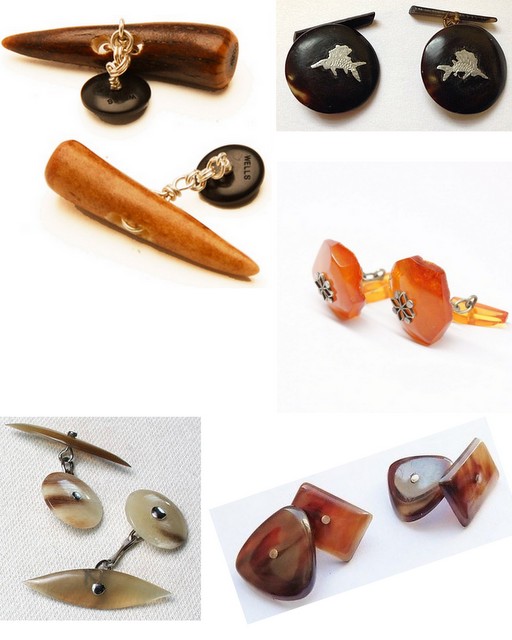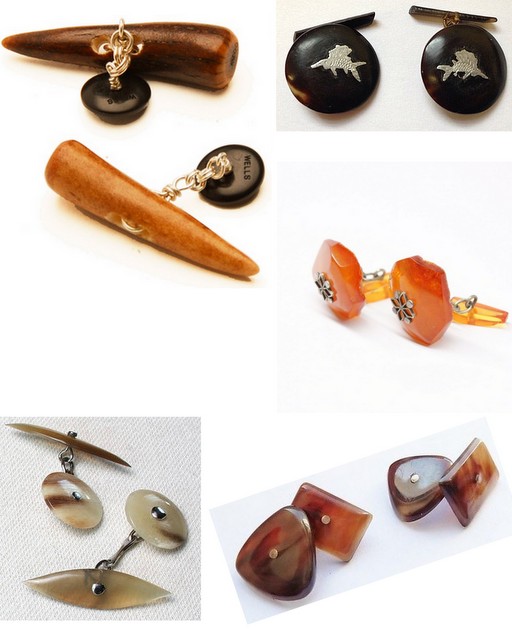 Cufflinks in brown materials like horn, tortoise shell, and amber pair well with your brown shoes. They are not the common first choice cufflinks for the business suit, yet give them a thought. Photos: Gumtree, Ruby and Jules, Stitched and Stitched og Latvian Amberstore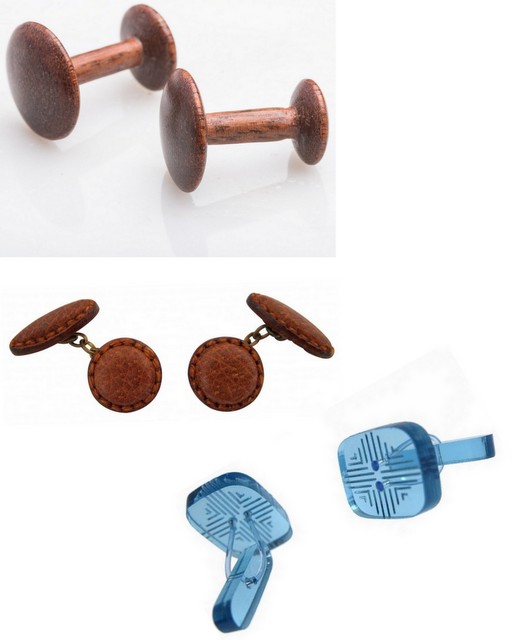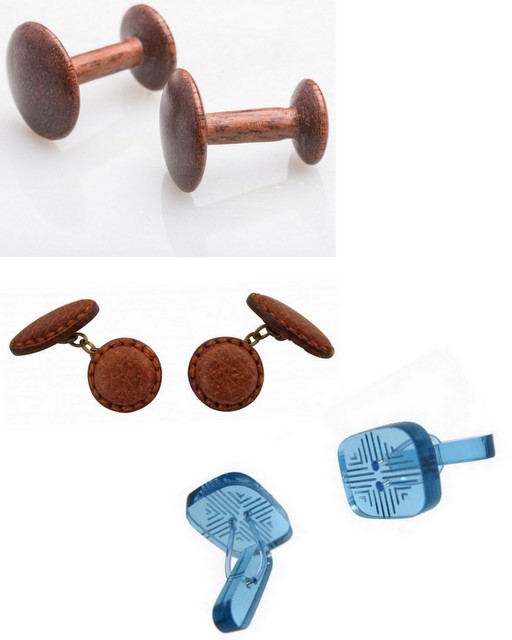 Why not try unusual materials … As long as the creator has applied good taste the result can be very useful. In other words, cufflinks in wood, leather or, say, acrylic can be chic indeed. The trick is not to add any striking features to the design.  Photos: Grunwald, Palm Beach Antique and Karv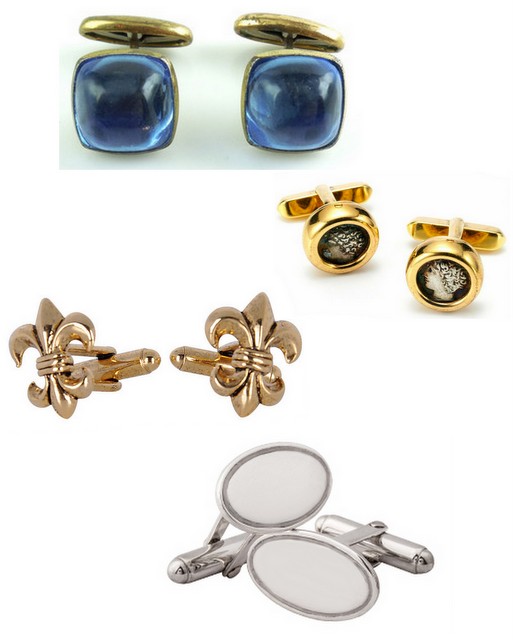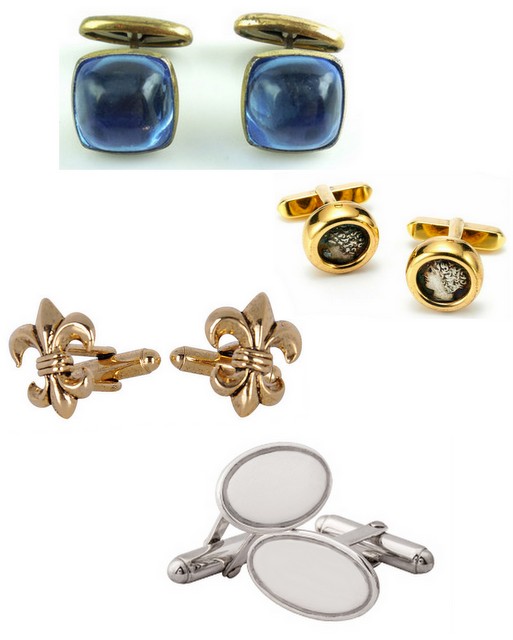 T-bar cufflinks are the most common cufflinks. However that doesn't make them the most elegant cufflinks. They cheat a little. That said they are very easy to use indeed. Photos: Link Your Shirt, FD Gallery og John Bretton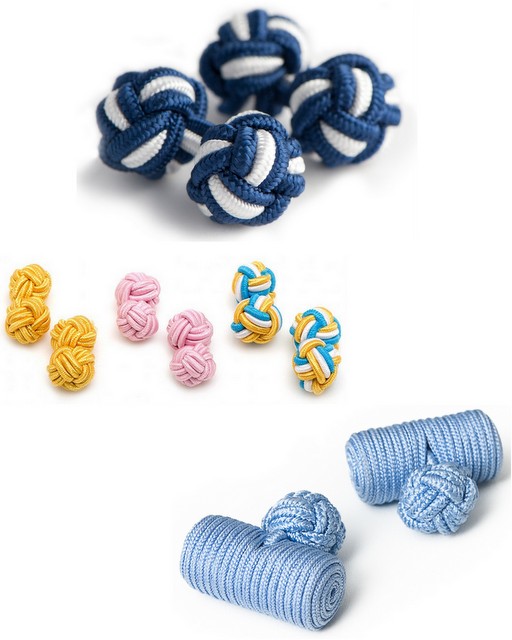 Silk knots are the daily easy-to-wear cufflinks for the man, who prefers double cuffs shirts. The have the advantage of being very lightweight, and they will not scratch against keyboards or tables. Silk knots are not for evenings. Photos: Emmett, Cufflinks Aficionado og Manuel Racim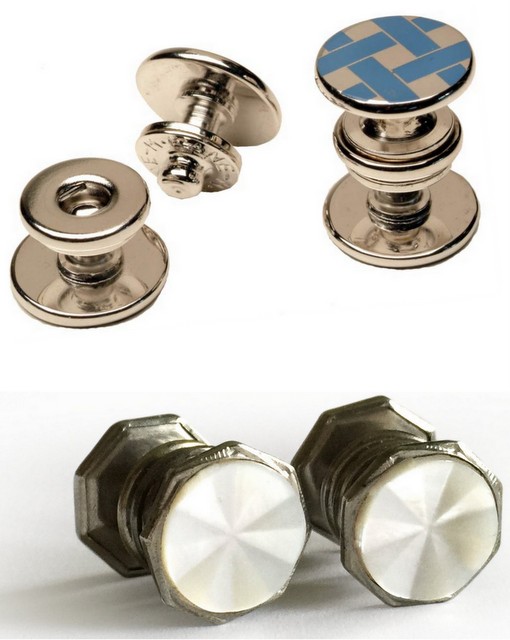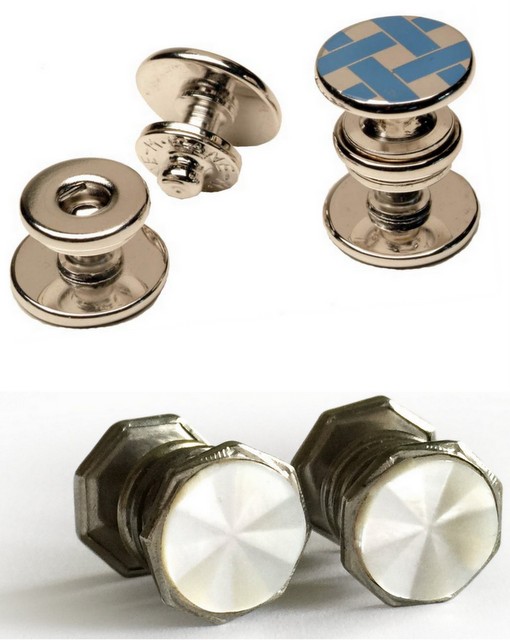 The Art Deco movement of the interwar period produced many objects, which have clout today. Snap cufflinks are one of these objects. Take care that the snaps are not too loose, if you buy them vintage. Photos: Baade II og Etsy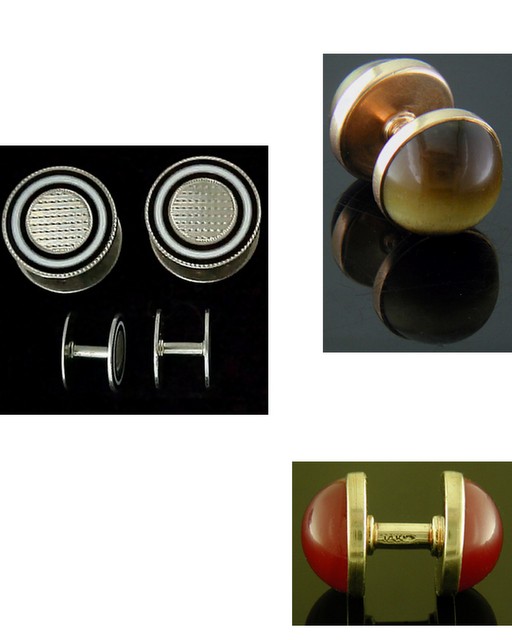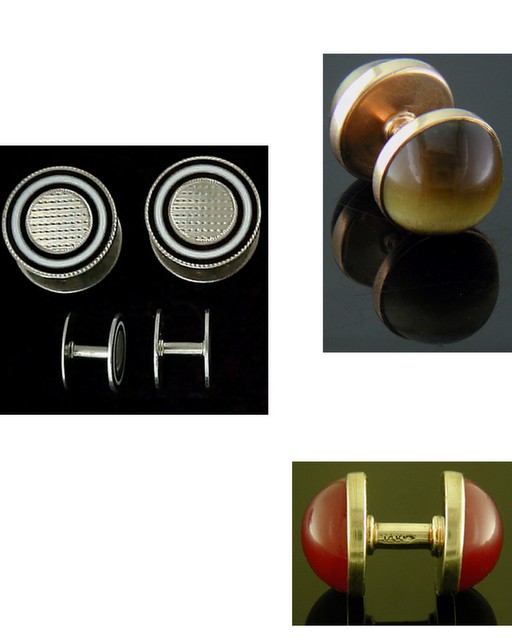 Spool cufflinks are another art deco invention. I like their  simplicity. You will not find many though. The t-bar models have taken over. Photos: Jewelry Expert og Trocadero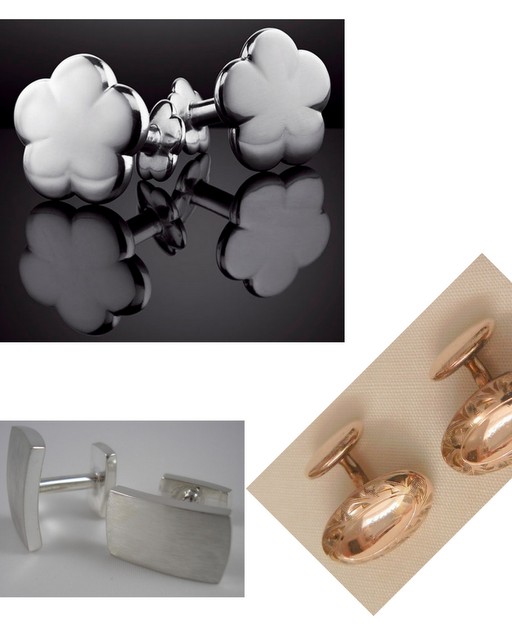 Cufflinks in one piece are a favorite of mine as well. The can become elegant like no other cufflinks. It takes a good designer and goldsmith though. Moreover you should beware of the weight. Cufflinks in one piece can feel a little heavy. Photos: Ragnar R. Jørgensen, Tom Harrison og Ruby Lane
How to use cufflinks

Cufflinks must fit the holes of the shirts cuffs. They do usually but check it. Only t-bar cufflinks are fully safe in that regard.
In terms of colours cufflinks in blue and red shades are the most versatile cufflinks. They can reflect colours in your attire. It is like in the case of ties.
Metal cufflinks and watch cases in the same colour go well together. You can combine gold and silver but different shades of gold are a better starting point.
Cufflinks are not only for shirts with double cuffs (French cuffs). They are for stiff single cuffs as well. In fact in Victorian times they used stiff single cuffs mostly. The former Spanish king Juan Carlos (above) prefers stiff single cuffs and cufflinks.
Go ahead engraving your oval gold cufflinks like Prince Charles, or turn your crest made up from enamel into cufflinks like Prince Philip. Engraved cufflinks might not be for everyday use, unless your are royal but at special events, for instance weddings and baptizings, they are the best options. Photos: Zimbio, The Telegraph and Casa Real
Where to buy cufflinks
If you your are prepared to pay the price you should place an order with a fine goldsmith. Take care that you find one, who has the right sense of style an experience. A cheaper, faster and arguably also fun way is to search the net for vintage cufflinks. There are so many out there. I have collected a few shops here:
Then you have the Ebay and Etsy market places. They are also full of cufflinks. If you just are looking for classic oval English cufflinks ready-to-wear shops like  Benson & Clegg are Sayers are worth visiting.
Illustrations: SN