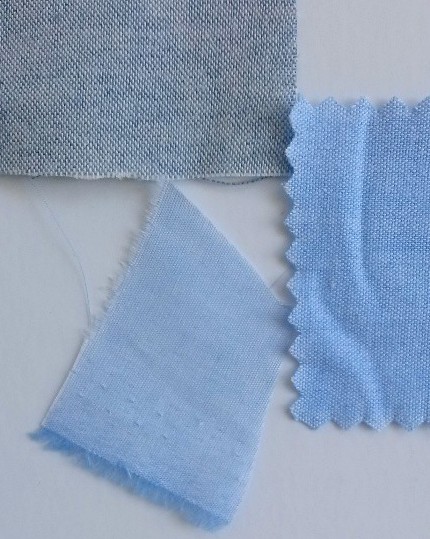 There has been confusion about Simonnot-Godard's chambray shirting lately. People try to find out, which is the original/old chambray from Simonnot-Godard, and they try to clarify, if the chambray shirtings contain polyester. You can follow the discussion at the American Style Forum.
I carry Simonnot-Godard's chambray and voile shirtings at the web store, and I have been confused too.
When I placed the first order one and half year ago at Simonnot-Godard's, I could choose between two types of chambrays in a sample collection of approx. 20 shirtings. I chose the finer chambray leaving a coarse denim like option, which I didn't find usable.
When I half a year later placed an re-order, I received an invoice stating that the chambray was a blend of 80 percent cotton and 20 percent polyester.
I was surprised because I took for granted that it was a 100 percent cotton fabric, and I contacted Simonnot-Godard. They replied that the invoice wasn't right. The chambray that contains 20 percent polyester is the rough denim like chambray (which I decided to skip). My chambray is pure cotton, Simonnot-Godard assured me.
Two weeks ago, I was contacted by Simonnot-Godard again, who told they were going to make a re-run of "the original chambray". I asked for samples, and they arrived last week.
With discussions on Style Forum and Twitter in mind, I decided to write an email to Simonnot-Godard to further clarify, what this "new old chambray" is. Simonnot-Godard replied it is:
• Woven on 150 cms looms, not the old single width looms
• A blend of 80 percent cotton and 20 percent polyester "to make Toile Viellie Aspect"
They added that this is the chambray they have been supplying to shirtmakers in Southern Europe for 30 years. Rubinacci in Naples and Burgos in Madrid are among the customers.
In the email dialog we have, Simonnot-Godard also takes a new position on the chambray that I carry: it contains polyester too.
In other words, all three Simonnot-Godard chambray shirtings contain polyester, properly 20 percent.
My default view on polyester is like most others, who love classic dressing: polyester in fabrics is a no-go.
Simonnot-Godard's argument about the "Toile Viellie Aspect" may have something to it. Polyester gives you a possibility to bring a special character to the fabric, and the fabric will wrinkle less. Bespoke shirtmakers buy the fabric to make up fine shirts too.
However, I am not comfortable with the situation and the fact that I have been selling a blend fabric that I thought was a 100 percent cotton fabric. I prefer to run a trustworthy blog and web store.
So, I have decided to discontinue selling the chambray. The last meters I will sell at 250 DKK including tax for two meters, which is less than half price of the usual 575 DKK including tax. You can get it here.
Source: The Journal of Style