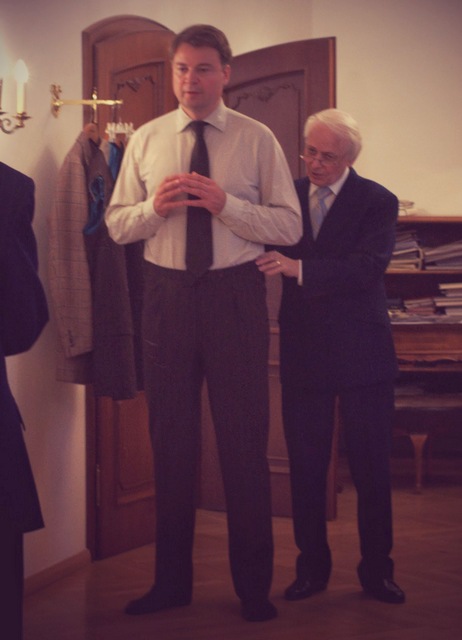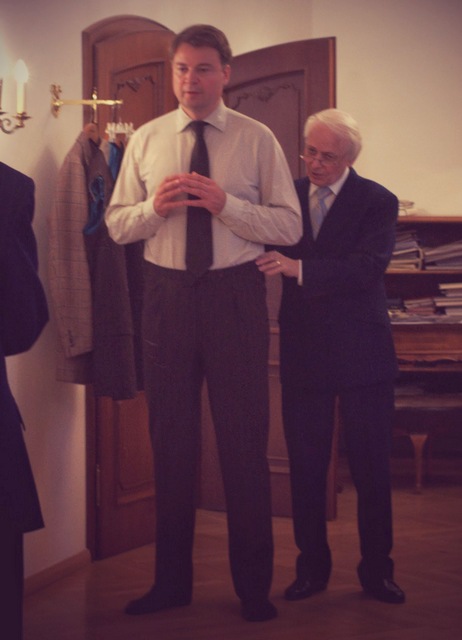 Another trip to Potsdam and calm and pretty Gutenbergstraße.
Trousers are ready for a fitting. They are cut as slim as possibly can be done with my robust build. In other words, the cut should not only flatter me, when I stand up, but also give room for calves and thighs, when I sit down.
There is not much adjustment to be done. Balance is close to perfect, and trousers feel right. Volkmar Arnulf notes some changes, though, and he convinces me to rais the waistband one centimter. He thinks it will make the trousers rest better on my waist.
Once again, a discussion revolves around a specific detail: Should the front pockets on the trousers be slanted or run straight down? Slanted pockets will make it difficult to match stripes exactly, I understand. To me matching around the trousers' front pockets is of little concern but to Volkmar Arnulf, it should be a deliberate decision.
I end up chosing the vertical pocket opening. It will be a tad stronger, and, more importantly, I like the idea that it mirrors the straight look of pockets and fronts on the jacket.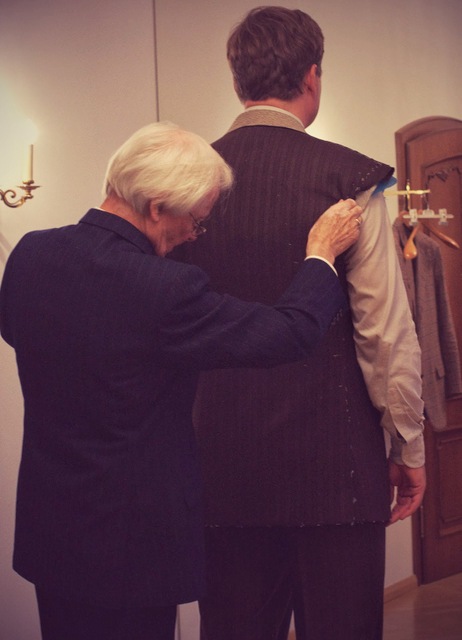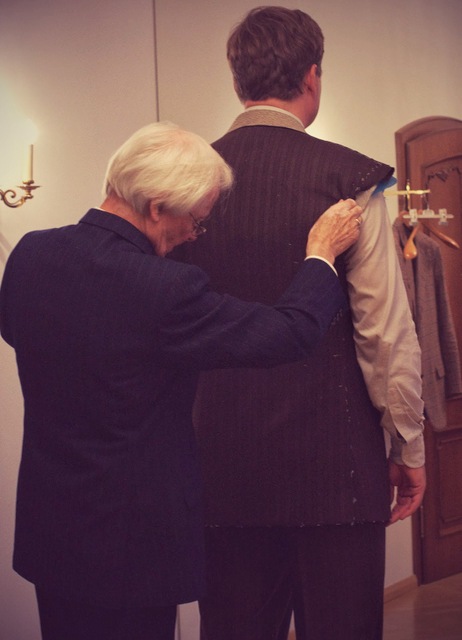 The jacket fitting continues too. Lining has been attached, and Volkmar Arnulf try on the sleeves. To him, it is important that the upper sleeves are large. He thinks that not only ready to wear jackets but also many bespoke jackets have upper sleeves too small. That reduces movement and comfort, he says. A small armhole with a right angle is not enough.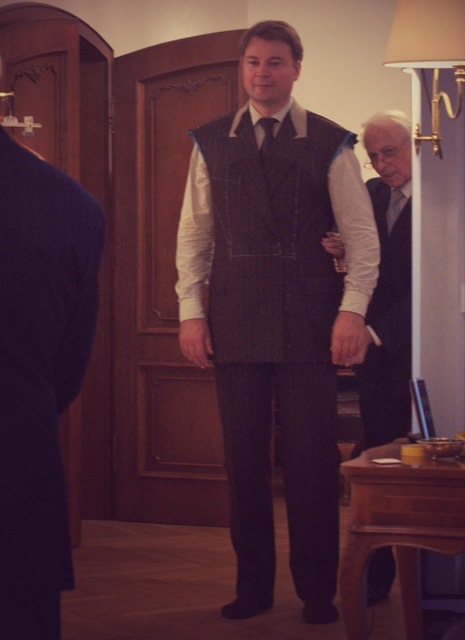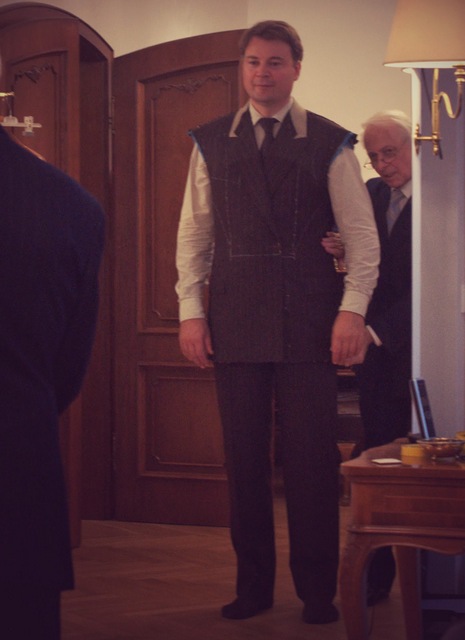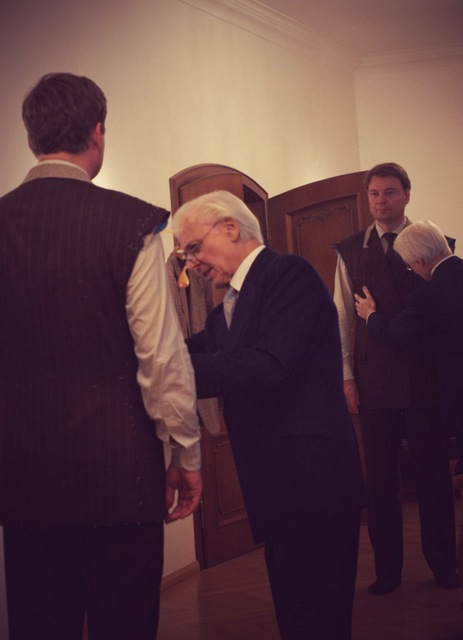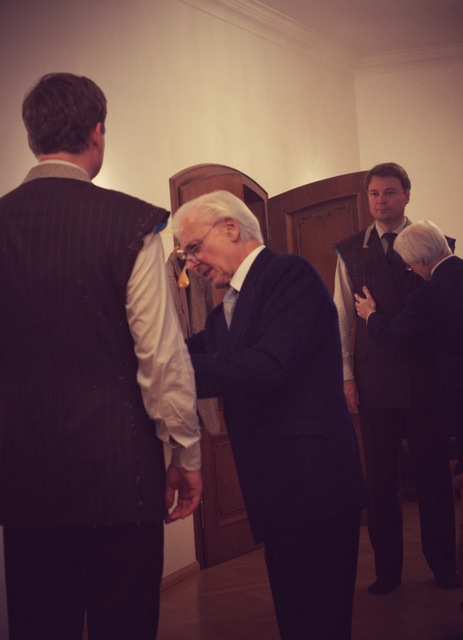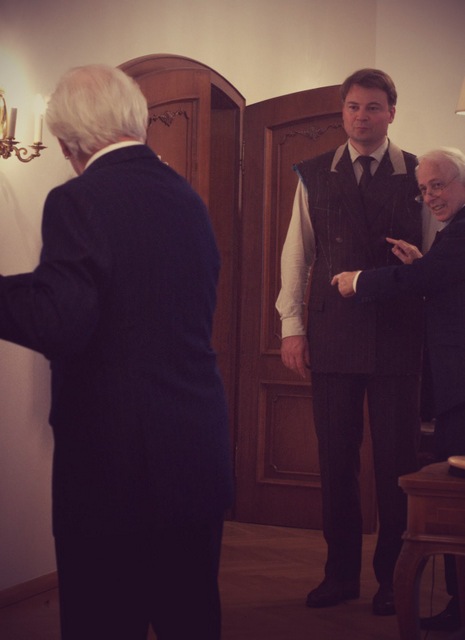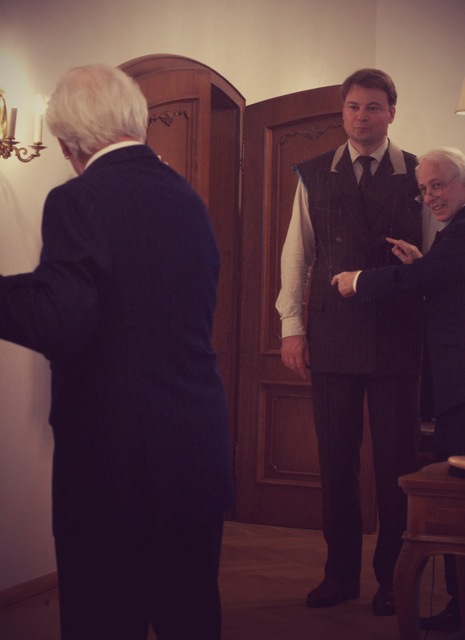 We also continue with the lapels and placement of buttons. First we lower the buttons, then we move them back again. Jacket length is up for grabs too. Volkmar Arnulf says we could take off one centimeter but don't have to. I like to keep the length as it is, I respond.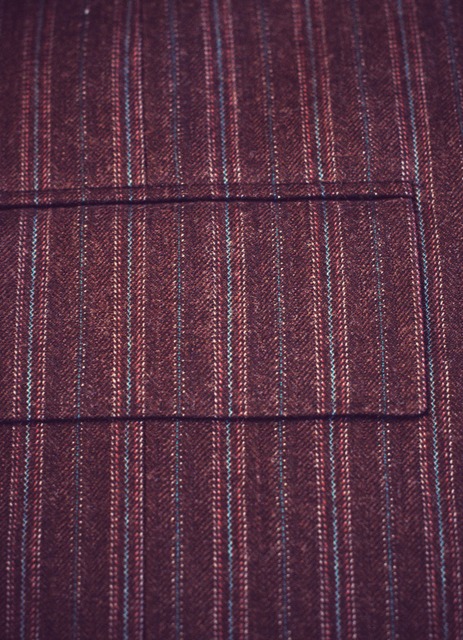 Jacket pockets are ready to me admired. It is now possible to see the elegant jetting, which lets the stripes run in an unbroken line down the jacket front.
I remember Thomas Mahon at English Cut writing that this type of pocket finishing is a speciality of Anderson & Sheppard.
When looking at England only, we can add.
Photo Credit: Frau Arnulf helping The Journal of Style