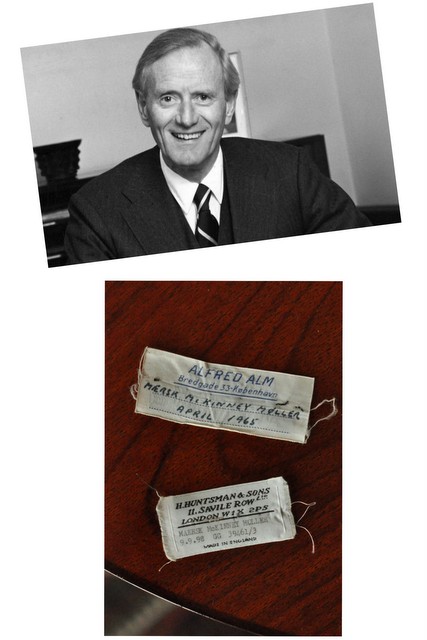 The most famous businessman in Denmark, Mærsk Mc-Kinney Møller, has passed away. He reached 98. Since the 1960s, after the death of his father, Mærsk Mc-Kinney Møller built the world's largest shipping firm and added several other substantial activities to the group.
Mærsk Mc-Kinney Møller cared for quality in all aspects of life. It included his wardrobe. He had handmade shoes from John Lobb in London, and he went to a tailor to have his clothes made up, mostly navy blue three-piece suits.
Four years ago, I got hold of very specific information about, who his tailors were, cf. the labels above. Everyone will know Huntsman on Savile Row. But, who is Alfred Alm?
Alm was the most celebrated bespoke tailor in Denmark after the second world war. Few will know Alm today after the extinction of bespoke tailoring in Denmark, but remaining retired tailors and older people in the trade will still speak highly about him. Alm closed his business around 1990 and died shortly after.
Among more peculiar style features, Alm usually cut an unpadded shoulder and was capable of making a distinct subtle waterfall effect at the point, where upper sleeve meets the shoulder.
Mærsk Mc-Kinney Møller had to go to Alm for suits.
Illustration/Source: The Journal of Style