Gabriele d'Annunzio (1863-1938) was a "bad hombre". He didn't fancy democracy, he fraternised Benito Mussolini, and he was a womanizer. Yet, he was an influential poet and prophet within the arts too. Not to mention the major style icon in Italy during last part of the 19th Century and first part of the 20th Century.
Unlike the best known style influencer of that time, the Prince of Wales (the later Duke of Windsor), who broke away from stiff Victorian collars, Gabriele d'Annunzio embraced the 19th Century formal wear and uniforms, though in his very own way. He wanted to be a bohemian setting his own rules, a Superhuman, as he called himself with a Nietzschean expression.
Gabriele d'Annunzio was a traveller in style
His French translator, George Hérelle, was one of the persons, who was challenged by Gabriele d'Annunzio's lifestyle.
"Among the disturbing incidents Hérelle account of the journey [to Greece] showed that he was somewhat disconcerted by D'Annunzio's nude swimming and sunbathing, as well as by his prurient humour and the pornographic jokes he exchanged with his Italian companions. As for what D'Annunzio had referred to as informality at dinner and on social occasions, Herelle's diary of the journey reveals his discomfiture at discovering that D'Annunzio had brought with him a dinner-jacket, six white suits, thirty or forty shirts, and eight pairs of shoes. Furthermore, formal invitations were extended and accepted at various ports of call, despite D'Annunzio's previous assertion that they would not be," John Woodhouse writes in his biography "Gabriele D'Annunzio: Defiant Archangel" (2001).
Photos from "Il Guadaroba di Gabriele d'Annunzio" (1988)
In the summer of 1988, 50 years after the death of Gabriele d'Annunzio, the Vittoriale Foundation, the Pitti Uomo directorate, and other operators held an exhibition in Florence about Gabriele d'Annunzio containing numerous clothing items and accessories from the bohemian's wardrobe. Simultaneously they came out with a catalog, Il Guadaroba di Gabriele d'Annunzio (The Wardrobe of Gabriele d'Annunzio).
I've been browsing the catalog, and it is amazing, really, if you are also into the history of classic menswear. Suddenly you understand, why some Italians, among others, Leonardo Bugelli, refer to Gabriele d'Annunzio as the best dressed man ever. Everything appears well-chosen fitting his bohemian image.
Many items come from Italy, of course, mostly Milan, Florence, and Rome.  However, he has bought several garments in Paris and London. Venerable names like "Lock" and "Old England – Paris" turn up on the labels.
Boots and shoes of Gabriele d'Annunzio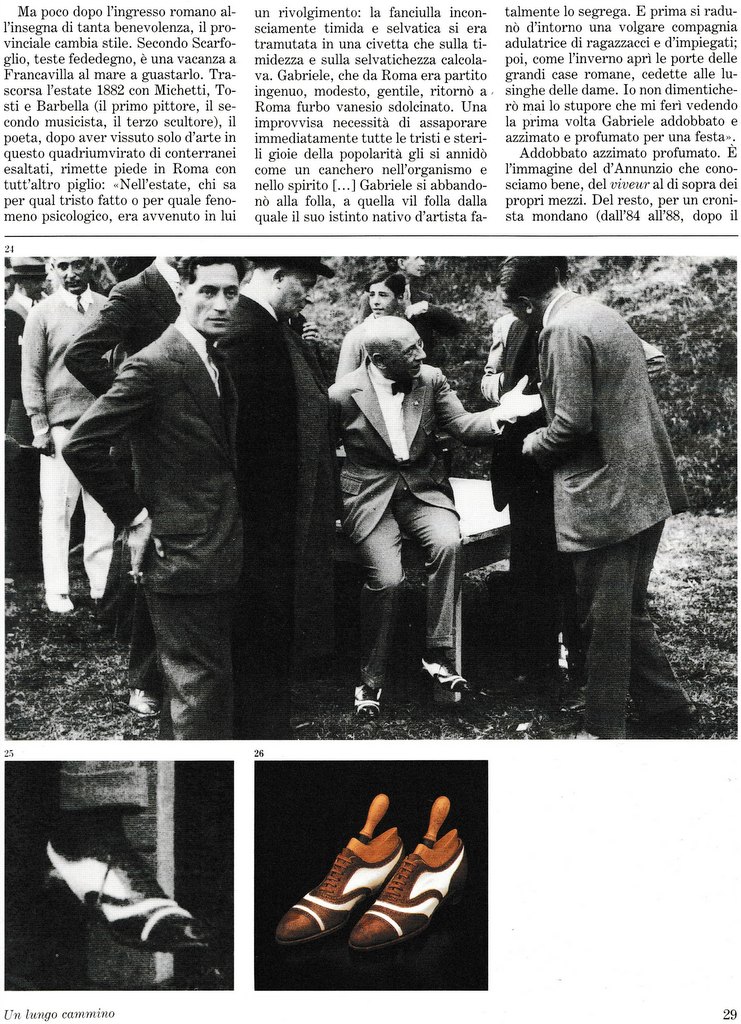 Shirts and neckwear
Suits
Dressing gowns and dinner jackets
Overcoats