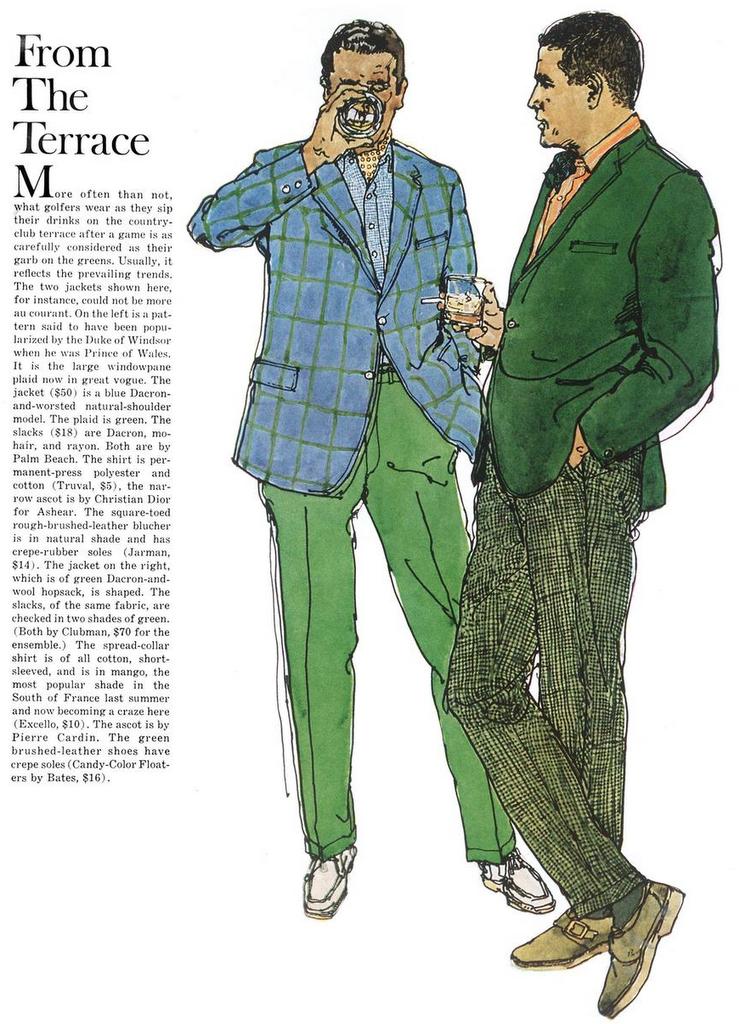 "FROM THE TERRACE
More often than not, what golfers wear as they sip their drinks on the country-club terrace after a game is as carefully considered as their garb on the greens. Usually, it reflects the prevailing trends. The two jackets shown here, for instance, could not be more au courant. On the left is a pattern said to have been popularized by the Duke of Windsor when he was Prince of Wales. It is the large windowpane plaid now in great vogue. The jacket ($50) is a blue Dacron-and-worsted natural-shoulder model. The plaid is green. The slacks ($18) are Dacron, mohair, and rayon. Both are by Palm Beach. The shirt is permanent-press polyester and cotton (Truval, $5), the narrow ascot is by Christian Dior for Ashear. The square-toed rough-brushed-leather blucher is in natural shade and has crepe-rubber soles (Jarman, $18). The jacket on the right, which is of green Dacron-and-wool hopsack, is shaped. The slacks, of the same fabric, are checked in two shades of green. (Both by Clubman, $70 for the ensemble.) The spread-collar shirt is of all cotton, short-sleeved, and is in mango, the most popular shade in the South of France last summer and now becoming a craze here (Excello, $10). The ascot is by Pierre Cardin. The green brushed-leather shoes have crepe soles (Candy-Color Float-ers by Bates, $16)."
When men who wore classic menswear could cope with bold colours and man-made fibers. An Esquire illustration from April 1968.
"THE THINKER IN A SPRING '36 VERSION
With all due respect to Rodin, we must seriously insist that von Frankenberg has here created a statue that more immediately rewards study than that of the famed penseur. On account of what could Rodin possibly tell you about this spring's clothes for collidge? Nothing, whereas Mr. von Frankenberg, in this little statuette, positively lectures on the subject. This meditation on a campus doorstep depicts the following items that are typical of the fashionwise young men at the leading universities: a three-button notched lapel single breasted gabardine jacket, with side vents, grey flannel slacks, light weight wool regatta striped hose, white shoes with black saddlestrips and red rubber soles and heels, a bold checked shirt with widespread collar and striped rep tie, a colored foulard breastpocket handkerchief and, on the steps, the increasingly popular green pork pie hat."
When young men were dressing sensationally well, at least in fashion magazines. An Esquire illustration from May 1936.
Illustrations: Esquire Classic