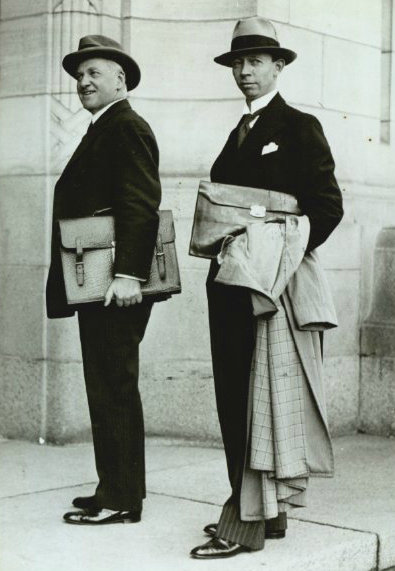 Black shoes for navy blue and charcoal suits? Naturally.
Black belts? Yes, if the shoes are black.
What about the gloves? They are in a terrain vague. Personally, I think (dark) brown gloves are the better choice for business suits, even with black shoes below. Black gloves are too dramatic.
What about accessories like wallets and briefscases: should they follow the colour of the shoes?
No. Wallets and briefcase should be brown always and made up in vegetable tanned leathers, so they can get a charming patina. It might not be one of the infamous dressing rules, but brown wallets and brown briefcases do carve a trace in history.
Take a look at the photo above. Danish barrister Kristian Steglich-Petersen and minister Gustav Rasmussen are showing up in Haag in 1932 to battle against Norway for territories in Eastern Greenland. Both Kristian Steglich-Petersen and Gustav Rasmussen are in striped dark lounge suits, shoes are black, and, briefcases are brown.
Not surprisingly, Norway lost the case.
Source: The Royal Library