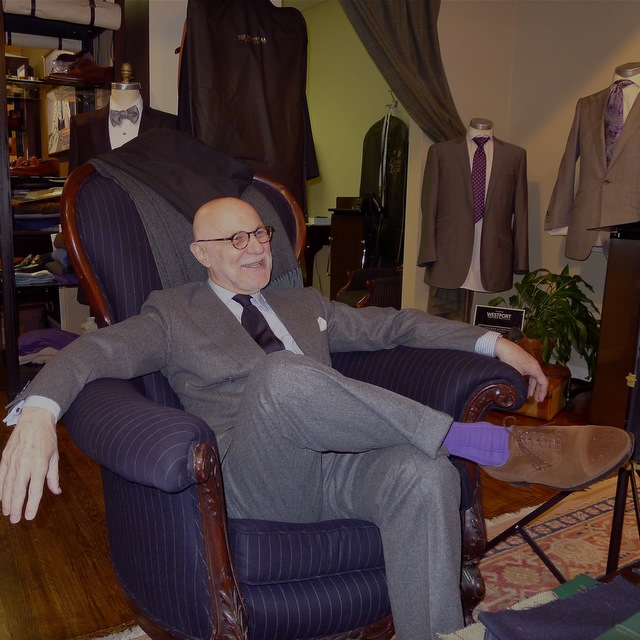 I was preparing an article for Børsen, the leading financial newspaper in Denmark, about the suit and Pitti Uomo. I thought that it was an opportunity for contacting G. Bruce Boyer. I have read two or three of his books, and I find his way of writing and reflecting on dressing to be maybe the most enjoyable that is out there. I had  five questions for Mr. Boyer …
You once mentioned in the magazine The Rake that "the suit has been freed from old constraints". Could you elaborate on that remark?
The suit, as it appears historically, has been liberated from its traditional constraints in various stages over the past half-century or so. The first stage was to produce lighter weight woolens, known as tropical worsteds, and later feather-weight and Super cloths in both worsted and cashmere. Then, starting in the late 1960s and early 1970s, designers like Giorgio Armani began to deconstruct the coat — remove padding and infrastructure — to produce a lighter, more fluid garment. These two processes resulted in much lighter weight clothing for warm weather; by 1980 a worsted summer suit weighed about half of what it had fifty years before. Today completely deconstructed coats seen everywhere. So physically the suit has been freed from constraint.
But secondly, in the past twenty years, because of the sociological phenomenon of casual dress and the influence of the Italian clothing industry, tailored clothing has become much more colorful and much less a uniform. The days of the dark gray, heavy worsted are long gone, as is the rule of dark suits in the business world. For many men these days, a suit is a choice, not a directive. So that tailored clothing has also been socially and psychologically freed from constraint.
What is very important about clothing and garments to a well dressed man?
For a well dressed man, the cut of the garment is always the most important consideration. Cut means the fit in relationship to the styling of the garment. Fit by itself is somewhat of a nonsensical concept because we don't want clothes to exactly conform to our bodies, we want them to improve them, and this is where styling comes into play. A good tailor can"correct" our figures a bit by disguising our faults and displaying our attributes. Even the highest quality or most expensive fabric will not hide a badly cut garment, whereas a great tailor can work miracles with even cheap cloth.
How does a well dressed man relate to fashion and the zeitgeist?
There's a difference between style and fashion. Fashion is that which comes and goes from one season to the next, it refuses to recognize the individual, and it's by far the most costly way to dress. Style, on the other hand, is personally cultivated over years of introspection, is perhaps more concerned with quality and taste than the vagaries of a particular time, and speaks to those qualities which we consider to be of an individual nature: personality, idiosyncrasy, and freedom from coercion. To not consider the age in which one lives is to wear costume, but to consider only what others wear is to become a slave to conformity. The 18th Century English poet Alexander Pope said, "Be not the first on whom the new is tried/ Nor the last to lay the old aside." Good advice.
How should the occasion influence dressing?
I believe the occasion, the audience, and the purpose of the event should dictate our dress, as it should our speech and demeanor. But today I'm fearful that we have lost all sense of occasion. I see men attending weddings, funerals, and other traditionally special events wearing the same thing they wear to football games or the supermarket: hyper-designed sports shoes, T-shirts, and cargo pants. It indicates to me that there is nothing special for us, our daily lives are all one seamless whole. Marriage has no special happiness and death has no solemnity, and we are completely unmoored from the mystery and traditional humanity of occasion. Everything is ours, and nothing is special.
How would you compare Gary Cooper with Fred Astaire, Cary Grant, Duke of Windsor and Gianni Agnelli in terms of dressing?
The main difference between Gary Cooper on the one hand, and Astaire, Grant, Windsor, and Agnelli on the other is that Cooper was able to wear a much greater range of clothing with conviction. Try to picture Astaire in cowboy clothes or Agnelli in a soldiers uniform, or Grant in buckskins. These men were all great formal dressers — Astaire, in my opinion, the greatest — but none could wear casual or work clothes effectively. Cooper related to clothes across a great spectrum of genres. He had been born in the West and grew up around cowboys and Indians, but he also had a formal Edwardian English education at a fine school in England, lived in Rome for a time, and was as at home and ease in cowboy boots and jeans as he was in white tie and tails. He wore Greek sandals and South Seas sarongs, jeans, and Mexican festival shirts, and of course sophisticated suits from Savile Row and Beverly Hills. He was, in this respect, the first completely international man with a global sensibility for appearance.
Photo: Rose Callahan